UPDATE on Callan's battle against corrupt 'insurance medical examiners' (June 10)

RenewAmerica staff
June 10, 2019
Last week, Callan called the Utah Appellate Clerks' Office with a procedural question and learned that critical information a clerk had previously given him was inaccurate, due to a rule change. The office told him he
therefore needed to email an important document to the Utah Supreme Court by midnight that evening or his appeal would be over.
That call took place at 4:45 p.m. on Friday, June 7. Callan and his father Stephen immediately dropped everything and scrambled for seven hours to re-write a rough draft they'd been working on, so they could submit the requested document in time.
Unbelievably, about 10:30 p.m. the power in their home went off and on during a strong windstorm – disrupting their work and almost causing them to lose their opportunity to meet the deadline.
After they got their computers and printer up and running again, the power again went off and on about a half hour later, causing them to have to restore their computers and printer a second time so they could continue. They again almost lost the document they were working on.
Finally, after a frantic effort to finish and email the document before the power went out again
(which it did at 12:02 a.m.),
they succeeded in getting it sent to the Supreme Court with
seven minutes to spare before the deadline. Had they missed the deadline, Callan's appeal would have ended right then.
Miraculously, they succeeded in meeting the deadline! If the court approves the document in the form requested, Callan's case will be in pretty good shape. (
NOTE
: On June 13, 2019, the court did approve it, and things do look good. This is the second major victory for Callan, and it means that for the first time in his case, he now has an opportunity to present his case
on the merits,
without the Defendant and her skilled attorneys having inordinate advantage over the process.)
This high-stakes, amazing ordeal was the most stressful situation Callan has experienced during his entire three-year legal effort against a corrupt system in Utah that unlawfully deprives injured workers of the medical and other benefits to which they are entitled under the state's Workers' Compensation system – a system that is workers' only recourse if they are injured on the job.
To read more about the extraordinary experience described above, see the
Facebook post
about it by Callan's mom, DeeAnn.)
Callan's EMT job
After going a year without work – a circumstance that enabled Callan to devote considerable time to his case – he was rehired two months ago as an EMT at the local fire department, where he was let go three years ago for health reasons that are relevant to his case. He currently works at least three – often more – 12-hour shifts per week and must also attend additional training meetings, and this significantly limits the time he can spend on his case at this point, but this new opportunity has helped him have the financial means to continue (along with the donations he has received).
His job as an EMT means a great deal to Callan, and he is struggling to balance its time demands with the difficult requirements of his appeal. So far, so good.
Recent marriage
Callan got married several weeks ago on May 1, and this adds further challenges (and duties) to his life that require considerable adjustment – especially in the middle of his very difficult and time-consuming ongoing lawsuit. But he now has a partner to help him with the emotional demands of his stressful life, and he and Julie just found out they're going to be parents.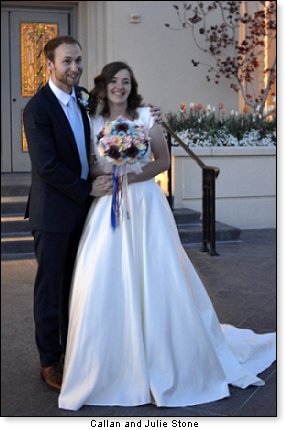 (To help Callan continue with his lawsuit, see his GoFundMe page)