Matt C. Abbott
Full lawsuit text: Catholic Answers sues IRS

By
Matt C. Abbott
June 19, 2009
As you may have heard by now, Catholic Answers, the California-based apologetics organization headed by Karl Keating and featuring notable apologists Jimmy Akin and Jason Evert, is suing the Internal Revenue Service.
From
Catholic Answers' Web site
:
'It's official. On April 3, 2009, Catholic Answers filed suit in federal court against the Internal Revenue Service for violating our right to free speech. Yes, you read that correctly. We're standing up to the IRS. Not just for ourselves, but on behalf of non-profit organizations and churches all across the country that are constantly harassed, threatened, intimidated, and persecuted by the IRS.

'Before I go any further, let me briefly recap the story and explain how we got to this point. Not long ago, the IRS went after Catholic Answers and imposed fines on the ministry. Our crime? I wrote in one of my E-letters that 2004 presidential candidate John Kerry shouldn't be allowed to receive Holy Communion because of his pro-abortion voting record and public advocacy of child-killing.

'Now, it's important to note that at no time did I or anyone at Catholic Answers tell people whom to vote for or whom not to vote for. We merely stated our view that pro-abortion Catholic politicians should not be allowed to receive Holy Communion.

'Well, for this simple statement of Catholic belief and practice . . .

'Turns out, it was Frances Kissling of the pro-abortion 'Catholics for a Free Choice' who sicced the IRS pit bulls on us. She hated our very successful Voter's Guide for Serious Catholics, which was read by more than 20 million American voters — and merely educated Catholics on the 'five non-negotiable' moral issues of our time (abortion, euthanasia, embryonic stem cell research, human cloning, and homosexual 'marriage').

'The voter's guide did not mention any candidates or political parties. It simply talked about Catholic teaching on these five major issues. For that reason, the IRS actually cleared the guide of any violations. It did, however, come after us for my remark about John Kerry and Holy Communion. It claimed that this was 'intervening' in the election — which is preposterous.

'You see, for many decades the IRS has been using very vague criteria to intimidate churches, non-profit organizations, and ministries into silence on moral issues that are being debated in the political realm. The intimidation has become so bad that nowadays, most churches and non-profits in America are scared to death even to talk about moral issues that are deemed 'political' (such as abortion).

'If you're wondering why you don't hear more about abortion in your parish, especially during election time, this is why. It's IRS intimidation. For instance, in many cases, Catholic parishioners have been forbidden by their pastors or diocesan leaders to distribute our Voter's Guide for Serious Catholics. All of this tail-between-the-legs cowering comes from the IRS' ability to intimidate churches and non-profits into silence on political issues. And it's simply wrong. For the IRS to claim that a non-profit organization cannot even so much as talk about a political candidate or ballot issue is something that must be strenuously opposed.

'So, on the advice of our attorneys, we decided that we must litigate this erroneous standard in order to fight for the rights of all non-profit organizations, which includes all churches. And that's exactly what we've done.

'On April 3, 2009, our battle with the IRS officially began. We're suing the IRS for violating our First Amendment rights . . . for slapping us with a fine for exercising our free speech rights . . . and for intimidating all non-profit organizations into silence....'


The following is the
full text
of Catholic Answers' complaint (in PDF format). So, all you legal minds out there, have at it!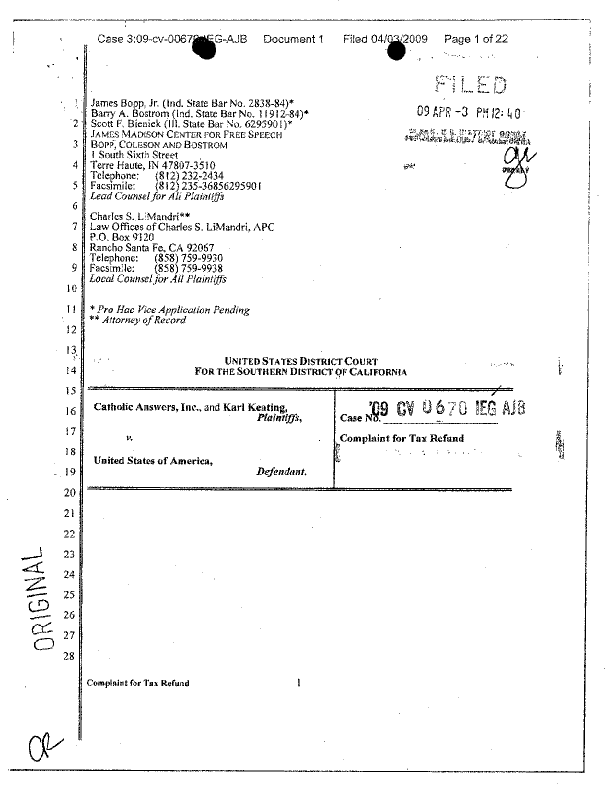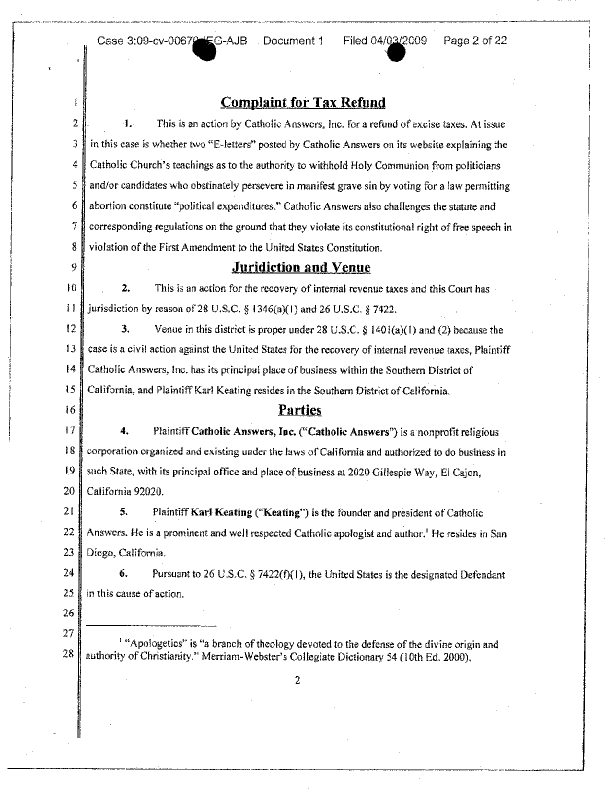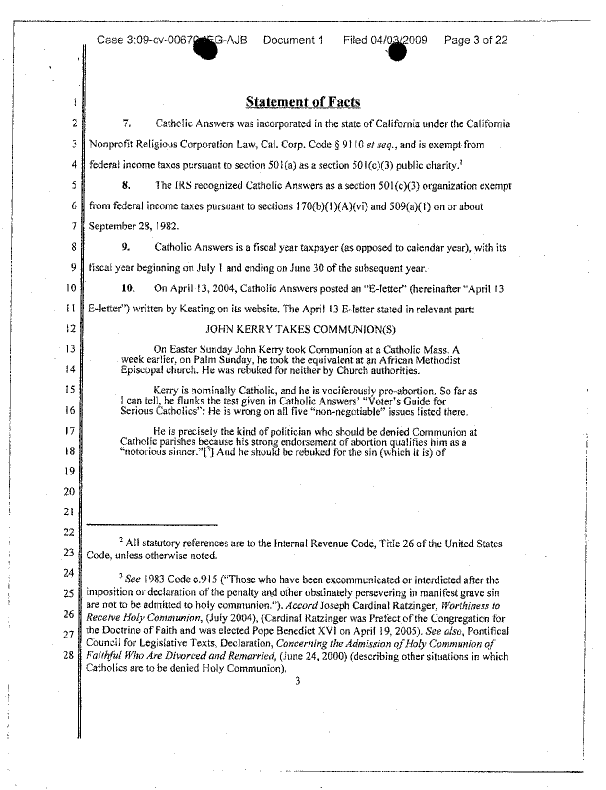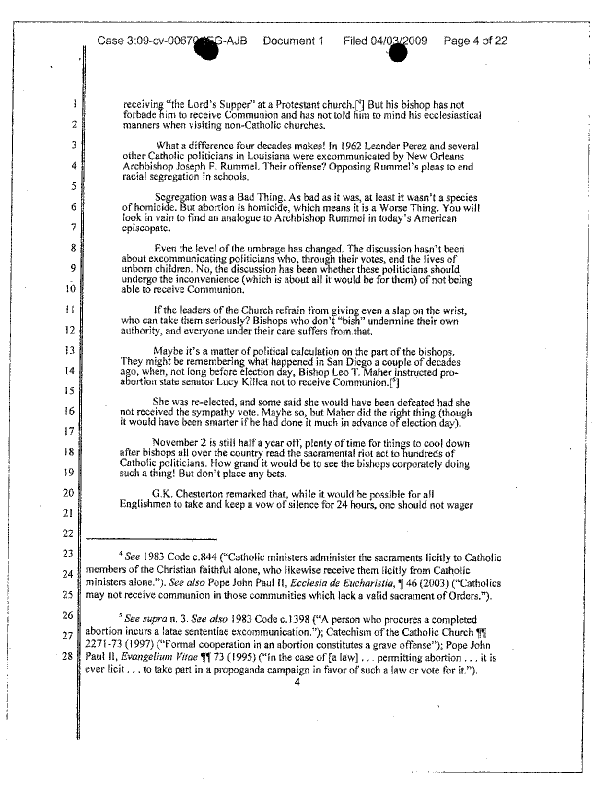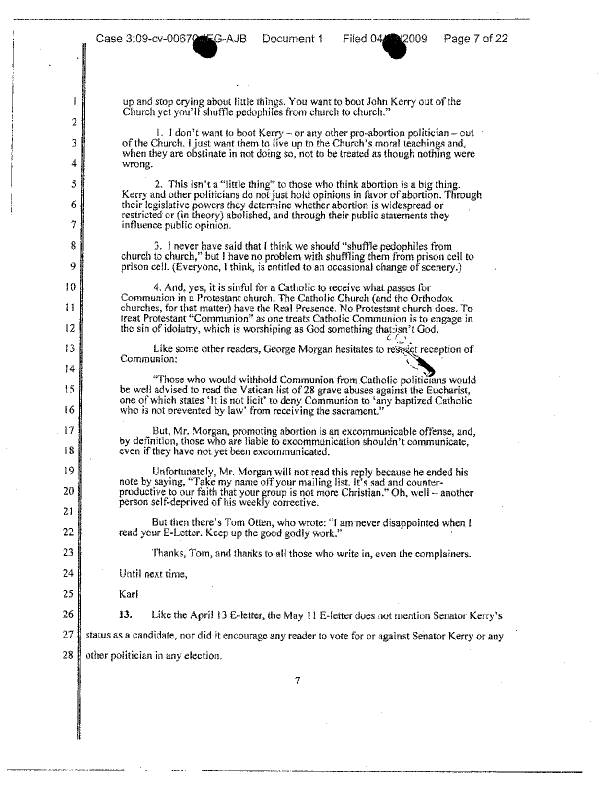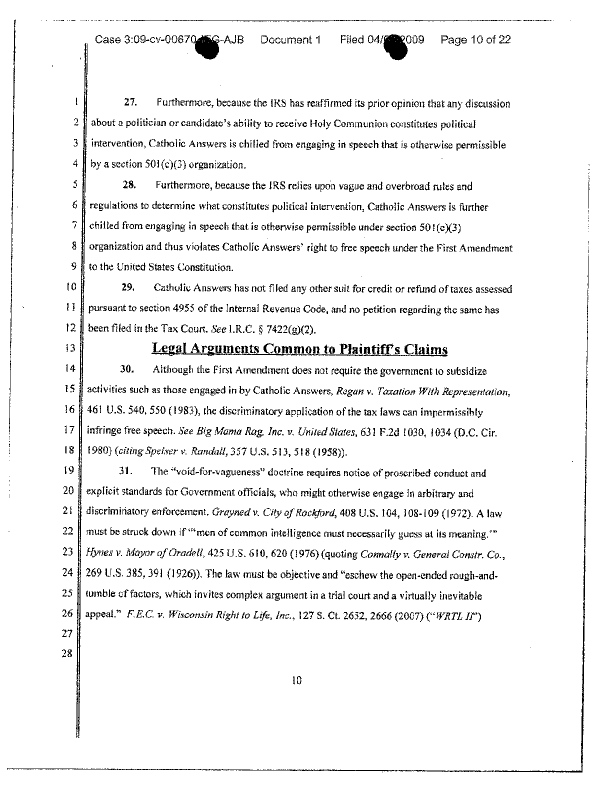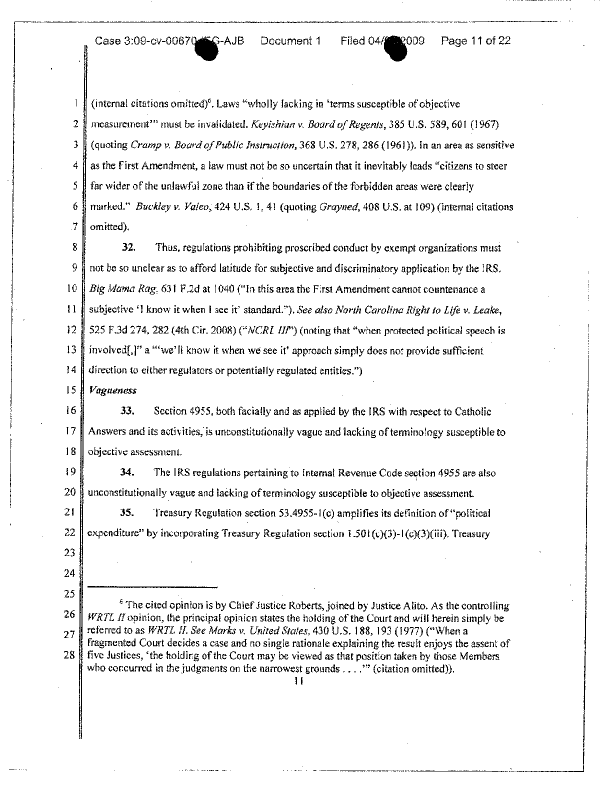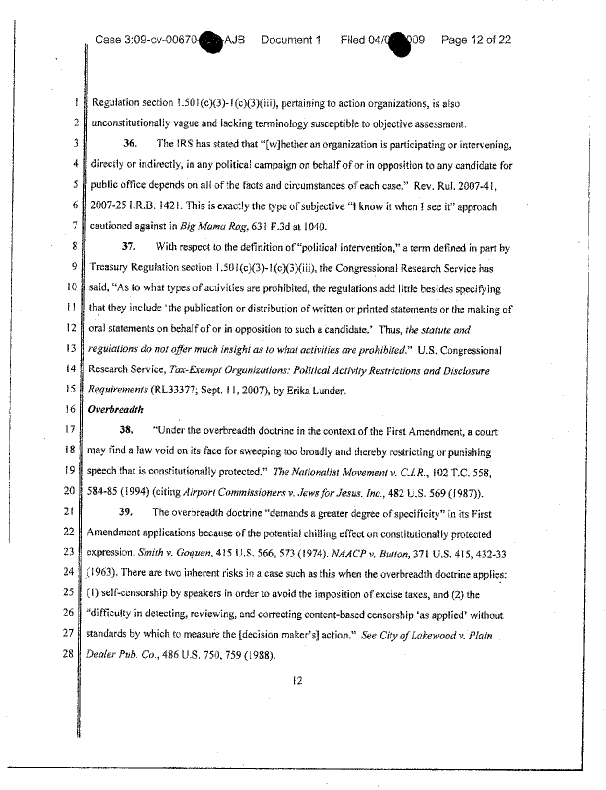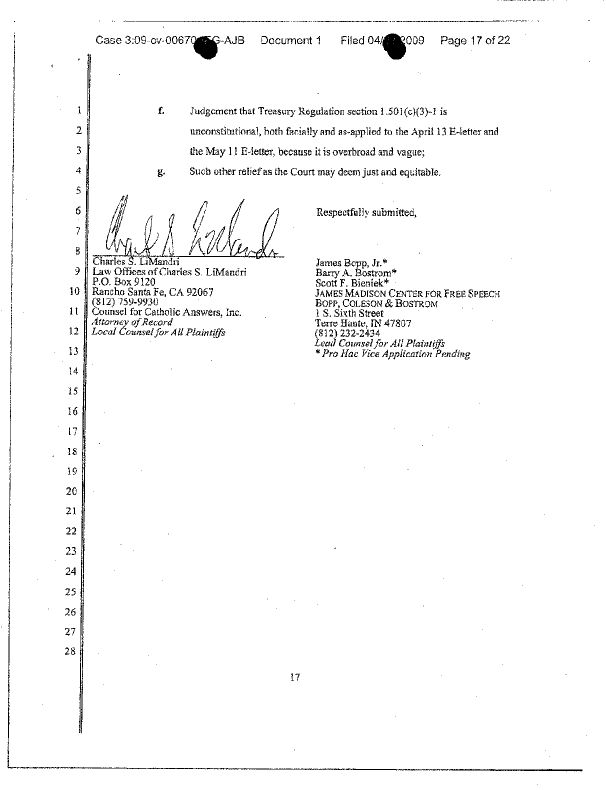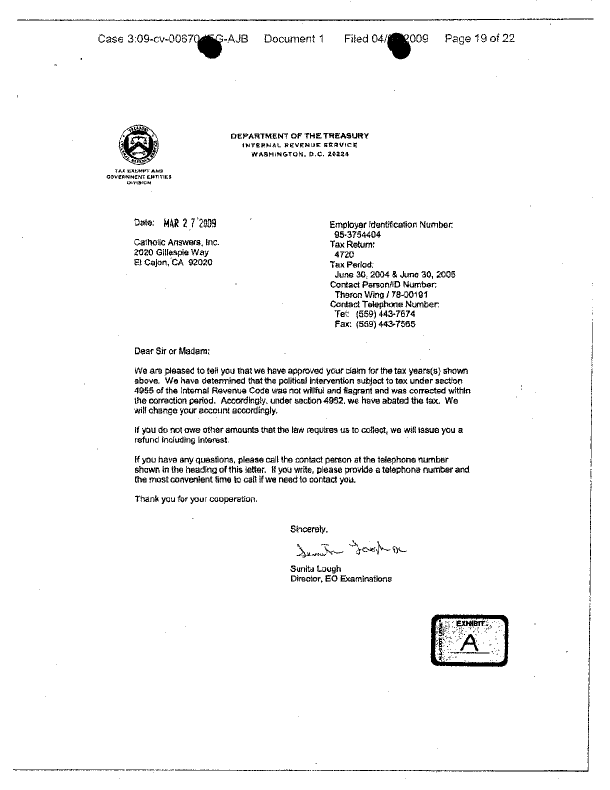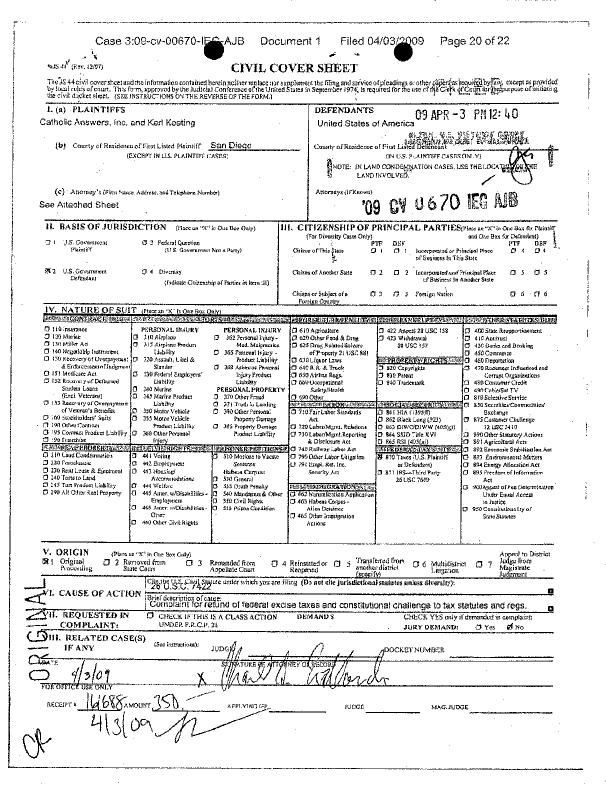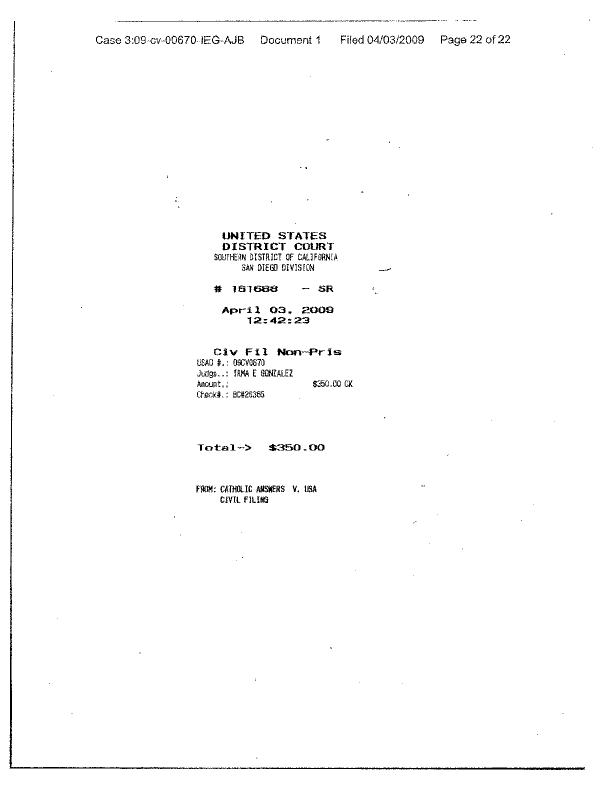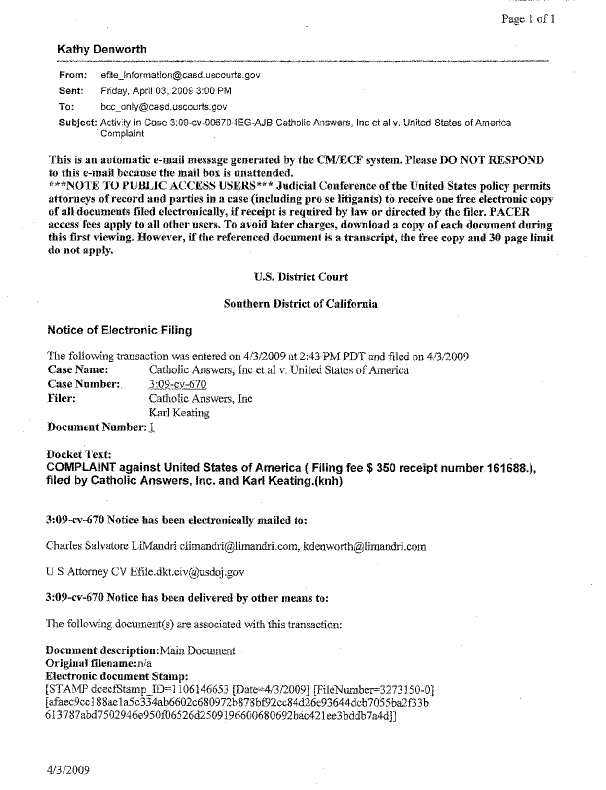 © Matt C. Abbott
---
The views expressed by RenewAmerica columnists are their own and do not necessarily reflect the position of RenewAmerica or its affiliates.
---