Matt C. Abbott
Jesus, the Teacher of always

By
Matt C. Abbott
January 16, 2010
The following is a lengthy excerpt (minus footnotes) from the
In Conversation with God
book series, authored by Father Francis Fernandez-Carvajal. Thanks to Scepter Publishers UK and Nathan Davis of Scepter Publishers, Inc., for allowing me to reprint this material.
After the Epiphany — 10 January

48. JESUS, OUR TEACHER
48.1 Our Lord is the Teacher for all men. He is our only Teacher.

After three days they found him. He was sitting in the Temple, in the midst of those who taught there, listening to them and asking them questions
.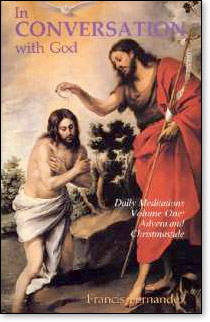 The Rabbis used to comment on Scripture in the Temple. For strangers to Jerusalem, this was their only opportunity to see and hear the most important teachers of Israel. Those who were listening took their seats on mats around the teacher, could ask questions, and also be asked about the text which was being explained. Jesus' questions and answers, although in accordance with one of his age, obviously attracted the attention of everyone.
All those who heard him were in amazement at his quick understanding and at the answers he gave.
When Jesus began his public life, the Evangelist tells us that the people
were amazed at his teaching, for he sat there teaching them like one who had authority, not like the scribes.
When they were listening to him the crowds forgot their hunger, their cold. He never prevented the people from calling him prophet and master and told his disciples
You hail me as the master and the Lord; and you are right, it is what I am.
Very often Jesus uses the expression 'but I tell you.' He wants to show us that his doctrine carries a special force: it is the Son of God who speaks.
From the cloud came a voice which said 'This is my beloved Son; to Him then listen.'
From then on there has been no other to whom to listen.
Moses said to you ... but I tell you.
The ancient prophets presented themselves as speaking on God's behalf. 'Thus said the Lord' they would say after their speeches. Jesus speaks in his own name (which no prophet had ever done) and his teaching is divine. He clarifies the meaning and scope of the Commandments of God received by Moses on Sinai and corrects false interpretations. His precepts, continuing the same revelation as in the Old Testament, are, however, absolutely new. No one has shown the sovereignty of God as he has and, at the same time, made it clear that God is a Father, lovingly concerned about the world and, most of all, about mankind, his children. No one has shown the fundamental truth about man as he has: that man is free and has a marvelous dignity.
Jesus' life was one of unceasing teaching. He spoke in the Synagogues, by the lakeside, in the Temple, along the roads, in houses and everywhere. His doctrine has been handed down faithfully and substantially complete through the Gospels.
There is much else besides that Jesus did. If all of it were put in writing, I do not think the world itself would contain the books which would have to be written
, St. John tells us at the end of his Gospel. But we know the essentials just as they happened, just as the Master taught. He is our only Teacher. We feel safe with him. He always tells each one what he needs to hear. When we read the Gospel for a few minutes each day, with a faithful heart, meditating it slowly, we feel urged to say with St. Peter:
Lord, thou alone hast the words of eternal life.
Only you, Lord. Let us examine ourselves to see how attentively and in what way we read the Gospel.
48.2 Learning from Him. Meditating on the Gospel.

You have one Teacher, Christ
. If afterwards there have been teachers and doctors in his Church, it has been because
he appointed them
, subordinating them to himself; they would repeat and bear witness to what they have heard and seen. The Good News of Christ comes to us through the Church, through the Gospel as it is read in the Church.
Only the one who voluntarily closes his ears will be deprived of hearing his word. Everyone can understand it. The most sublime doctrine becomes accessible to the most simple souls.
Those who are humble, who make themselves like little children, grasp his doctrines effortlessly; whilst those who are 'wise' who let themselves be led by their pride, do not receive the light of the Holy Spirit and remain in darkness, not understanding anything, or deforming the saving truth. Thou hast hidden all this from the wise and prudent, and revealed it to little children.
Jesus is the teacher of all, our Teacher. He knows what is in each person. He is not deceived by our miseries and weaknesses. He knows very well what an abyss of evil there can be in every heart. But he also knows, better than we do, the possibilities of generosity, of sacrifice, of greatness which also exists in every heart, and he can arouse them with his word. The teaching of Christ affects the whole man in the core of his being.
He is a teacher with a knowledge that he alone possesses — the knowledge of unlimited love for God and, in God, for all men. In Christ's teaching we learn that our existence does not belong to us ...
To take Jesus as our Teacher is to take him as our guide, to follow in his footsteps, to seek eagerly his Will for us. It means never being discouraged by our defeats; he will raise us up and turn them into victories time and time again. To take him as our Teacher is to want to become more like him, so that when others see our work, our behaviour at home, with strangers and especially with those most in need, they can recognise Jesus. Just as when we are in close contact with someone we love and admire very much, we end by adopting not only their way of thinking but also their expressions and gestures, so, by making Jesus our inseparable Teacher, speaking to him every day in our prayer and meditating on the Holy Gospel, we will become like him without realising it.
How I wish your bearing and conversation were such that, on seeing or hearing you, people would say: This man reads the life of Jesus Christ.

48.3 Jesus teaches us in the depths of our heart, through events and the people around us and, above all, through the Magisterium of the Church.
St. Paul tells us that the Word of God is something alive, full of energy (cf Heb 4:12). The doctrine of Jesus Christ is always up to date, new for each man. It is a personal teaching because it is directed to each one of us. It is not difficult to recognise ourselves in a particular person in a parable, or to understand in the depths of our soul that some words of Jesus, twenty centuries ago, were uttered for us as if we had been the only ones they were meant for.
In the old days God spoke to our fathers in many ways and by many means, through the prophets; now at last in these times He has spoken to us with a Son to speak for Him (cf Heb 1:1). These times are also ours. Jesus Christ continues to teach. His words, because they are living and eternal, are always relevant.
Reading the Gospel with faith means to believe that everything said in it is in some way taking place now. The departure and return of the prodigal son is happening now; the sheep which has wandered and is lost, and the Shepherd who has gone out to search for it; the need for leaven to transform the dough; the light which should illuminate the great darkness that all too often envelops the world and mankind.
In the sacred books the Father who is in Heaven comes lovingly to meet his children and talks with them. And such is the power and force of the Word of God that it can serve the Church as her support and vigour and the children of the Church as strength for their faith, food for the soul and a pure and lasting fount of spiritual life.
But we should learn to hear Christ in our life and in our soul, in the different ways and circumstances in which he speaks to us.
One day Our Lord was in the house of a Pharisee called Simon.
Jesus answered him thus: Simon, I have a word for thy hearing
.
Christ always has something to tell us, each one in particular, personally. In order to hear him, we must have a heart which knows how to listen, a heart which is attentive to the things of God. He is the Teacher of always. He was the Teacher yesterday and will be tomorrow.
What Jesus Christ was yesterday and is today, he remains forever.
And he speaks to every individual, to everyone who is ready to listen to him. Everyone who sincerely seeks a guideline for his life will find it. Our Lord does not deny his grace to anyone who truly seeks it.
When Solomon, who loved Yahweh, was still young, Yahweh appeared to him during the night in a dream and said to him, 'ask me what you want me to give you.' Solomon did not ask for riches, or power or a long life ... but wisdom to govern the people of God. This was very pleasing to the Lord, and He granted him a wise and intelligent heart — a heart quick to learn.
We too should ask above all for a heart capable of listening, and of understanding those interior motions of the Paraclete in our soul, this language of God who speaks to us through the Magisterium of the Church; this doctrine, which comes to us so clearly through the Pope and the Bishops in union with him and which demands a practical response. It would be good to check now, in our meditation, what procedures we follow to get to know the doctrine of the Magisterium well. And not only to know it, but to live it personally and to spread it among Catholics and among all men of goodwill. The Teacher, Jesus, speaks to us through this doctrine.
In yet another order of things, we have to understand the language of God who speaks to us through events and through the people around us and, very especially, in those precise suggestions which come to us through spiritual guidance.
We ask Our Lady that we may acquire an ear attentive to the voice of God, who speaks to us today as he did twenty centuries ago, even though at times he uses intermediaries.
(Francis Fernandez-Carvajal is a priest of Opus Dei. He was born in Granada in 1938 and was ordained in 1964. He holds a doctorate in canon law from the Angelicum in Rome.)
© Matt C. Abbott
---
The views expressed by RenewAmerica columnists are their own and do not necessarily reflect the position of RenewAmerica or its affiliates.
---