Matt C. Abbott
(Peacefully) protesting the Obama administration's mandate

By
Matt C. Abbott
February 19, 2012
Catholic author Steve Kellmeyer writes:
'On August 1, 2011, Kathleen Sebelius, the Secretary of Health and Human Services (HHS) proposed that all employers should be required to provide free contraception, sterilization and abortion-inducing drug coverage for all employees. On January 20, 2012, the offending regulation was issued. Almost immediately, a storm of protest arose. Employers objected to paying for contraceptives and sterilizations. Critics of the mandate pointed out that this violated their religious liberties.

'In response, President Obama proposed an alternate solution. Instead of forcing employers to pay for these things directly, the federal government would merely force employers to buy insurance only from those companies that cover contraception and sterilization.

'Americans across the country, Americans of every political stripe, Americans of every religious denomination, all of us are outraged at this naked abuse of America's Constitutional rights.

'We have a right to be free of government interference in how we handle our affairs. In order to help people understand the issues involved, Bridegroom Press has created two different pamphlets that can be used to educate and inform Americans.'

One of Kellmeyer's pamphlets is titled "Eight Problems With The HHS Mandate," the image of which can be seen below.
What are the eight problems described in the pamphlet? 1) Hormonal contraceptives are carcinogens. 2) Contraceptives treat pregnancy as a disease. 3) Hormonal contraceptives can cause abortion. 4) The mandate violates federal law. 5) President Obama's broken promises. 6) The mandate will break Catholic hospitals. 7) The mandate violates religious conscience. 8) The mandate violates the Constitution.
The other pamphlet is titled "The HHS Mandate vs. America's Catholic Freedom."
Click here
for more information about these two pamphlets.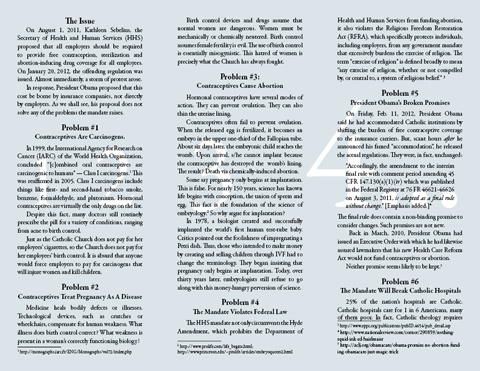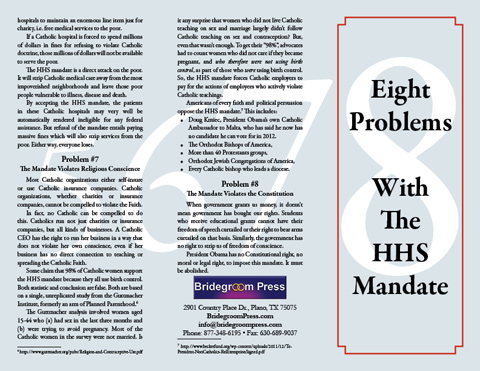 © Matt C. Abbott
---
The views expressed by RenewAmerica columnists are their own and do not necessarily reflect the position of RenewAmerica or its affiliates.
---