Matt C. Abbott
Anguish over the bishops and Obamacare; Father Norman Weslin R.I.P.

By
Matt C. Abbott
May 17, 2012
The following commentary (slightly edited) was written by Michael Smith:
I write this on the even of my beloved bride Linda's funeral, in a feeble attempt at reconciling the suffering she endured for me, to stay alive, and to extend love to others. The very health care system that kept her alive so we could meet and marry is the same system that allowed her life to slip through their fingers too early, all with the help of the American bishops.

I originally received this [article] back in February. But it is pertinent to Linda's death and the death of millions more under socialized medicine. You see, I blame the American bishops, in part, for Linda's earlier-than-necessary death and much of the agony she had to suffer at the hands of a fractured and burdened down health care system. To be sure, in her own words, she 'cheated death' with a lung transplant nine years ago. She lived almost twice the national average of five years. That figure is itself arbitrary, for transplant centers may differ not only in skill but also in whether they are willing to jeopardize their own success ratios by taking difficult cases. And that points to the problem — numbers.

Once the Catholic Church sold out to secular providers of medical care, it inexorably entered the numbers game. From the most humane of endeavors, next to leading souls to Christ, the Church lost her heart. As Pope Benedict XVI said in his first encyclical, charity is the heart of the Church. All is done for God, of course, but to add to the souls saved for the beatific vision — eternal life in the company of God and the angels — and the rest of the saints, acts of charity in His name must be performed, not out of a dry sense of duty, but of love. As Jesus said, we must love each other for Him. Bureaucrats cannot love except as an adjunct to what they do.

The 'system' must come first!

Systems, as I am using the term, run on time, money and procedure. Health care professionals have allowed care that embraces the needs and dignity of each individual by taking the time to get to know the patient thoroughly, including interviewing those closest to her, to be replaced by procedure. To be fair to some wonderful doctors, nurses and other care givers at the University of Virginia Medical Center (and many other places), care is first and foremost in their minds, but they lack the time and energy to spend enough time caring.

Professionals are pushed to the limit by record keeping, much of it a good thing, but much wasteful and error introducing duplication caused by 'the system.' They are compartmentalized by specialty, which do a poor job of communicating and coordinating. Hospital management is grossly incompetent, failing at good information systems so that each department has to ask patients to fill out forms and a human clerk has to re-enter the same data, with the chance for error, many times over.

If procedures and conditions do not fit into government and insurance company categories, then professionals will try to work the system, bending the rules as much as they can without jeopardizing their careers, in order to help the patient. Add to this the evil war on drugs, including laws governing so-called legal prescription drugs, with state and federal laws that threaten doctors with jail if they say the wrong thing to a patient, or run afoul of some policeman's rule, and there is no way the most competent and compassionate professional can care for patients as much as he or she would like.

Have I left out how much so-called insurance pays? It is hard to tell where government, Medicare, leaves off and 'private' insurance picks up in this mess. But clearly doctors are being cheated, as are hospitals. Many providers of equipment, services and supplies are, in my humble opinion, ripping off the system. Hospitals are, I think, 'merely' incompetently managed. Again, I must stress that Linda had the best professional, caring doctors and nurses anywhere. I do not blame them, except for not raising their voices in protest.

It all started more than 100 years ago when private, mostly Church-run charities helped the poor, the sick and the elderly who had inadequate family help. Not so many patients even went to hospitals back in the late 1880s and early 1900s. Most care was local and run by volunteers. Many thought it inadequate, though with the Industrial Revolution, national wealth was growing so that there was growing surplus out of which individuals could fund private charities and health and education efforts, even as forces gathered to shoulder aside all such private, especially Church-run, efforts in favor of what has become the welfare state and socialism.

The Catholic Church never 'got it' regarding free market capitalism. Rather than restrict their much justified criticism to often wicked capitalists who abused employees and often other capitalists as well, popes and bishops went after 'unfettered' capitalism and 'minimalist' government itself as immoral and violative of Church teaching and, at least by implication, the Bible itself. This in spite of our constitutionally-limited government being what made possible both a highly moral society and enough surplus wealth to fund the very charities the Church insisted be run by government.

As the Catholic French nobleman Alexis de Tocqueville had made clear in 1832, and which evidently Catholic leadership ignored, it was limited government that strengthened faith, family and individual industry that was revolutionizing how a nation took care of its poor, its elderly and sick. To be sure, it was far from perfect. Like under capitalism itself, there were gaps and even evils that caused many to suffer. But those were caused by sinful men, not the 'system.'

The Church had, of course, been growing in building schools and hospitals, but the importation of capitalism-hating European ideologies had infected Church leadership as it had American academe and media in general. They had long before begun to ask government for help with schools as a 'fairness' issue: After all, if it was fair for, say, Boston to fund Protestant schools, then why shouldn't Catholic schools get the same share of taxpayer dollars?

The fault lay in accepting character-forming government schools in the first place. Jefferson's (and others') huge error was in calling for government education. They may not have gotten the idea from Prussia, after her defeat at the hands of the French, for forming good citizen-soldiers, but it was a bad idea. Giving the government a near-monopoly over the minds and hearts of children attacks family and Church.

The usual excuse, as it is with health care, education and so forth, is that society is inadequate to the task. Most early settlers were homeschooled, steeped in the Bible and characters formed by family and Church. By the early 1800s that began to change, and the seeds for our moral and intellectual destruction were cast. It may seem quite a leap to make between early education and the killing of potentially millions through Obamacare. But making the government into our savior began with the government teaching most of us.

There would always be a struggle between the various forces in any society. Between family, Church, other private nonprofit making associations, growing non-family economic and cultural forces, and government itself, it can be seen now that faith and family, bolstered by Church and Church-run charities, had no chance. Not, certainly, when leadership dropped the ball over time. True, Church institutions continued to grow into at least the mid-20th century. But the rot had set in. Leaving aside the gory details, suffice it to say leaders seemed to have lost a genuine faith in Church tradition as well as our Lord's dictates in the Bible. They put more and more in the hands of what has become all-powerful government.

Bishops had called for socialized medicine as early as 1917, joining forces with world socialism. They had finally gotten their wish with Obamacare. Ah, but the devil — Obama — lies in the details. It is like the woman who wakes up finding herself more than a little bit pregnant and abandoned by her lover. Too late, she utters: 'But you said you would respect me in the morning!'

Our problem is that our bishops are unalloyed Marxists first and Christians second. Am I unfair? Surely not all are Marxists. Okay, so where is the outcry against their fellow faithless and even apostate bishops by the faithful ones? Only a few, like Cardinal Burke, even by implication condemn them. The time is long past for this heretical idolatry of clericalism to end. God may have arguably appointed even the worst among them for a purpose, even as He appointed Judas. I am not a theologian, so don't pick on me here! I say we have bad bishops for a reason: for us junior Catholics to rise up against and demand their reform or removal!

Otherwise we face the ongoing killing of the innocents, the unborn, the helpless, the elderly — tens of millions of souls of which our bishops have thrown over the side by their apostasy, their refusal to attend to our souls and bodies, by the very socialism/Marxism the bishops have embraced at the expense of the Church and Catholics and others as well.

My precious Linda would likely have died within a very few months anyway, perhaps enduring even worse and more prolonged misery, we cannot know. We did not go to the doctor early enough. But 'the system' dragged its feet before getting her to radiation treatment early enough. Then they failed, in spite of my pleas, to deal with another problem that had cropped up, further likely shortening her life. No one person or group is all at fault, but each must bear responsibility for systemic failure.

Were caregivers steeped in Catholic tradition, they would likely embrace a return of the medieval monastic orders that invented the hospital, coupled with economic and technical advances and limited government. Medieval Christendom made possible, especially in the United States of America. I can't think of another way in which true, Christ-centered love could replace dollars and Byzantine bureaucracy in its growing dominance of health care. We must return to our Declaration principles of Life, Liberty, and the Pursuit of Happiness. That means ridding government of unconstitutional activities, including health care, except for genuine temporary national emergencies like war or epidemic. Our very souls, along with lives, our freedom and prosperity are at stake.

Again, my apologies to the many friends we have made among health care professionals who have given their careers, their lives even, to caring for the sick.

To the Lord and to Linda.

---
From Randall Terry:
At 8:39 p.m. EST May 16, Father Norman Weslin left this life. He was 81 years old. Father Weslin was best known as the founder of Lambs of Christ. Lambs of Christ was a group of highly dedicated, sacrificial pro-life activists who would pray and get arrested at facilities where babies are murdered, and then spend weeks...sometimes months...in jail.

His life, leadership, and love touched thousands of lives across America, and other countries.

Some highlights of Father Weslin's sacred service include:



He was ordained a Catholic priest in Oblates of Wisdom, based in St. Louis, in July 1986.


For many years he ran The Mary Weslin Home for Unwed Mothers in Colorado. The home was unique in that Father Weslin welcomed women who had older children as well. Over 250 souls found help under his care. (The home was named after Father Weslin's deceased wife who was killed in a car accident in the early 1980s.)


He was a Retired Lt. Colonel from the U.S. Army. His service included time in South Korea and management of nuclear weapons.



He was arrested and jailed over 100 times, including some historic campaigns for the pro-life movement, and jailed over a year (accumulated) in various states. He was:



Arrested at Notre Dame in 2009. He made international news as he carried a cross on campus and was arrested for Protesting Obama's speech;


Arrested at Nancy Pelosi's office protesting against Obamacare in 2010;


Arrested at the Democratic National Convention in Denver in 2008;


Arrested during Operation Rescue's siege of Atlanta in 1988;


Was arrested twice at [late-term abortionist] Leroy Carhart's abortion mill in Omaha Nebraska. He went inside, knelt down in front of the women waiting to kill their baby, and begged them to let their babies live.



Says Terry: 'Father Weslin was one of the most courageous, gentle, powerful, unflinching and sacrificial men I have ever known. I had the privilege of being arrested with him, having him stay in our home, traveling with him, and celebrating Sacraments with him. His presence will be sorely missed; his memory truly beloved.'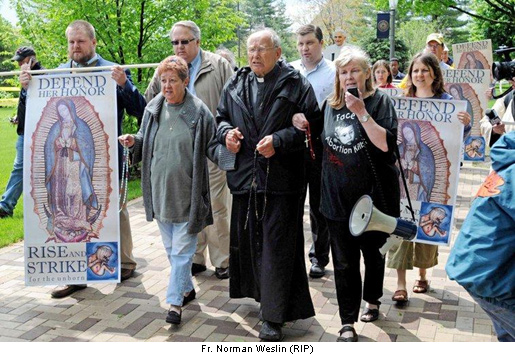 © Matt C. Abbott
---
The views expressed by RenewAmerica columnists are their own and do not necessarily reflect the position of RenewAmerica or its affiliates.
---