Matt C. Abbott
Biblical arguments against 'Bible only'

By
Matt C. Abbott
June 20, 2012
Catholic apologist Dave Armstrong has authored a book titled
100 Biblical Arguments Against Sola Scriptura
, the introduction to which is reprinted below (sans footnotes). Thanks to Mr. Armstrong for allowing me to reprint his material.
The book can be ordered through Catholic Answers by
clicking here
. Mr. Armstrong's website, "Biblical Evidence for Catholicism," which contains a wealth of information, can be viewed by
clicking here
. (I recommend doing so.)
---
Introduction to Dave Armstrong's
100 Biblical Arguments Against Sola Scriptura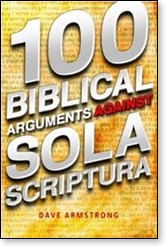 Catholicism and Protestantism fundamentally differ with regard to
authority
: the "rule of faith," the basis or standard Christians use to determine true (and false) doctrine and practice. Protestantism tends to see a divide between the "pure Word of God" in the Bible and the Tradition of the Catholic Church, which is considered to be corrupted by "traditions of men" (Matt 15:3-6, Mk 7:8-13).
For Protestants, Scripture alone is the source and rule of the Christian faith. It is sufficient in and of itself for a full exposition of Christianity and for the attainment of salvation, and the only infallible authority. This is what
sola scriptura
means. In Catholicism, however, Scripture and Tradition — revealed Christian truths passed on outside of Scripture — are (to use a common word-picture) two fonts of the one spring of divine revelation. Without one or the other, revelation is incomplete.
Holy Scripture frequently refers to the notion of
tradition[s]
: a body of knowledge or doctrine that existed prior to and is larger than Scripture itself. For example:
Acts 17:11, 13 Now these Jews were more noble than those in Thessaloni'ca, for they received the word with all eagerness, examining the scriptures daily to see if these things were so. . . . But when the Jews of Thessaloni'ca learned that the word of God was proclaimed by Paul at Beroe'a also, they came there too, stirring up and inciting the crowds.

The "word" or "word of God" in this context is clearly not Scripture (because Scripture is
compared
with it): it is, rather, apostolic preaching, which is synonymous with Sacred Tradition. All true Tradition, like the preaching that is examined in the above passage, is harmonious with Scripture. This is the Catholic and biblical teaching.
Other terms besides "word of God" are used in the Bible to refer to apostolic Tradition, such as "the faith" (Eph 4:13; Col 1:23; 1 Tim 4:1; Jude 3), "the truth" (Rom 2:8; Gal 5:7; 1 Tim 2:4), "the commandment" Mk 7:8; 2 Pet 2:21; 1 Jn 2:7-8), "the doctrine" (Rom 16:17; Titus 2:10; 2 Jn 1:9), and "the message" (1 Cor 2:4; 2 Cor 5:19; 2 Tim 4:15). The biblical data on this score is overwhelming. A concise Catholic definition of Sacred Tradition is found in the decrees of the First Vatican Council (1870), in the
Dogmatic Constitution on the Catholic Faith
:
Further, this supernatural revelation, according to the universal belief of the Church, declared by the sacred Synod of Trent, is contained in the written books and unwritten traditions which, received by the Apostles from the mouth of Christ himself, or from the Apostles themselves, by the dictation of the Holy Spirit, transmitted, as it were, from hand to hand, have come down even to us.

There are many subtleties and complexities and nuances involved in this discussion of Christian authority, which will become apparent as we delve into it. Catholics and Protestants have tragically misunderstood each other for centuries. Yet although there are deeply held differences, there is also more common ground than one might suspect.
Before going any further, I should like to verify the preceding definitions of
sola scriptura
by citing three of its contemporary Protestant defenders. Norman Geisler, a very prominent Evangelical Protestant apologist who has published many books, defines it as follows:
By sola scriptura orthodox Protestants mean that Scripture alone is the primary and absolute source of authority, the final court of appeal, for all doctrine and practice (faith and morals). It is important to repeat that Catholics often misunderstand the Protestant principle of sola scriptura to exclude any truth outside the Bible. This, of course, is untrue . . . What Protestants mean by sola scriptura is that the Bible alone is the infallible written authority for faith and morals. . . . Scripture is the sufficient and final written authority of God. As to sufficiency, the Bible — nothing more, nothing less, and nothing else — is all that is necessary for faith and practice . . . the Bible is clear (perspicuous). The perspicuity of Scripture does not mean that everything in the Bible is perfectly clear, but rather the essential teachings are. Popularly put, in the Bible the main things are the plain things and the plain things are the main things. This is not to say that Protestants obtain no help from the Fathers and early councils . . . this is not to say that there is no usefulness to Christian tradition, but only that it is of secondary importance.

Reformed Protestant writer Keith A. Mathison concurs, while emphasizing the role of the Church a little more strongly:
Scripture alone is inspired and inherently infallible. Scripture alone is the supreme normative standard. But Scripture does not exist in a vacuum. It was and is given to the Church within the doctrinal context of the apostolic gospel. Scripture alone is the only final standard, but it is a final standard that must be utilized, interpreted, and preached by the Church within its Christian context.

It is important to notice that sola scriptura, properly understood, is not a claim that Scripture is the only authority altogether. . . . There are other real authorities which are subordinate and derivative in nature. Scripture, however, is the only inspired and inherently infallible norm, and therefore Scripture is the only final authoritative norm.

He adds, "It must be emphasized that the fallibility of the Church does not render her authority invalid."

Reformed Baptist James R. White, despite belonging to the extreme anti-Catholic fundamentalist wing of Protestantism, nevertheless agrees with Geisler and Mathison in this respect, as we see in his series of helpful expositions detailing first what
sola scriptura
is not:
1. First and foremost, sola scriptura is not a claim that the Bible contains all knowledge.

2. Sola scriptura is not a claim that the Bible is an exhaustive catalog of all religious knowledge. . . . It is obvious that the Bible does not need to be exhaustive to be sufficient as our source of divine truth.

3. Sola scriptura is not a denial of the authority of the Church to teach God's truth . . . The Church, as the body of Christ, presents and upholds the truth, but she remains subservient to it . . . There is no warrant for the "Lone Ranger Christian Syndrome" so popular in Protestant circles these days.

4. Sola scriptura is not a denial that the Word of God has, at times, been spoken. Rather, it refers to the Scriptures as serving the Church as God's final and full revelation . . . It is vitally important that the reader recognize that the Protestant position insists that all God intends for us to have that is infallible, binding, and authoritative today, He has already provided in the certain, clear, understandable, and reliable Scriptures.

5. Sola scriptura does not entail the rejection of every kind or form of "tradition." There are some traditions that are God-honoring and useful in the Church. Sola scriptura simply means that any tradition, no matter how ancient or venerable it might seem to us, must be tested by a higher authority, and that authority is the Bible.

6. Sola scriptura is not a denial of the role of the Holy Spirit in guiding and enlightening the Church.

White then proceeds to show what
sola scriptura
is:
1. The doctrine of sola scriptura, simply stated, is that the Scriptures alone are sufficient to function as the regula fidei, the infallible rule of faith for the Church.

2. All that one must believe to be a Christian is found in Scripture, and in no other source.

3. That which is not found in Scripture — either directly or by necessary implication — is not binding upon the Christian.

4. Scripture reveals those things necessary for salvation.

5. All traditions are subject to the higher authority of Scripture.

In this book, I will be presupposing the above definitions of
sola scriptura:
good and clear definitions from three of its ablest defenders. Let the reader take note! For it is the almost-invariable practice of Protestants to accuse Catholics of not understanding what
sola scriptura
is in the first place. I'm sure there are many Catholics who don't understand. But I
do
understand what
sola scriptura
is
.
I used to adhere to it myself, precisely in these terms, and I defended it, as a Protestant apologist and evangelist, for nine years. I know what it is, and I reject it as a falsehood.
Let me conclude with a word on my premises and methodology. The entire discussion of Christian authority is rife with miscomprehensions on both sides. People are used to reading unsophisticated and inadequate treatments of this crucial topic: from both proponents and opponents of
sola scriptura.
It's not enough, therefore, merely to cite biblical evidences of Tradition or an authoritative Church. Those things are not, by their mere mention, sufficient to refute
sola scriptura
(as our three Protestant proponents cited above point out). The Catholic needs to go further than that and establish, based on unassailable biblical evidence, examples of Tradition or of Church proclamations that were
binding
and
obligatory
upon all who heard and received them. Whether these were
infallible
is another, more complex question, but a binding decree is already either expressly contrary to
sola scriptura
, or, at the very least, a thing that casts considerable doubt on the formal principle.
Thus, one of my favorite counter-arguments is to point out that the Apostle Paul and his companions Silas and Timothy made their way "through the cities" and "delivered to them for observance the decisions which had been reached by the apostles and elders who were at Jerusalem" (Acts 16:4). This council at Jerusalem was described in the previous chapter as having reached its decisions by the direct aid or guidance of the Holy Spirit (15:28).
When we put all of that together, and consider it as objectively as possible, we see an infallible council, presided over by bishops (Peter: 15:7-11, and James: 15:13-21), and proclaimed by an apostle (Paul). It was a development of Tradition and Mosaic Law (about circumcision and what was proper to eat) and a binding exercise of Church authority at the highest levels; even seemingly infallible. All of this is strong counter-indication of
sola scriptura
, which proclaims that no Church or council can bind the conscience of a Christian believer, or can claim to be infallible. For the Protestant, only Scripture can do that. Yet here the same Scripture seems to refute that very proposition.
This is how one goes about refuting
sola scriptura:
by demonstrating how biblical teaching makes the Protestant rule of faith collapse into endless self-contradictions and incoherence. It's a death by a thousand qualifications (and worse).
---
(For those interested in apologetics and e-books, Dave Armstrong has a 15 e-book deal;
click here
to see it.)
© Matt C. Abbott
---
The views expressed by RenewAmerica columnists are their own and do not necessarily reflect the position of RenewAmerica or its affiliates.
---