Matt C. Abbott
Priest 'boycotting' Boy Scouts; Cardinal Raymond Burke on 'Homosexuality and the Catholic Church'

By
Matt C. Abbott
May 25, 2013
Regarding the Boy Scouts of America's very disappointing decision to allow "openly gay" Scouts, Father Richard Perozich of the Diocese of San Diego wrote:
From a Catholic spiritual understanding, homosexual attraction is a strong tendency toward a moral evil. In no case can it be approved. Even a young Scout with this condition can be helped. If, however, he declares this condition as his identity with the right to act on it, the other Scouts need to be protected from him and the influence of his ideation, any homosexual sexual touching or talk, or invitation to participate in or to accept this evil.

I would not allow a child under my care to be near either another child or an adult who identifies with, encourages acceptance of, or practices homosexuality. Our parish gave material support to the Scouts in our region until yesterday. We have withdrawn financial aid but will support them with prayer so that the adults retreat from their cowardice before the evil of homosexuality and its perpetrators, and be about protecting and forming young men according to classic Scout values in accord with Catholic teaching.

I applaud Father Perozich for ceasing his parish's financial support of the Boy Scouts. I hope other Catholics follow suit.
On a related note, Cardinal Raymond Burke, while archbishop of St. Louis, wrote the excellent foreword to the late Father John Harvey's book
Homosexuality and the Catholic Church
, which I featured in a
past column
.
It's worth reprinting (again) below.
---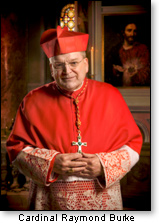 Some time ago, at the conclusion of a reception following the conferral of the sacrament of Confirmation, a mother approached me and asked whether she could speak with me. She began by saying that, while she did not want to offend me, she disagreed with a column I had written in the archdiocesan newspaper. The column was written at the time that the citizens of Missouri were preparing to vote on a referendum to amend the state constitution to define marriage as the union of one man and one woman – that is, to ban what has become popularly known as "same-sex marriage" or "gay marriage."
This well-spoken mother told me that she was offended because my article implied that her daughter was evil. She went on to explain that her daughter, who is in her early twenties, had graduated from a private Catholic high school with highest honors and with many awards. She has been active in a same-sex relationship for some time. With great emotion, the mother declared her love for her daughter, which, according to her way of thinking, requires acceptance and support of her daughter's same-sex relationship, including welcoming her daughter and her same-sex partner into the family home.
I explained to the mother that I have never thought nor written that persons suffering from same-sex attraction are evil. I went on to summarize what I had written in the column to which she referred, namely, that same-sex attraction itself is disordered – that is, contrary to God's plan for us as male and female; that homosexual acts are intrinsically evil; and that persons with same-sex attraction are our brothers and sisters, whom we are to respect and love. The mother continued to insist that she loves her daughter and, therefore, will support her in her same-sex relationship.
The conversation in question reminded me of several pastoral situations in which I have found a parent struggling painfully with the homosexual activity of a child. The emotion of the situation can understandably cloud one's judgment. Whereas in the past, such emotion may have led parents to reject a child suffering with the homosexual condition or to pretend that the condition did not exist, today there is a tendency for parents to believe that tolerance requires them to accept the homosexual activity of their child and even permit it in the family home.
Given the strong public rhetoric favoring the acceptance of same-sex attraction and homosexual activity as an alternative form of human sexuality, the very presentation of the Catholic Church's perennial teaching on the matter is considered, at best, failing in pastoral sensitivity; at worst, hateful toward persons who struggle with same-sex attraction. The theological truth is seen to be somehow antithetical to the pastoral or loving response required. For that reason, Catholic faithful, including the clergy, can become hesitant to present and clearly uphold the Church's teaching on homosexual inclinations and activity. At the same time, the persistent public message about homosexuality – in the absence of a consistent presentation of the Church's teaching – can easily lead the Catholic faithful into confused and even erroneous thinking on the matter.
As at no other time, our society and culture needs to hear the voice of the Church, teaching the divine natural moral law, which safeguards the common good and, therefore, the good of each individual. There can be no pastorally sensitive or loving approach which is not fully informed by and consistent with the teaching of the Church. What is needed is the conviction that the truth communicated with love is the fullest expression of our love and compassion toward every brother and sister.
For that reason, I thank God for Father John F. Harvey, O.S.F.S., and his many decades of dedicated priestly service on behalf of persons who suffer with same-sex attraction. Father Harvey's pastoral care of the faithful who, in some way, are dealing with the homosexual condition is founded on a profound and ongoing study of the condition itself and of the Church's teaching in the matter. Father Harvey's highly qualified study and compassionate pastoral care have led him to establish two support groups for persons desiring to live the truth of the Church's teaching regarding homosexuality and homosexual acts. The genius of the support groups is the recognition that homosexuality is not the identity of the person who struggles with same-sex attraction. The identity of the person is, rather, that of a child of God called to the virtue of chastity, to the way of chaste love of neighbor. Recognizing the true identity of the person, the support groups help everyone to grow in the freedom which comes from being true to who we are.
The first support group is called
Courage
. It is for those who suffer from same-sex attraction and want to receive support and to give support in practicing the virtue of chastity. The second is called Encourage. It is for parents and siblings of persons suffering from same-sex attraction who want to receive support and give support in authentic love of sons, daughters, brothers, and sisters who are affected by the homosexual condition. From my pastoral experience, I know how profoundly helpful both support groups have been for their members. It is my hope that, one day, there will be chapters of Courage and Encourage readily available to all who seek to know the truth about homosexuality and to live that truth with love. In my conversation with the mother after the Confirmation ceremony, I urged her to have contact with the local chapter of Encourage. I hope that she did.
Father Harvey's long and distinguished experience in the pastoral care of persons affected by the homosexual condition has already borne fruit in two books.
The Homosexual Person
, published in 1987, and
The Truth about Homosexuality,
published in 1996, have been of inestimable assistance to all who want to understand homosexuality and respond in a Christ-like manner to brothers and sisters who struggle with same-sex attraction. Father Harvey has also edited, with Professor Gerard V. Bradley of the University of Notre Dame, a third book,
Same Sex Attraction: A Parent's Guide
, published in 2003. As the title indicates, it is especially directed to parents whose children struggle with the homosexual condition.
It is an honor for me to present to you Father Harvey's latest work,
Homosexuality & the Catholic Church
. This question-and-answer book will help you gain a deeper appreciation of the Church's teachings on homosexuality and the ever more pressing question of same-sex "marriage," as well as the importance of support groups such as Courage and Encourage in helping those with same-sex attraction live chaste lives. In these pages, Father Harvey helps us all to think more clearly and to act more rightly and lovingly in responding to our brothers and sisters with same-sex attraction, especially those who wrongly desire to enter a kind of "marriage," which, in fact, is no marriage at all and a contradiction of the nature of marriage.
I thank Father Harvey for yet one more important contribution to the authentic pastoral care of persons affected by homosexuality. I pray that God will continue to bless abundantly Father Harvey and all the members of Courage and Encourage.
I conclude with the story of a more recent pastoral encounter. Not long ago, I celebrated the ordination of permanent deacons for the service of the archdiocese. At the conclusion of the Mass of Ordination, I remained in the narthex of the Cathedral Basilica of Saint Louis to greet the faithful. As I was returning to the sacristy, a young man came across the aisle to greet me. He was beaming with joy. He shook my hand and said these simple words: "Thank you for Courage." He then briefly told me how participation in Courage has transformed his life. The joy and peace radiating from his face were a testimonial to the truth of his words. I have had similar experiences on other occasions.
Through the work of Courage and Encourage, may many more men and women who struggle with same-sex attraction know the joy and peace of a chaste life in Christ. May this latest fruit of Father John Harvey's study and pastoral work help us all to uphold, in word and in deed, chaste love and the integrity of the married life.
– Most Reverend Raymond L. Burke
Archbishop of St. Louis
July 22, 2007
Memorial of Saint Mary Magdalene

© Matt C. Abbott
---
The views expressed by RenewAmerica columnists are their own and do not necessarily reflect the position of RenewAmerica or its affiliates.
---