Matt C. Abbott
Priest-professor fights for soul of Notre Dame

By
Matt C. Abbott
August 2, 2013
First, I applaud Cardinal Francis George for his recent response to a fatuous open letter signed by several liberal – and supposedly Catholic – Chicago politicians.
Click here
to read it.
Now back to our regularly-scheduled program...
Below are excerpts from the introduction to the book
For Notre Dame: Battling for the Heart and Soul of a Catholic University
, authored by the Rev. Wilson D. (Bill) Miscamble, C.S.C., professor of history at the University of Notre Dame.
Thanks to St. Augustine's Press for allowing me to publish these excerpts in my column.
Click here
to order a copy of the book directly from the publisher.
---
Introduction: Beyond Country and Career to a Calling at Notre Dame
This is a book for all those who love Notre Dame and are interested in its past, present, and future. It is a book that asks its readers to reflect deeply about the ongoing struggle to determine the university's present mission and future course. This struggle is not readily apparent to those who visit the campus briefly and experience its picture-postcard beauty and then participate in a wonderful liturgy or a well-staged academic conference. It is also well disguised by the university's relentless institutional self-promotion. It is not even always obvious to many of the undergraduates who blithely enjoy their four years under the dome. Nonetheless, the struggle is very real, and its outcome will shape whether or not Notre Dame will be a Catholic university in a meaningful sense in future decades.
Notre Dame's mission as a Catholic university has been the subject of significant debate and dispute for at least the past four decades. This book raises serious questions about the path that Notre Dame has pursued and presently follows. It holds that the Catholic mission and identity of Notre Dame have suffered and, indeed, are at risk. This view will not receive the approbation of the Notre Dame public relations machine and those it serves. No doubt the book will attract some censure from those who resent any criticism of the university, however well grounded. But I do not aim to placate those who bear responsibility for Notre Dame's current situation. Instead, I seek to deepen understanding of the university so that its fundamental challenges can be faced honestly and a better course charted for it. The debate also relates to and is in some ways a microcosm of larger conflicts in the culture, the Church, and Catholic higher education. Tracking the debate at Notre Dame casts some light on elements of those broader areas.
I have been a participant, to some extent, in what I call the battle for the heart and soul of Notre Dame for well over two decades, and this collection brings together some of my written and spoken contributions to this debate. Read together, I trust these essays and talks will provide insight not only for those – both friend and (metaphorical) foe alike – who have contributed in various ways to the debate, but also to those who come to it afresh with true concern for Notre Dame. Understanding important aspects of the debate and its history hopefully will inform future discussions of the critical issues that presently confront Notre Dame.
As I acknowledge in the pages that follow, Notre Dame is blessed with real strengths as a Catholic university. Yet without major actions to bolster its essential institutional commitment, the university's strengths are insufficient to ward off the dangers that threaten its Catholic mission. Over the years those who exhibit tendencies towards naiveté and gullibility have occasionally pronounced that Notre Dame had its course right or was back on track, but they regularly are disappointed. It is little consolation to claim that Notre Dame is much "better" in facing Catholic mission issues than the major Jesuit universities. I argue that Notre Dame must hold itself to a much higher standard as a Catholic university than contemporary Georgetown. To do so, the university must be prepared to be a Catholic university at its heart, in the center of university life, and not just at the periphery. The debate between these two approaches persists....
Much is at stake in the debate, and I hope and pray that readers will find my perspective and positions to be persuasive. They should also understand why I first entered this debate and something of my commitments and contributions at the university that have influenced my participation in it. I trust the following brief and inevitably incomplete account of my Notre Dame journey provides background for the various articles and talks gathered in this collection. I hope it also sheds some light on the larger Notre Dame story – both its history and its current challenges.
I am a Catholic priest at Notre Dame and a member of the Congregation of Holy Cross. I am also an Australian, a teacher, and a historian....
By this point Fr. John Jenkins had replaced Monk Malloy as president of the university. I had been tangentially involved in the rather farcical pre-determined "evaluation/search process" that ended Monk Malloy's tenure as president and selected John Jenkins. The poor state of the football program and Malloy's refusal to fire Notre Dame's first African-American football coach, Tyrone Willingham, evidently offended some of the oligarchy that controlled the board of trustees at the time. Anyway, they terminated Malloy and selected Jenkins.
John Jenkins inquired if I would serve as a vice president in his administration, but I quietly declined. I was not at all confident that John was resolved to take the courageous steps necessary to truly secure Notre Dame's Catholic identity. I feared that he might try to 'finesse' this central issue in the manner of past administrations, and I recognized that I could not participate easily in such a questionable approach. It would be better for me to contribute again as a Holy Cross priest/scholar/teacher in the history department and to support Notre Dame's Catholic mission by assisting the work of such lively entities as the Notre Dame Center for Ethics and Culture, which my philosopher colleague David Solomon founded in 1999. From this position in the faculty ranks I continued to raise my concerns on crucial issues like faculty hiring and the increasing corporate trend at Notre Dame, including in essays published in the Jesuit periodical
America
, as the contributions in the second part of this book reveal.
While my expectations for John Jenkins' presidency had not been especially high, I had not thought it likely that he would take actions that markedly damaged Notre Dame's reputation as a Catholic university. Surprisingly, he took a number of controversial decisions that did exactly that. In his first year he retreated from assurances given prior to his formally taking office that he would cancel performances of
The Vagina Monologues
, a play which directly attacked sound Catholic sexual ethics.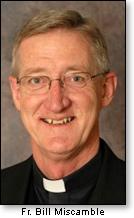 Undoubtedly the worst was his decision to honor President Barack Obama at the 2009 commencement, despite the president's fulsome pro-abortion record and his undisguised determination to extend the abortion regime in the United States and beyond. Compelled to oppose such decisions, I spoke at the terrific rally protesting the honoring of President Obama that the courageous students of NDResponse organized on the university's south quad on commencement day in May of 2009. That speech and related efforts on this and other matters are included in this volume. My criticisms cast light on some of the more turbulent and contentious episodes at Notre Dame over the past decade.
My direct and public criticisms earned me a certain opprobrium in the Notre Dame community, including from some of the more liberal (and usually older) members of the Holy Cross order. Happily, my views received a more sympathetic reception from the younger members. The more recently ordained Holy Cross religious, a number of whom had passed through Moreau Seminary during my rectorship, belonged to the so-called "JP II" generation. They saw clearly what was at stake and refused to engage in denial and obfuscation regarding actions that damaged Notre Dame's relationship with the Church from whose very heart it was called to operate. Many of their older confreres held a different ecclesial outlook, and some among them seemed largely unconcerned with the pro-life cause to which I gave increased attention.
I regret the distancing in relations with some community members with whom I worked shoulder to shoulder for two decades, but it has been a modest cross to bear. It would have been much more painful to bear the guilt of not speaking out against actions that so hurt Notre Dame's Catholic mission and reputation and, incidentally, which offended so many loyal alumni. From the days of St. Paul there has been a place for holy conflict in Christian communities, and, dare I say, I increasingly was drawn to and inspired by the great saint.
The regrettable and avoidable missteps of the Jenkins presidency accompanied a larger failure to address effectively the primary issue facing the university. This, unquestionably, was the need to fulfill the university mission statement's clear call for a preponderance of committed Catholic faculty. The administration struggled to keep the number of nominal Catholic faculty above the fifty percent mark but appeared content with this rather misleading measure, which included substantial numbers of non-practicing and dissenting faculty members. Given their refusal to face the faculty problem honestly, it was hardly surprising that the administration would not address related key areas such as the content of curriculum.
Sadly, the Jenkins presidency lacked a "true north" to guide it and thus it proved vulnerable to faculty pressures and to an excessive concern for rankings and with aping our so-called "preferred peer" schools. While the negative publicity and serious criticism of Notre Dame by members of the hierarchy generated by the Obama affair prompted various remedial actions by the university, these measures carried the quality of a public relations campaign in damage limitation mode. The painful experience of 2009 hardly led Notre Dame to recapture its true and best communal self, as the appointment in 2011 of a trustee who had donated generously to pro-abortion organizations confirmed. I described this situation in the lengthy interview included here with Catholic journalist Kathryn Lopez, published in the
National Catholic Register
online in 2011.
The more recent and commendable action of Notre Dame in joining a number of Catholic dioceses and institutions in suing the Obama administration over its harmful implementation of the Department of Health and Human Services mandate on contraception, abortifacients, and sterilization is certainly a positive development, but of itself it does not change the essential dynamics on the campus. We can only pray that it is a harbinger of a more serious effort to secure Notre Dame's Catholic identity and that it will be followed by further resolute actions to use the university's influence to promote the common good, even in countercultural ways. Much needs to be done, as will be apparent to fair-minded readers who work through the following pages to my conclusion....
---
Click here
to read The Cardinal Newman Society's recent interview with Father Miscamble.
© Matt C. Abbott
---
The views expressed by RenewAmerica columnists are their own and do not necessarily reflect the position of RenewAmerica or its affiliates.
---