Matt C. Abbott
Nuns in crisis; 'Lily's Miracle'

By
Matt C. Abbott
September 2, 2013
The following is a brief interview with Ann Carey, author of
Sisters in Crisis: Revisited
(2013), published by Ignatius Press. Thanks to Mrs. Carey for taking the time to respond to my questions; and thanks to Kevin Wandra of Carmel Communications for facilitating this interview.
Click here
to order a copy of the book directly from the publisher.
---
1.
What inspired you to write Sisters in Crisis?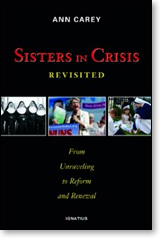 Ann Carey
: I always had an interest in sisters, for they had been my teachers from kindergarten through college. I was writing for
Our Sunday Visitor
in 1992 when I was asked to write an article about the Vatican approval of a second superiors' conference for U.S. women religious – the Council of Major Superiors of Women Religious. U.S. women religious already had a superiors' conference – the Leadership Conference of Women Religious (LCWR). That was the first time the Vatican had ever recognized more than one superiors' conference in the same country, so I wondered why this happened.
In researching the article I found that two different visions of religious life had evolved among sisters since the close of Vatican II in 1965. Thus, the Vatican erected the second superiors' conference to accommodate the sisters who were living the Church's classic model of religious life and did not embrace the evolving vision of a diverse religious life espoused by the LCWR.
I became very interested in why sisters had taken these two very different paths of renewal, and I realized this was an important story that had never been told completely. I live near the University of Notre Dame, where the archives of many organizations of women religious are deposited, so I had rich archival resources available for researching a book. The first edition was published in 1997, and the second, updated edition in 2013.
2.
What role, if any, did the Second Vatican Council play in this crisis of faith and leadership?
Ann Carey
: I would say that Vatican II played a very critical role, for some sisters used Vatican II as an excuse for changing their religious orders in ways the Council Fathers never envisioned. The council documents did recognize that many orders needed to reform, update and renew themselves. That renewal was to involve applying the order's original apostolate to modern needs, getting rid of obsolete customs, paying more attention to the psychological and physical needs of members, giving members more of a voice in community issues, and enriching the spiritual life of the members. Contrary to what some sister "reformers" said, Vatican II did not call for religious orders to leave their apostolates in Catholic institutions, or to stop living and praying together in community, or to develop their own theology of religious life, or to assert independence from the teaching authority of the Church.
3.
What are a few examples of religious communities that are presently growing, and how should Catholics support them?
Ann Carey
: The religious orders that are growing are the ones that live the classic model of religious life – a clear religious identity; a common apostolate exercised in the name of the Catholic Church; life and prayer in common; and fidelity to Church teachings and the Magisterium. Recent studies of new vocations show that young people are most attracted to these kinds of orders that live a distinctly religious lifestyle and whose members are joyful in their vocation.
Space limitations prevent me from listing all the growing orders I know, but let me mention two very different but successful orders. The Dominican Sisters of Saint Cecilia of Nashville, Tenn., is over 150 years old. A teaching order, it had always been rather small and regional, but as many orders of women religious became more diverse in their identity, work and lifestyle, young women from all over began to come in greater numbers to these Dominicans. Recently the Dominicans had to add onto their motherhouse buildings to accommodate the consistently large number of young women entering the order each year. These sisters are in constant demand as teachers in Catholic schools, and their increasing numbers now make possible their presence in numerous states and foreign countries.
The Sisters of Life of New York is relatively new, having been founded in 1991. It is a good example of the Vatican II call to adapt the apostolate to modern needs, for the Sisters of Life take a fourth vow to protect and enhance the sacredness of human life. This order assists pregnant women and supports them in giving life to their children. It also offers hope and healing retreats to those who have suffered abortion.
Such classic religious orders are sprinkled across the country, though some are still very small. Catholics will recognize the sisters from these orders by their joyful witness to their vocation, their fidelity to the Church, and their life and prayer in community. We can support these sisters by volunteering in their ministries, by telling others about them, by encouraging young women to get to know the sisters, by making financial contributions, and of course by praying for them.
---
Click here
to watch a short, heartwarming pro-life video titled "Lily's Miracle."
© Matt C. Abbott
---
The views expressed by RenewAmerica columnists are their own and do not necessarily reflect the position of RenewAmerica or its affiliates.
---