Matt C. Abbott
From tragedy to a new beginning

By
Matt C. Abbott
March 13, 2014
The following is an edited reflection from Jim Dorchak, a traditional Catholic father and businessman whose family used to live in South Carolina but now lives in Chile. The Dorchaks experienced a familial tragedy in 2007, yet their strong faith continues to sustain them to this day.
---
In late 2004, I started a real estate development in South Carolina, with some family members as my partners. I was the work guy; they were the "money." We developed 64 high-end residential lots. I was at the sight every day from 6 a.m. until whenever, all the while running my appraisal business that was busting at the seams with the real estate boom.
In late 2006, we started selling lots from $32K to $49K each. This was high-end pricing for our area. We sold 20 lots in less than two-and-a-half months. It was going great guns and the future was bright. I could see my debt and student loans going away and our dream of a small farm coming true in the next three years.
Then tragedy struck. On June 8, 2007, at 2:08 p.m., my son and I were boating (while attending a Catholic home schooling camporee at Devils Fork State Park) when our boat capsized and subsequently sank, dragging my beautiful Joshua Dorchak – 3-years-old, who was tangled in the rigging in his life jacket – to the bottom of the lake.
My world had ended. (I found the best place to cry is in the shower.)
It took 15 days to find him at the bottom of the lake, with the media at our house every day at 6:30 a.m., waiting to see us crying and exploiting our grief and loss. It was sickening. Joshua's death was on the national news for almost 20 days. We received prayers and gifts of money, thank God, which was desperately needed as I was the sole money earner for a family of six, and Lori was five months pregnant with Thomas at the time. It was hell.
All the while this was going on, the real estate market was crashing. Of course, you do not know you are in a disaster until it's too late, and this applied to Joshua as well as the real estate market.
The lot sales dried up and we
never
sold another lot! We lost our son, our business, our house and our development, but we never lost our faith. God was with us the whole time, cheering us on through the pain. We received letters from as far away as Japan and Great Britain. From Catholics
and
Protestants. It was a life-changing experience.
Lori and I reevaluated our lives and our dreams, because what we had worked for and nurtured for 25 years was all gone – ashes, lost and never to return. We had lost everything. We no longer had dreams of a future for our family. We were living day to day, hand to mouth.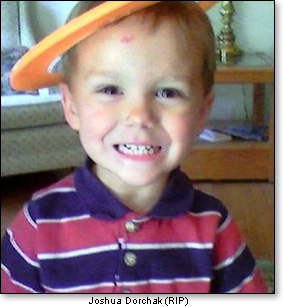 We lost our Joshua, who was our joy and our love. Child number five. My little buddy. It still is so hard to think about as I was plagued by terrible dreams and depression for over three years, but God and our friends in the Latin Mass/home schooling community at Prince of Peace in Taylors helped us through.
Many miracles were wrought and many people returned to the Church through the loss of our son. It certainly was a gift from God.
On November 19, 2007, Thomas Joshua Dorchak was born into this world – and it was like the light was turned back on in our lives. Lori and I felt like we
had
to love again, even though it hurt, because that was what God called us to do: to continue on and live and do God's will. It was all so bitter sweet for us.
Looking at the world around us, it appeared that it had turned into a heap of ash. The real estate market was dead and it was not going to return in my productive lifetime. I knew this as a commercial appraiser/ residential appraiser and real estate broker. It was my job to prognosticate as an appraiser, and I saw no light at the end of the tunnel.
On the political side of things, we saw George W. Bush and Barack Obama destroy our economy. I saw the government steal trillions of hard-working North Americans' equity right out from under their noses, all the while smiling and blaming everyone but the crony bankers they were giving it away too. With real estate being the foundation of the economy, I saw there was no way the U.S. could ever recover.
In 2008, Lori and I started looking to remove ourselves from the desperation that was becoming what is now the former U.S. I call it the "former" because, after all, it's not united in any way, shape or form.
This was a major thing for us, and as a veteran, I had and have deep allegiance to the U.S., but I needed to think about the souls of my wife, children and myself. I think God gave me great insight. Just look at the homosexual jihad that has since taken place in the former U.S. I knew I could not submit my family to this tyranny, and I also knew I was no longer able to fight for what natural law says is right.
Also, as a father, I did not want to sacrifice my sons to a cause I felt was doomed, so we were left with no other option than to leave the former U.S. I would change the radio station so my children didn't have their young ears and souls damaged when the issue of homosexuality was discussed. Now it's a protected class in the U.S.
I don't dwell on politics because they're only a symptom of the moral decay and loss of faith – in the former U.S. and throughout the world. Thus, for me, it was a matter of finding where opportunity existed and moving my family to that place. Not starting over as much as "just starting" since now Lori and I have different priorities for our lives and our family. The loss of a child is a real slap up side the head with a good ol' two-by-four, which, when you're mule-headed like me, it really helps you to get your mind right.
What's important? What really matters? Where do we start? Where will it all end? What does God ask me to do?
To me, it was a spiritual thing more than any other thing. Lori and I like to say we're having a mid-life crisis together. Being inseparably in love helps a lot, too. I think that when you lose a child, as a spouse, it will either break your marriage or super-glue your marriage together, but you have to have that strong foundation before the trial hits, not after.
You can't study for the test
after
you've taken it, so to speak. Around 98 percent of marriages end in divorce when a child is lost. Also, I think God has a lot to say and do with this, too. We both deeply love the Mass, particularly the Traditional Mass, the one that was said at our son's funeral (the first time in 40 years in South Carolina); the Mass of the angels. It was there that God was speaking to Lori and me; he told us to love one another and our children, and everything would be alright. God does not lie.
In 2011, I made a trip with a friend to Uruguay as an exploratory trip to find a new place to call home. In 2012, Lori, the kids and I went to Uruguay where we found that the government had made some changes that moved the country in a direction we did not see as hopeful. Good bye Uruguay!
We were back to square one.
As it happened, we had friends here in Chile who were Catholic home schoolers. We had helped them pack their shipping container in 2005. They offered to be our host family if we moved here to Chile. Three months later we boarded an airplane and left the former U.S., never to return. Man what a blessing!
We landed here on July 10, 2013, not knowing where or how or maybe even why, but we knew that if God wanted us to be here, He would make it happen. We had never been to Chile, but I knew much about the country and government before we arrived. I also had an unbiased sounding board in my host, who had lived here for five years and knew the lay of the land, so to speak.
We were looking for a freer, safer and cheaper place to live – and it is indeed freer, much safer (we don't need to lock our doors, and the Chilean government is not as corrupt as, and is more financially sound than, the U.S. government), and it's comparable to the former U.S. in cost of living (maybe a smidge cheaper). But it's a whole lot more beautiful, and we love it here!
Most of all, there's a wide open future here for us and, more importantly, for our children. Our sons are now international in attitude and experience and are quickly becoming bilingual (Spanish is spoken here). I'm in the process of opening not one, but no less than three businesses here that will provide a good, sound income for me, my sons and my grandchildren – if I'm still around to see them.
I still love the former U.S. I miss my family and friends who are there, and I pray that they will wake up and realize they are now paying for abortions, contraception, and sex-change surgeries. They are paying for maternity care for men, little blue pills for life-long sentenced inmates, and extravagant life styles for the members of Congress.
For many of my friends, they get a check from their employer every two weeks and they can pay their bills, so everything is just fine. As a self-employed guy, that was never an option for me. My business suffered with the bad economy almost instantly.
You will hear them say: "Those Dorchaks. God bless them, but I think they're crazy for leaving the U.S." I pray they will see that they're no longer free. Their children are wards of the police state. I pray that my friends and family will see they no longer have the right to be Catholic – I mean
truly
Catholic – to the fullest extent. I pray they will see that there is no future for their children in a country like the former U.S.
Chile is not perfect by any means, but it's very nice and stable. Abortion and homosexuality are illegal. Families are the foundation here, and you see many children and young families. Chile is very Catholic in nature, albeit not in familial practice. Many of the Catholic feasts and holy days are national holy days (notice I did not say "holidays"). Sadly, it's changing for the worse, largely due to the former U.S., which peddles its anti-life, anti-family social and political agendas to the rest of the world. (Thanks, Hillary.)
We live in the sticks. We pay little to no taxes. We live safe, free and holy lives, where every day is an adventure in beauty. Lori and I think God has sent us here to be Catholic, and to bring the Traditional Mass to the south of Chile. There are many old family farms that have private chapels. I think God wants us to build or buy one for us and others to come and pray. To attend the Traditional Mass for those whose souls are in jeopardy and do not know it.
Pray for me; God knows I need it. And I will pray for you.
© Matt C. Abbott
---
The views expressed by RenewAmerica columnists are their own and do not necessarily reflect the position of RenewAmerica or its affiliates.
---