Matt C. Abbott
Thank you, Jim Caviezel!; Abortion by remote control?

By
Matt C. Abbott
July 19, 2014
I don't care much for what comes out of Hollywood these days, but I do appreciate the seemingly few Hollywood celebrities who don't embrace secular humanism, hedonism and moral relativism as their "religion."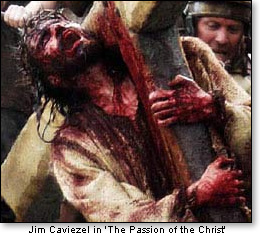 One of those few is Jim Caviezel, who admirably portrayed Our Lord in
The Passion of the Christ
and who currently stars in the hit television show
Person of Interest
. He's also starring in the forthcoming feature film
When the Game Stands Tall
;
click here
to see the trailer.
Caviezel , a devout Catholic, once said in
an interview
, "I dedicate my work to [Our Lord Jesus Christ], I dedicate all that I do to [Our Lady's] Son. I ask Mary to guide me and my career. You can convert people only by living your life."
He's also strongly pro-life. He and his wife Kerri adopted two children with special needs, and he once told
Catholic Digest
, "How are we so arrogant to think the 51.5 million babies who have died in this country... Look, I am for helping women. I just don't see abortion as helping women. And I don't love my career that much to say, 'I'm going to remain silent on this.'"
Bravo, Jim!
---
From
MIT Technology Review
:
The hunt for a perfect contraceptive has gone on for millennia. A new candidate is now on the horizon: a wireless implant that can be turned on and off with a remote control and that is designed to last up to 16 years....

The idea for the device originated two years ago in a visit by Bill Gates and his colleagues to Robert Langer's MIT lab. Gates and his colleagues asked Langer if it were feasible to create birth control that a woman could turn on and off and use for many years....

A – not necessarily
the
– mark of the beast? I wonder.
Judie Brown, president of American Life League,
writes
:
The implanted chip contains the chemical levonorgestrel – the same ingredient in Plan B One-Step (emergency contraception). So a woman would literally be able to abort children by remote control.

And staying on the topic of contraception/abortion...
A gem of a quote courtesy of Leslie Tignor, development coordinator and resources department manager for American Life League (
click here
to read Leslie's commentary in its entirety):
Social science has shown that the birth control movement has had horribly harmful effects on the family and on society. Promiscuity, adultery, divorce, pornography, out-of-wedlock births, STDs – not to mention abortion – have all skyrocketed since the 'sexual revolution.'

Those who oppose artificial forms of contraception, whether we are religious or not, know that there are better (safer, healthier, and less costly) alternatives. There is natural family planning for avoiding or spacing pregnancies and NaProTECHNOLOGY for fertility/gynecological treatments. We know that there are an innumerable number of advantages – both individually and for society – to sex in a healthy one man-one woman married relationship.

Those who argue in favor of contraception do not want to acknowledge the truth. And, now, those who fought so desperately to keep everyone out of their bedrooms so they could indulge in whatever kind of sex life they wanted want to force the rest of us to be intimately involved by providing, one way or another, for their contraception regardless of what we believe about it....

Amen!
© Matt C. Abbott
---
The views expressed by RenewAmerica columnists are their own and do not necessarily reflect the position of RenewAmerica or its affiliates.
---