Matt C. Abbott
'Symbols of Christmastide'

By
Matt C. Abbott
December 24, 2014
Wishing my readers a very blessed Christmas and New Year! Many thanks for all your moral and spiritual support.
The following is a lovely Christmas poem by Susan E. Gorski.
---
Symbols of Christmastide

By Susan E. Gorski
Ascending from the dawn of man
The Incarnate Word, God's holy plan
For sin had crept in to the garden
Turning away; man's heart did ever harden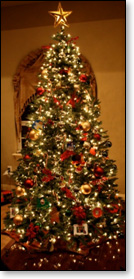 By allegory we adorn a tree
In honor of the Blessed He
Foretelling grace that we have heard
Someone to pay the debt of the earth
The forest surrendered its very best
That all, who have passed, might be free to rest
Soon upon its trunk stretched the King of Kings
Now as we decorate it, we respect these things
Beneath its foliage I have placed a nail
To honor Him Who was thus impaled
With lights and ornament my tree adorned
A tribute to Him Who arrives Christmas morn
Every light, every trimming is placed with care
Every hope, every dream, every heart, everywhere
The Christmas tree, I find, is the foreshadowing of Him
Who comes into this world to conquer our sin
© Matt C. Abbott
---
The views expressed by RenewAmerica columnists are their own and do not necessarily reflect the position of RenewAmerica or its affiliates.
---