Matt C. Abbott
Mother Teresa and redemptive suffering

By
Matt C. Abbott
August 26, 2016
But I feel that the greatest destroyer of peace today is abortion, because it is a war against the child, a direct killing of the innocent child, murder by the mother herself....

By abortion, the mother does not learn to love, but kills even her own child to solve her problems. And, by abortion, the father is told that he does not have to take any responsibility at all for the child he has brought into the world. That father is likely to put other women into the same trouble. So abortion just leads to more abortion.

Any country that accepts abortion is not teaching its people to love, but to use any violence to get what they want. This is why the greatest destroyer of love and peace is abortion.

– Mother Teresa (Feb. 3, 1994)

There's a new book out about Blessed Mother Teresa, who will be canonized September 4, 2016. Below is an excerpt from
Unmasking Mother Teresa's Critics
, by Bill Donohue. Thanks to Sophia Institute Press for permitting me to publish this excerpt in my column. Click here to order a copy.
---
From chapter 11 of
Unmasking Mother Teresa's Critics
: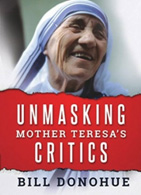 Students in the social sciences are taught that if they want to understand how others think, they need to adopt what sociologist Max Weber called
Verstehen
, or sympathetic understanding; they need to try to see the world through the lens of their subject.
Regrettably, when it comes to the critics of Mother Teresa, they express no interest in judging her work from a Catholic perspective. That is because so many of them are highly critical of Catholicism, if not downright disdainful of it. To cite one prominent example, they are not so much ignorant of what Catholics call redemptive suffering; they are contemptuous of it.
Redemptive suffering is the conviction that we can unite with God by surrendering our sufferings to Christ. Historian James Hitchcock perceptively notes that "this is an extremely radical concept. Neither before nor after Christ has any religion interpreted pain and suffering this way." That's because no other religion sees the Cross as the means of salvation.
Those who assess the record of Mother Teresa without appreciating the centrality that redemptive suffering played in her work cannot fully understand who she was. "We are all called to be saints," she wrote. "Don't be afraid. There must be the cross, there must be suffering, a clear sign that Jesus has drawn you so close to His heart that He can share His suffering with you." It was for this reason that she told President Reagan, after he was shot, that his suffering would bring him closer to Jesus.
"Suffering in itself is nothing," she said, "but suffering with Christ's passion is a wonderful gift. Man's most beautiful gift is that he can share in the passion of Christ."
No one, of course, is obliged to agree with Mother Teresa, but if those who seek to evaluate her work don't understand how important the concept of redemptive suffering was to her, they can never figure her out. That is their fault, not hers.
Those who see redemptive suffering as a dark vision, or as a sign of resignation, fail to capture its essence. "Remember that the passion of Christ ends always in the joy of the resurrection of Christ," Mother Teresa said, "so when you feel in your own heart the suffering of Christ, remember that the resurrection has to come." In other words, the sorrow of Good Friday is followed by the joy of Easter.
© Matt C. Abbott
---
The views expressed by RenewAmerica columnists are their own and do not necessarily reflect the position of RenewAmerica or its affiliates.
---