Matt C. Abbott
Reflections, prayers for Catholic military wives

By
Matt C. Abbott
February 19, 2018
Below is an excerpt from the newly-released book
By Dawn's Early Light: Prayers and Meditations for Catholic Military Wives
, by Donna-Marie Cooper O'Boyle. Thanks to Sophia Institute Press for allowing me to publish this excerpt in my column. Click here to order a copy of the book directly from the publisher.
---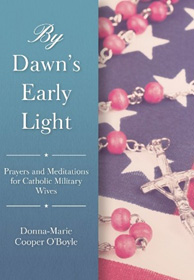 Army wife Michelle Nash shared some of her military journey with me. "My Army-spouse journey began in March of 1995 when I said my own fiat to my husband. Really, I had no idea of what that 'fiat' meant for my service to our Lord through this channel of selfless service to His chosen military families and to my own." Along the way, Michelle would learn more about what that meant, but she and her husband, Kevin, needed to establish some parameters. She said, "Raising four children and keeping them in an environment of constant change meant for our family that we needed to stand firm in our nonnegotiables as parents and as a military family. No excuses!"
Michelle shared those "nonnegotiables" with me. She and her husband made sure they always attended Mass together and prayed as a family each night, and she explained, "We will never allow the things we don't have to cause us to be ungrateful for the things we do have. If Dad ever has to miss Christmas, we always open our gifts when we are together again as family!"
Michelle explained the constant need for prayer and God in her life. "The military life has afforded me many opportunities where the only constants in my day-to-day life were God and prayer." She also recalled the painful waiting for her soldier to come home. "I have often lived much like a prisoner, counting down time and days when I could be reunited with my husband." She added, "The distance was always the great trial in my day-to-day life."....
Michelle Nash shared with me a moving story about an experience that impacted her life. Her husband, Kevin, was stationed in Korea at the time. Just two days before a young soldier was due to go home, a devastating accident occurred. "A tank rolled over his billet and killed the sleeping soldier." Michelle said, "My husband was in charge of contacting the family of this nineteen-year-old: his spouse, who was pregnant with their first child, and his parents." But Michelle knew nothing about this awful casualty because, she said, "my husband was trying to keep my stress down."
Then Michelle received a letter from the widow of the deceased soldier. Michelle explained, "My husband told her to contact me stateside if there was anything she needed prior to her husband's body returning. We were both due, she in August and I in July, with our first children."
"The letter moved me to tears because she was thanking me, believe it or not, in her circumstances – thanking me for the check she received in the mail from my husband with a card from both of us for baby items she might need until her insurance money was received from the life-insurance settlement." Michelle said, "I burst into tears." She decided to call the grieving woman. "When she got on the phone, I commended her for her warm words and sentiments and shared that I was so sorry for her loss."
Michelle also asked the woman to count on her for emotional and spiritual help, and anything else she needed. Michelle told her, "Lean on me" when and if she needed anything, in whatever way Michelle could offer comfort or direction. She told me that the woman's words over the phone have stayed with her throughout the years. "What she shared with me has followed me all the days of my life with my husband."
The young expectant widow said, "Mrs. Nash, I wanted to tell you that you are married to a remarkable soldier. My husband, P. J., never met your husband, but to receive a personal check in the mail from a fellow soldier – one who never met our family – has touched my heart, and I know my husband's looking out for him and his needs even though he is no longer with us!" The woman continued, "Your soldier of a husband also said not to plan on paying you back, that we would need it more than you ever would." There was more. "Mrs. Nash, if the Army never commends your husband for this selfless act, know that my family has!" Michelle felt speechless, humbled, and blessed beyond measure, but her heart was breaking for the young woman as she was also proud of her husband. "I hung up the phone and cried and seriously thought: I am married to a hero!"
They all stayed in touch for many years after that fateful loss in Korea. Michelle recalled, "A family who I never met personally has impacted my life for over twenty-three years!"
© Matt C. Abbott
---
The views expressed by RenewAmerica columnists are their own and do not necessarily reflect the position of RenewAmerica or its affiliates.
---