Matt C. Abbott
Cupich removes prominent Chicago pastor

By
Matt C. Abbott
March 22, 2018
I began attending St. John Cantius Church in Chicago in the mid-1990s. A beautiful church known for its Latin Masses and wonderful sacred music program, Cantius has gained worldwide exposure over the years.
Now its longtime pastor, Father C. Frank Phillips, faces "credible allegations of improper conduct involving adult men," according to a letter signed by Cardinal Blase Cupich and read to parishioners last weekend (
click here
to read the letter). Cardinal Cupich has withdrawn Father Phillips' priestly faculties and an investigation will be conducted by the Congregation of the Resurrection, the order to which Father Phillips belongs.
Few details have been released by the archdiocese as to the nature of the allegations. Cantius parishioner Oakes Spalding reported:
Representatives of the archdiocese subsequently added more to the story in unofficial talks after Mass: The allegations involve three adult males, they refer to relatively recent actions (in the last five years), and the complaints do not involve any criminal or civil charges. They first came to light in November. Someone suggested (perhaps one of the representatives) that the investigation was expected to take six months.

Click here
to read Mr. Spalding's blog post in its entirety.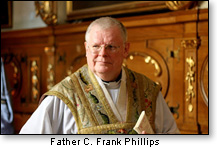 Father Phillips has numerous supporters, including D.C., who said in an email to me: "I don't believe these allegations at all. I think it is a frame up... I have known Father Phillips for almost 40 years, and unless he has radically changed, which I doubt, it is a vindictive lie. Let's pray for him. This has to be like a crucifixion for him."
M.S. said in an email to me: "Seems like he is being asked to walk the road to Calvary with Jesus right now. None of this makes sense, except to persecute a holy man. I'm so sad about it. I've known him since I was a teenager and this is not him. We all need to pray to the Holy Family to clear his good name and reinstate his priestly duties. The devil is hard at work here, but Jesus always wins!"
ChurchMilitant.com has an article (
click here
to read it) quoting Father Phillips' attorney, Stephen Komie, as saying: "Father Phillips is looking forward to the convocation of the review board. His religious superiors are going to appoint the board, and he's looking forward to appearing in front of the board and clearing his name and reputation."
Interestingly, Cardinal Cupich – who in 2002, as bishop of Rapid City, S.D., locked out members of a Latin Mass community "in an attempt to mainstream them into the English-language Mass" (
click here
to read the story) – is hosting Jesuit
Father James Martin
, a popular progressive and dissenter on the Church's teaching on homosexuality.
Father Martin will be giving Lenten reflections at Holy Name Cathedral on March 22 and 23. A group comprised of orthodox Catholics will peacefully and prayerfully protest the Jesuit's appearance on March 22.
What will become of the investigation into the allegations made against Father Phillips? Time will tell.
Pray for all the parties involved in this matter.
Update as of May 25, 2018
:
I emailed the Congregation of the Resurrection and received a response from Father Gene Szarek, provincial superior of the order.
I had asked: "I'm inquiring as to whether there's been a decision about the status of Father C. Frank Phillips of St. John Cantius Church? It's my understanding that the Congregation of the Resurrection has completed its own investigation into the allegations of inappropriate conduct by Father Phillips."
Father Szarek responded: "No final decision has been reached. When it is, interested persons will be informed. Thank you for your inquiry."
I followed up with this question: "Thank you, Father. Are you able to divulge what the review board concluded as to the veracity of the allegations?"
Father Szarek responded: "Not yet. I want to give the cardinal an opportunity to review the report before I make comments about it."
Update as of June 24, 2018
:
Father Phillips will not be allowed to return to St. John Cantius Church as pastor.
Click here
for more information.
© Matt C. Abbott
---
The views expressed by RenewAmerica columnists are their own and do not necessarily reflect the position of RenewAmerica or its affiliates.
---