Matt C. Abbott
Catholic priest calls March for Life 'repulsive'

By
Matt C. Abbott
January 20, 2019
Father Daniel P. Horan, OFM, just might be given an award by Planned Parenthood sometime soon. Well, maybe not officially. But based on a very recent tweet of his (which was featured in a
Washington Post
story), he'd be a top candidate, sad to say.
Take a look at a screen shot of his tweet below: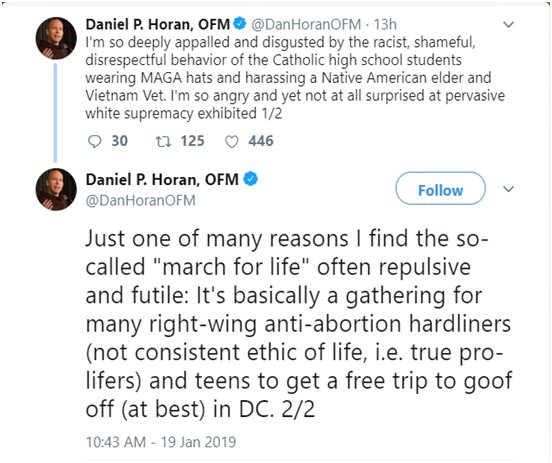 What prompted Father Horan's ridiculous tweet?
Click here
to read about the incident in
The New York Times
.
Click here
to read about it at FoxNews.com. And
click here
to read about it at
The Gateway Pundit
.
Basically, an elderly left-wing activist participated in a clever PR stunt by goading a group of Catholic high school students – some of whom were wearing MAGA (pro-Trump) hats – attending the March for Life. Video footage of the students' reactions went viral. A short, misleading clip was used by several media outlets to cast the students in a negative light.
Not surprisingly, the left is apoplectic over the incident, and the Catholic school the students attend, and the diocese, are apologizing all over the place.
Leila Marie Lawler, wife of Catholic journalist Phil Lawler, tweeted
this
in response to the controversy:
I don't see a smirk. I see kids doing their thing and a boy trying to avoid seeming awkward or rude with an old man inches from his face. Watch the whole video. There is no hate here. You don't think that the media are spinning one spinnable moment in a peaceful march they hate?

And a march supported by a
president
they hate.
How very sad, though, that a priest would view the March for Life as "repulsive and futile."
© Matt C. Abbott
---
The views expressed by RenewAmerica columnists are their own and do not necessarily reflect the position of RenewAmerica or its affiliates.
---