Matt C. Abbott
Franciscan priest-author: GOP is racist

By
Matt C. Abbott
July 21, 2019
The leftist Daniel P. Horan, OFM, is at it again.
Earlier this year, the Franciscan priest-professor-author (who isn't quite as high-profile as the equally leftist
James Martin, SJ
) asserted via
Twitter that he considers the March for Life
"often repulsive and futile."
On July 17, Horan tweeted: "The GOP is a racist political party. Racism is intrinsically evil (see St. John Paul II's magisterial teaching). According to the 'pro-life' movement, you cannot vote for someone who supports an intrinsic evil. Period. Therefore, you cannot vote for a Republican politician."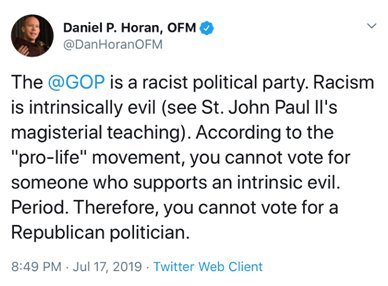 I asked Father Frank Pavone, national director of Priests for Life, and Dr. Alveda King, niece of Dr. Martin Luther King Jr. and pastoral associate for PFL, to comment on Horan's tweet.
Pavone's response is as follows (with King's approval):
First of all, a tweet like this from a priest certainly gives me new ammunition to use for my critics who say a priest shouldn't be 'political.' There are obviously priests on both sides of the political aisle who attempt to follow the Second Vatican Council's assertion that the Church must be free 'to pass moral judgment even in matters relating to politics' (Gaudium et Spes, 76).

Now there's no need to disagree with the fact that racism is evil. But this priest seems to have been swept up into the tendency nowadays to throw the adjective 'racist' around with great ease at those with whom you disagree politically. What makes it worse, as in this example, is when no objective evidence is given to back up the gratuitous assertion.

As Alveda King and I have said repeatedly, the extent to which the 'racist' accusation is used today does a disservice to fighting actual racism. It dilutes the meaning of the term and renders it unintelligible. It is like the boy who cried wolf too often.

We have to, first of all, get off the 'you're a racist' bandwagon and reserve use of the term where it really applies. Second, as Alveda King has asserted (for instance, here and here) and as I have joined her in asserting, President Trump is not a racist. His policies, and those of the Republican Party, are based on a commitment to advance law and order and to preserve the greatness of America.

To identify those commitments – which the GOP and the president share – with racism is a shallow and careless way of thinking. Moreover, it is a failure to observe another moral duty, namely, respect for the good name and reputation of others. Violating that duty carries both moral and legal consequences.

I recently shared a video on YouTube, Facebook, and other platforms examining the tweets of the president that have generated charges of racism, and distinguished between real racism and the judgmentalism of those who attack the president and his party. Also, here is a conversation between me and Alveda discussing the president and some of the things he has done for the African-American community.

If we want to find real racism, one of the places we can look is in the abortion industry and the mindset of its biggest promoter, Planned Parenthood. None other than Justice Clarence Thomas, who knows something about racism, recently wrote a Supreme Court opinion exposing the racism there.

And who is the best friend of Planned Parenthood and abortion? The Democrat Party and its candidates!

© Matt C. Abbott
---
The views expressed by RenewAmerica columnists are their own and do not necessarily reflect the position of RenewAmerica or its affiliates.
---