Kevin J. Banet
Alfred Kinsey and the failure of homosexuality

By
Kevin J. Banet
December 16, 2012
A few years ago I got together with an old friend whom I hadn't seen in years. The difference in this meeting was that my friend was a homosexual. Um, I guess I'm supposed to say "gay," but I've never really been comfortable with that word.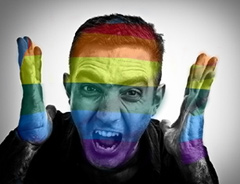 As we sat across the table in the restaurant, we talked about the time that passed since our pre-teen years, when we had been friends. I knew of Jim's lifestyle since that time, and he knew that I had rediscovered my Catholic faith. Yet neither of us brought up his homosexuality in the conversation — maybe we both felt awkward about it.
As we talked, I discovered Jim had worked in various jobs, many in restaurants, and had experienced happy and sad times, as had I. What struck me about him, however, was an angry streak that flashed like lightening every now and then. His latest problem was over a former boss at one of the restaurants where he had worked. I had seen this anger here and there before, and was saddened that these conflicts never seemed to get resolved.
Flash forward many years to his father's funeral. His family was there, and I enjoyed touching base with them, since our parents were good friends, having lived in the same city and being involved in race relations work. The only one missing was Jim. I called him and expressed my surprise and disappointment. His reason: He was so angry at his father that he couldn't even come to his funeral.
Did Jim's inability to get along with certain authority figures stem from his tortured relationship with his father? I don't know for sure. Homosexual men are known to have fathers who are either very overbearing or very weak. The singer Elton John, a known homosexual, for example, had a very obstinate, strong-willed father.
All of this is why I was glad when I saw a new, made-for-the-MTV generation video about Alfred Kinsey, "
The Homosexual Icon Alfred Kinsey and Child Porn
," put out by the youth ministry, You Can Run But You Cannot Hide. The fast-paced seven-minute video exposes Alfred Kinsey as the fraudulent researcher he was who cooked his statistics to claim widespread promiscuity and homosexuality in America.
The video has received praise from
Judith Reisman
, an international expert witness on human sexuality and the world's top scholar on debunking the Kinsey myth in our culture. She said,
"Dean's video clearly documents Kinsey's scientific frauds, his pederast/pedophile abuse, and his role as the 'father of the sexual revolution,' the homosexual movement, deformed classroom 'sex education,' same sex marriage, and the like."
Dr. Reisman also told me that the video has clips about Kinsey that she had never seen before. I'm glad to see the clever mix of moving images, music and facts in the video. It's an attractive media package, and let's face it — many folks, especially the young, are more likely to watch and become influenced with a medium like this than with stodgy old print columns like the one you're reading now.
Bradlee Dean — with his long hair and tattoos — is an unlikely messenger of a moral and Christian message. But he is solid in his conservative and Christian thinking. He is an ordained preacher, heavy metal drummer, talk-show host of the
Sons of Liberty Radio
, and he speaks at college and high school campuses with his ministry
You Can Run But You Cannot Hide International
.
It's about time someone expose Kinsey for the fraud he was — and "gay" certainly doesn't mean happy, in my book.
© Kevin J. Banet
---
The views expressed by RenewAmerica columnists are their own and do not necessarily reflect the position of RenewAmerica or its affiliates.
---