Kevin J. Banet
Christian speaker kicked off Florida school property

Popular speaker/musician told that constitutional rights just don't apply as his program is cancelled

By
Kevin J. Banet
February 16, 2013
For a lot of high school students, the Constitution is about a dry a subject as you can get. But not for some kids in Boca Raton, FL.
Students at the Spanish River High School in this Miami suburb show an interest in Constitutional rights – especially when they are taken away right under their noses. Members of the American Club there were surprised that Christian speaker/musician Bradlee Dean was kicked off of their school's property over Dean's conservative views, even though Dean had been invited weeks before under the approval of the school's administration.
"I was surprised that a teacher ... or someone who worked at the school, was telling the students that we're not supposed to uphold the Constitutional values given by our Founding Fathers while on school property," a student said after Dean was kicked off school property. The student's comments are recorded on a
YouTube video
chronicling the incident.
Exiled to the roadside
This is the kind of student most teachers want – someone who is passionately interested in the subject. The other students in the club were no doubt just as fascinated, as they sat on the grass afterwards just off the school property to hear Dean's talk.
But Dean's talk was too politically incorrect, in the eyes of Principal William Latson and his cohorts at Spanish River. Latson ignored the fact that Dean had been invited by the school's club, which has invited other conservative speakers, including entertainer Victoria Jackson, and that Dean's appearance was approved and announced on the school's PA system that week.
"Controversial" and "Anti-Homosexuality"
Halfway through the event it was shut down by the principal, who cited "controversial statements" and "anti-homosexuality" of Dean's group
"Sons of Liberty."
(Disclosure: Sons of Liberty is a client of our firm,
TreeFrogClick
.) One official told the group that the Constitution "does not apply to school property," and that neither the Club nor the speakers had any First Amendment rights.
What? The Constitution does not apply to public school property, and First Amendment rights are squashed? Sounds like these school officials have put their institution in the same category as a prison, or a school in a communist country.
And anone who believes in traditional morality, such that homosexual acts are inherently disordered – runs the risk of being trotted off school grounds.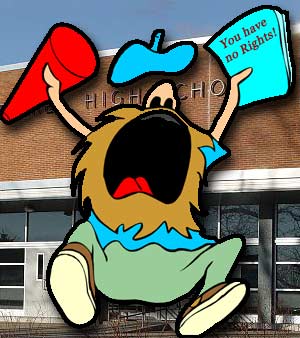 Dismantle Beliefs
Make it clear, America, most public schools – or should I say government schools – are doing their utmost to dismantle students' beliefs that families should be led by a mom and dad, and not by two men or two women who are sexually involved with one another. If you aren't sure what's going on, find out what kind of sex education, field trips to Planned Parenthood, and "anti-bullying" programs that are a mask for the homosexual agenda are going on at your school.
Dean and his group did not play dead over the eviction, but got ahold of their lawyers, who have threatened an injunction and federal legal action if Dean is not allowed to speak on campus.
Liberty Council lawyer Horatio G. Mihet said, "We see serious constitutional problems with the principal censoring religious and political expression simply because they are deemed 'offensive,' especially when there are no specific, articulable facts to support such an assertion. Federal law, including the Constitution, protects the right of student clubs to present their ideas without fear of censorship because of disagreement with the content of the message.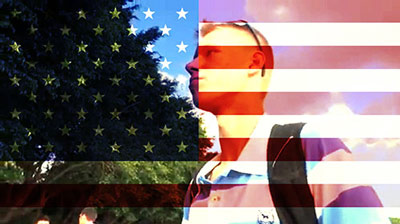 "Viewpoint Discrimination"
Liberty Council's letter to the school cited a U.S. Supreme Court case,
Good News Clubs v. Milford Central School District
, which reaffirmed that Milford Central must open its facilities, under New York law, for public use by district residents during non-school hours, even if the club is religious in nature.
And here's a phrase from that case that we can aptly apply to the Boca Raton situation: Justice Antonin Scalia said that Milford was performing
"viewpoint discrimination."
So, we Americans pay taxes for a near-monopolistic school system within which we have lost our rights to discuss moral or Christian topics – and, oh, yes – throw in believing our own Constitution as well.
America, be ever vigilant.
(Read the article
"Rocker Bradlee Dean Kicked Off Campus – Again!"
and lawyers' urgent letter on his blog.)
© Kevin J. Banet
---
The views expressed by RenewAmerica columnists are their own and do not necessarily reflect the position of RenewAmerica or its affiliates.
---