Kevin J. Banet
Boston tragedy points to the need for a spiritual renewal

By
Kevin J. Banet
April 17, 2013
It seems as if our whole country is falling apart. When crazed individuals kill others as in Sandy Hook, or bombers strike, as in Boston, one wonders if we will be forced to live under the specter of violence every day in our lives.
The Boston killing on Monday of three people, and injuring of more than 170 during the running of the city's marathon reveals a hints of troubling cultural problems. For years we have lived in relative safety from such attacks, while Europeans and those in places such as Israel have suffered from violence in public places. Now it's happening here.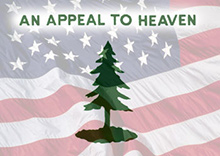 But why? Are we becoming weak in some way – and thus victimized by enemies within and without?
A recently-published book compares Europe's cultural and economic slide with America's similar increasing woes that might cast light on the problem. Titled
Becoming Europe: Economic Decline, Culture, and How America Can Avoid a European Future
, it is authored by researcher Samuel Gregg, who talks about Europe's fallout after World War I and II, and the tug of war between Christian and socialist ideology since then. Socialist policy is certainly winning there, and now we are seeing similar growing economic problems and violence that we don't want to see on this side of the Atlantic.
Spiritual Renewal as a Defense
I'd like to suggest that we need a spiritual, as well as economic and political renewal to enable our citizens to live in safety and peace.
A culture strong in the values of hard work, honesty and a fear of God provides the spiritual infrastructure that provides for well-balanced people who don't go shooting school children, or killing others randomly.
I might be wrong, but it looks to me like Boston may have been a lone wolf Al-Qaida attack. That is, a small operation of the kind that Al-Qaida encourages, but yet there is no communication with the terrorists in the field. It can be done by just a few, or even one person, and thus it is very difficult for the FBI to trace.
If it is Al-Qaida, it helps to understand their mindset. One reason why Muslim extremists hate us is because of our materialism – how we get wrapped up in our SUVs and wide-screen TVs, forgetting about God, and practicing all kinds of sexual license and perversion. This of course doesn't justify killing innocent people, but it may point to a cause and effect. A moral and religious society, on the other hand, would garner more respect from these people instead of attacks.
"Get Religion Out"
I saw a bumper sticker on a car yesterday in the parking lot of a private, non-religious grammar school near my home whose principal prides himself on the idea of a secular education. The sticker proclaims, "Get religion out of politics." Whoops – that's dangerous thinking, folks. What would happen to the moral glue in society if we divorced our laws from a respect for Christianity and the Ten Commandments? I'd rather see a bumper sticker that says, "Get atheism out of politics."
See Bradlee Dean's video above on the
End Timers and Our Founding Fathers
.
Christian preacher and speaker Bradlee Dean has it right. He says in his recent column,
"Know Your History,"
"When we are no longer rooted in the same principles, corruption seeps in and begins to divide and conquer through outlets such as the media, public schools and colleges." (Disclosure: Dean and his ministry,
You Can Run International
, are clients of our PR firm, TreeFrogClick, Inc.)
Dean adds in his straight-talking way, "I can just now hear the media, the teacher, the 'well-educated' college professor or the philosopher (using big words with common-sense meanings) decry, 'We are not a Christian nation'.... In their confusion they blurt out the truth: They would rather listen to man's 10,000 commandments than to God's Ten Commandments."
Proverbs 14:34 says, "Righteousness exalts a nation, but sin is a reproach to any people." The Boston killings were tragic, and there will be lots of angst and money spent over how to prevent it in the future. But we cannot keep every public trash can bomb-free, or put an armed guard at every shopping mall entrance, sports venue and public gathering. We can't outlaw pressure cookers, nails or backpacks. That kind of security must come from a society that anchors its customs and laws on morality, a fear of God, and a respect for the Christian church.
See lots of videos with great graphics, about the Constitution and our Christian heritage at Bradlee Dean's
Sons of Liberty YouTube channel
.
© Kevin J. Banet
---
The views expressed by RenewAmerica columnists are their own and do not necessarily reflect the position of RenewAmerica or its affiliates.
---