A.J. Castellitto
Too big to jail?

By
A.J. Castellitto
June 28, 2017
"Their hands are on what is evil, to do it well;
the prince and the judge ask for a bribe,
and the great man utters the evil desire of his soul;
thus they weave it together.
The best of them is like a brier,
the most upright of them a thorn hedge.
The day of your watchmen, of your punishment, has come;
now their confusion is at hand."

- Micah 7:3-4


The perversion of justice and truth is at hand.
The great offenders that dwell in high places proceed to invoke and sow seeds of evil and deception. Their sinister ways and strong delusions proceed undaunted by the smoke that surrounds them, yet their masks are falling off.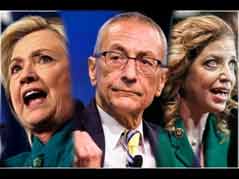 https://wikileaks.org/podesta-emails/
In the minds of tyrants the ends justify the means. In their quest to build the perfect omelette they thoughtlessly break a multitude of eggs. They are our greatest security threat.
http://www.zerohedge.com/news/2017-03-07/ever-growing-list-admitted-false-flag-attacks
They bruise and sorely wound the weak and the powerless. They are deplorable in God's eyes.
Too Evil to Be Set Free?
Thankfully, it is yet the day of grace. Despite our evil deeds, we can be made white as snow. We must repent and be converted and abstain from the appearance of evil in all its forms. The healing balm of mercy extends beyond the depths of our depravity.
"Let the wicked forsake his way,
and the unrighteous man his thoughts;
let him return to the Lord, that he may have compassion on him,
and to our God, for he will abundantly pardon." – Isaiah 55:7
© A.J. Castellitto
---
The views expressed by RenewAmerica columnists are their own and do not necessarily reflect the position of RenewAmerica or its affiliates.
---