A.J. Castellitto
Stranger things

By
A.J. Castellitto
November 6, 2017
Oftentimes truth is stranger than fiction, as art imitates life.
This is more than the latest not so subtle message in your favorite Netflix series, but nothing less than the predictive programming and culture shattering infiltration of today's political, technological, corporately controlled society. Can we see the signs or are we too seduced by the widespread slumber?
All the while EMP* attacks are predicted, depopulation promoted, free thought suppressed, and biblical faith denied as we tremble for the future and our children's place in it.
Ws are funding our own demise. It's time to tear down the monument...
"The
Georgia Guidestones
is a granite monument erected in 1980 in Elbert County, Georgia, in the United States. A set of 10 guidelines is inscribed on the structure..."
1. Maintain humanity under 500,000,000 in perpetual balance with nature. 2. Guide reproduction wisely – improving fitness and diversity. 3. Unite humanity with a living new language. 4. Rule passion – faith – tradition – and all things with tempered reason. 5. Protect people and nations with fair laws and just courts. 6. Let all nations rule internally resolving external disputes in a world court. 7. Avoid petty laws and useless officials. 8. Balance personal rights with social duties. 9. Prize truth – beauty – love – seeking harmony with the infinite. 10. Be not a cancer on the earth – Leave room for nature – Leave room for nature.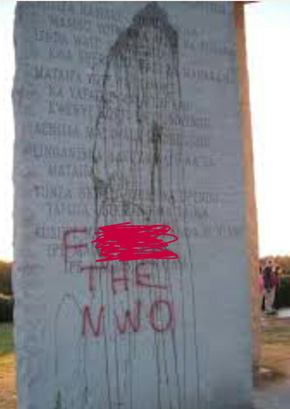 Ultimately, God is in control and His perfect plans are never thwarted. Only Jesus can save us from ourselves...
"If so be that ye have heard him, and have been taught by him, as the truth is in Jesus: That ye put off concerning the former conversation the old man, which is corrupt according to the deceitful lusts; And be renewed in the spirit of your mind; And that ye put on the new man, which after God is created in righteousness and true holiness." – Ephesians 4
*
https://www.forbes.com/sites/brucedorminey/2017/10/23/north-korea-emp-attack-would-cause-mass-u-s-starvation-says-congressional-report/
© A.J. Castellitto
---
The views expressed by RenewAmerica columnists are their own and do not necessarily reflect the position of RenewAmerica or its affiliates.
---