A.J. Castellitto
Right leaning Libertarian rockers making music great again

By
A.J. Castellitto
November 19, 2017
Originally published at Western Journal
https://www.westernjournal.com/right-leaning- libertarian-rockers-making-music-great/
Galactic Cowboys are a thinking man's band from Houston Texas who are making a triumphant return to the music scene after a 17 year hiatus with their latest release,
Long Way Back to the Moon
.*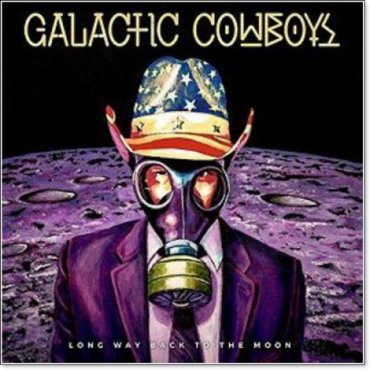 They are infamously known, at least in certain circles, for their hard rocking sensibilities, ridiculous harmonies and satirical commentary. These Cowboys have an almost instinctive knack for tackling current social and political ills in their lyrics. In particular, they boldly declare a morbidly gleeful disdain for the contrived utopian consensus of our day. But ultimately, the hard fall back down to earth that awaits a Constitutionless society is the thematic, prophetic message which drives the spirit and aggression of their new 11 track disc (13 when counting the 2 bonus tracks).
Galactic Cowboys is a band that exuded much promise right out of the gate when they signed a major record deal including a large advance with Geffen in the early 90s. They would swiftly fade into obscurity, however, before developing a rabid cult following, as their musical diversity and lyrical depth proved no match for the raw anarchy and bitter laments of
Nirvana
, their highly coveted labelmates from Seattle. In retrospect, the nihilistic murmurings of Nirvana were a much easier sell for the hard left music mogul – and primary Obama campaign financier – David Geffen and a pliable buying public who were eager to embrace and revel in their own rebellion and despair. Cynicism aside, Galactic Cowboys were never that kind of band. They were all heart with love and goodwill for their fellow man, their country, and themselves. They didn't have an axe to grind. They just wanted to be free to be what they could be and do what they do.
Fast forward to the year 2017. The political and cultural landscape has darkened and left primary songwriters Monty Colvin and Ben Huggins with a boatload of material, or shall I say
ammunition
. Throughout
Long Way Back to the Moon
they let the arrows and bullets fly as they take on...
The millennial mindset:
"If I believe in something hard enough, feel it deep within like it was meant to be" – Next Joke
The zombification of postmodern society:
"Walking to the beat of technology, bowing the knee to the powers that be"
–
Zombies
Cultural and existential angst:
"Old world dead and new world closing in, enlightened now we don't believe in sin." – Hate Me
Globalization:
"If you're like me, fight to be free of the agenda" – Agenda
...and political propaganda:
"Falling for solutions already supplied, lifting up your fist as if you will arise, the leader that you look to wears a new disguise" – Say Goodbye to Utopia
There are not many truth tellers left in music and the arts. Let's go out and support the few who do!
* http://teamrock.com/news/2017-08-15/galactic-cowboys-return-with-first-album-in-17-years
© A.J. Castellitto
---
The views expressed by RenewAmerica columnists are their own and do not necessarily reflect the position of RenewAmerica or its affiliates.
---