A.J. Castellitto
How the Deep State promotes, exploits and condemns 'Islamophobia'

By
A.J. Castellitto
February 15, 2018
I believe the deep state simultaneously promotes, exploits and condemns islamophobia by arming and funding extremists, promoting videos of atrocity real or staged, establishing a boogeyman to justify establishing a police state and fueling the military industrial complex, and then defending against those who act and speak irrationally in response to the perceived threat.
https://www.lewrockwell.com/2017/06/no_author/5-facts-prove-western- liberaljihadist-alliance/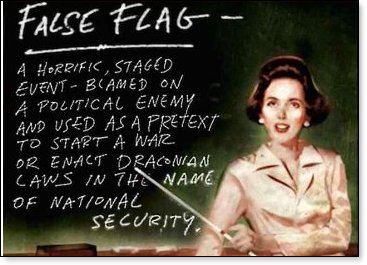 But their endgame is New World Order not caliphate. Don't ever underestimate the Deep State. They are merely playing a very dangerous game.
http://theduran.com/the-duran-lexicon/
I'm not looking for Christian theocratic society, but of course I think we best 'coexist' under natural/common law of God's moral foundations. However, we are free to believe as we choose without state coercion.
I had a recent conversation with a Muslim gentleman from Pakistan and he showed more reverence for Jesus than many of my fellow Americans. It seems to be a good starting point for respectful dialogue, no? Better than I get from 'progressives' who just condemn us as homophobic and mentally ill for believing the Jesus narrative of the Bible as truth.
If we, the Christian, offend simply by debating or offering an apologetic that's sometimes unavoidable, but if we are merely slandering our fellow man due to their culture, upbringing, and belief, we may want to reevaluate if we come from a place of love. This goes for me too!
We must also remember that there are many ignorant and hypocritical Christians, on my worst days I am one. We don't engage because we are naturally superior. We don't seek to blindly invade comfort zones without first forming sincere relationships. We engage because we truly care about all men and women and believe everyone is deserving of Grace. We become friends and invested, not out of mere duty, but because we truly love and care. We don't seek to control or manipulate.
We can be vigilant without allowing ourselves to buy into geopolitically driven propaganda and warmongering. There is a much larger mission at stake and it's the only way things could ever truly be made right...
"And He said to them, 'Go into all the world and preach the gospel to every creature.'" Mark 16:15

"And this gospel of the kingdom will be preached in all the world as a witness to all the nations, and then the end will come." Matthew 24:14

"Declare His glory among the nations, His wonders among all peoples." Psalms 96:3

"Then I saw another angel flying in the midst of heaven, having the everlasting gospel to preach to those who dwell on the earth – to every nation, tribe, tongue, and people – saying with a loud voice, 'Fear God and give glory to Him, for the hour of His judgment has come; and worship Him who made heaven and earth, the sea and springs of water.'" Revelation 14:6-7

"Go therefore and make disciples of all the nations, baptizing them in the name of the Father and of the Son and of the Holy Spirit, teaching them to observe all things that I have commanded you; and lo, I am with you always, even to the end of the age." Matthew 28:19-20
Some good reads on sincere and fruitful interfaith dialogue/relations:
*Dr. Michael Brown, "Why the Hysterical Attack on James White for His Interfaith Dialogue?"
https://askdrbrown.org/library/why-hysterical-attack-james-white-his-interfaith- dialogue
*Robert Osborne, "ENGAGING MUSLIMS: SPEAKING THE TRUTH IN LOVE"
http://www.wilberforceacademy.org/blog/2015/2/21/engaging-muslims-speaking- the-truth-in-love
*Warren Cole Smith, "A former Muslim offers a Christian approach to Islam"
https://world.wng.org/2016/07/a_former_muslim_offers_a_christian_approach_to_islam
© A.J. Castellitto
---
The views expressed by RenewAmerica columnists are their own and do not necessarily reflect the position of RenewAmerica or its affiliates.
---