Madeline Crabb
Puppets, prostitutes, and pimps

By
Madeline Crabb
February 15, 2021
After one of the most surreal elections in history, we now have a government being run by not just the usual leftist-socialists-communists, but is under the total control of puppets, prostitutes, and pimps.
From what Dr. Dave Janda calls "the bought off, lame stream, fake media," we are being told that the 2020 election was the most free, fair, and secure in American history. Uh huh. Perhaps for countries like Venezuela. However, for a country that prides itself in helping other countries conduct "fair" elections, our own 2020 election should be considered a failure.
We are being told that Americans voluntarily voted for a doddering old man who is clearly cognitively challenged; has demonstrated a strange affection for little girls; must have his wife finish his sentences and give him instructions, in public, on where to go, what to say, how to act; and for the whole election campaign, very seldom left his basement in Delaware.
This same man has blatantly plagiarized and lied throughout his life and is being accused of doing so again from his new digs in the Whitehouse. (BTW…Do you know why people plagiarize? Because they have no ideas of their own.)
When he finally ventured out of his basement for a "rally," he was followed by tens of adoring fans sitting in measured circles, "socially-distanced" in six-foot intervals. I even watched a Biden "car rally" that had Jill Biden out in the street with about three staffers waving as all eight (8) cars drove by. Seriously.
Conversely, Donald J. Trump had airport rallies with tens of thousands of supporters who went to great lengths to see him, and massive car rallies all around the country. I participated in a rather small car rally of only 500 cars in South Central Florida. Throughout the entire route there were scores upon scores of people lined up all along the route cheering while holding banners, flags, and signs. This went on for hours. It was one of the most exciting things I have ever done—and I have done/seen a lot of amazing things, including speaking with two presidents, one of which was Mr. Trump!
Therefore, the question being asked of everyone I personally talk with, from most of the research I do, and from serious commentators I follow is: How is it possible that Biden won? People were not excited about him. He said next to nothing for the entire year. When he talked from his basement bunker, it was clear he was reading prepared notes from a teleprompter, and that if he tried to speak off-the-cuff, he was confused and incoherent. Another John F. Kennedy, so charismatic and brilliant! NOT.
Perhaps the powers that be over the Democrat Party are trying to relive the Obama glory days.? (Today, JFK would be a Republican.) But consider this: Joe Biden supposedly, from his basement, and without thousands of adoring fans, became more popular than Barack Obama?
They tell us this candidate who spoke with no specificity on any topic, mostly appeared confused and disoriented, yet still emitted the Obama aura of hope and change? MSM pundits, moonlighting as Democrat campaign/PR representatives tell us with straight faces that Biden got an estimated ten million more votes than Obama received in 2008? As old Joe might say, "come on, man."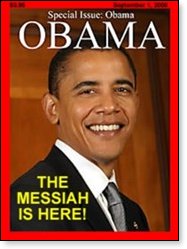 Does anyone remember when major "news" magazines were declaring Obama the new Messiah?
As they say, it does not compute.
Please know I consider this Time magazine cover blasphemous, and even writing the words with Obama and Messiah in the same sentence make me nauseous. Jesus is, and always will be, the Messiah. Period.
Nonetheless, my goal is to educate and inform people who will then awaken, arise, and act in restoring one nation under God. Consequently, I often must write things that are distasteful, and truth sometimes hurts. But, dear friends, truth is the only answer to solve our individual and collective problems. We obtain truth from the God of ALL TRUTH. He is our only hope in all matters.
Also understand that when speaking about Biden, the Oval Office occupier, I do not rejoice in his physical/mental incapacities. It saddens me to see aging people riddled with age-related deterioration and dementia. When President Ronald Reagan began experiencing his cognitive problems, he made the decision, no doubt with advice from his wife, to live out the remainder of his days with some dignity, and away from the public spotlight. The song comes to mind, "Happy Trails to You."
With Biden, we see a man who does not seem to realize he often makes a fool of himself, with a wife at his side encouraging him to continue. And of course, the rest of the Biden family, including siblings and children, have gotten exceedingly wealthy off Biden's "public service." Shame on them all! Is this family's lust for power, fame, and riches so great that they would allow this man to continue humiliating himself? Apparently so. (A form of elder abuse?)
However, Joe Biden is not the little boy Joe who always wanted to be president when he grew up, as might be read in a personal memoir. He may have cognitive problems causing him to remember more about things that happened 40 years ago than what he did yesterday, but even he has moments of reality when he can discern right from wrong, truth from lies. Even he knows he should not have undertaken this task. Obama told him he did not have to run, ("Joe, you don't have to do this"), probably the kindest words he ever said. Then Biden confessed he will not run for a second term. (Many doubt he will make it through the first term, as impatient Kamala taps her foot.)
What about the powers behind the Democrat Party? (The actual powers, not the Dems themselves.) Clearly that party has a rabid lust for power and control—at ALL costs. Biden is just another tool they use in achieving their tyrannical goals.
These invisible powers are not just allowing this man to humiliate himself…They are making America a joke worldwide. When the so-called most powerful man in the free world is signing documents, admitting out loud that he does not know what he is signing, it is hard to fathom the leaders of other nations are not snickering at our demise, or shaking because of the harm such a person can bring to the entire world. As for age…there are scores of vibrant, sharp, active people Biden's age and much older. He is just not one of them.
Joe Biden is not the charismatic figure that Obama was, nor does he have the cult following Obama still maintains. (The operative word here is cult.) It is beyond bewildering that the doddering "empty suit" Biden made it past the primaries. His performance was abysmal, and yet he miraculously pulled-out the biggest victory ever! Color me skeptical, but I do not believe this is reality. Neither do millions of other Americans. We all did not just fall off the proverbial turnip truck.
In full disclosure, I have never been a fan of Joe Biden. From his performance in his nearly 50 years in public office, I have deduced he has always been an empty suit without any original ideas of his own (think plagiarism), or solutions to America's existing problems. Furthermore, it defies the imagination that if someone is in public office that long, and we still supposedly have so many problems, then is he not part of the problem? Anyone voting for and believing he will "fix" everything is delusional. Has it not been said that a loose definition of insanity is doing the same thing repeatedly, like 50 years, while expecting a different outcome? Hello!
So, the 2020 public relations campaign for old blue-collar Joe with his five decades of experience in warming a seat, makes him the only logical man for America's highest elected office? I contend his biggest accomplishment is his ability to BS/bamboozle voters in Delaware for decades, and then do so to all Americans in 2020.
Of course, there is another big accomplishment that far too many politicians also share: the ability to take money from various sources, and then in essence do their bidding, no matter the cause. Isn't this akin to the modus operandi of those in the so-called oldest profession: prostitution? Or to puppets who simply mimic whatever their handlers tell them to say?
Today, most politicians have become puppets and prostitutes who dance for dollars every two, four, or six years. They no longer work for us.
Again, America is now under total control of puppets, prostitutes, and pimps. We will delve further into this ugly reality, and what it means for us as individuals and a nation in part two of this series. Until then, can we agree it is way past time to repent of our sins and pray God has mercy upon us? To anyone willing to hear….
© Madeline Crabb
---
The views expressed by RenewAmerica columnists are their own and do not necessarily reflect the position of RenewAmerica or its affiliates.
---