Anita Crane
Trayvon Martin, President Obama and the Arab Summer

By
Anita Crane
July 31, 2013
President Obama tried to divert attention from his abuse of the American people by saying he had been profiled because of his skin color and he could've been Trayvon Martin.
Sybrina Fulton and Tracy Martin, mother and father of the late Florida youth, praised the president's speech as a "beautiful tribute" to their son. Maybe these grieving parents don't know that Obama and agitators such as Rev. Al Sharpton use Trayvon's death for their own wars against children, patriots and true freedom. Obama and Sharpton claim to be Christians, but they brazenly empower the No. 1 killer of black children: abortionists.
In addition to his abortion extravaganza at the Democratic National Convention
, last year while running for re-election, Obama made an illegal
White House commercial for the taxpayer-funded abortion chain Planned Parenthood
– a chain that provides no health care, no mammograms; and a chain that has killed not only black babies, but some of their mothers.
Why don't the president and Sharpton urge black teens to stop playing the Knockout Game: a national trend of racism where black youths violently attack white men, women and children? Some victims have been murdered.
Meanwhile, Egyptians are protesting President Obama. They're saying the Nobel Peace Prize laureate isn't just a menace to Americans, but a menace to the world.
By Independence Day, American patriots were distressed by Obamacare, the president's callous neglect to rescue Americans in Benghazi, Libya, his illegal executive orders and nearly every federal agency doing his business, including the
Justice Department and the DHS
, the EPA, the IRS, the NSA, plus the Supreme Court. In the United States, Obama persecutes faithful Catholics, other Christians, Jews and everyone who believes in the fundamental human rights to life, liberty and the pursuit of happiness.
However, our spirits were lifted when the Arab Spring became the Arab Summer as some 33 million Egyptians took to their streets and ousted Muslim Brotherhood President Mohamed Morsi and with full support of their military – and many of them are speaking directly to the American people.
"We have been celebrating since yesterday evening. We did not sleep. The people of Egypt have peacefully regained their country," Patriarch Ibrahim Isaac Sidrak of the Catholic Copts in Alexandria told the Vatican's Agenzia Fides on July 4.
I've never seen it explained by mainstream media, but in the Middle East the term "conservative" applies to the tyranny of Shariah law, whereas "liberal" means liberty. Unlike Western liberals, Middle-Eastern liberals, especially Christians, don't call for the tyranny of Marxism, they cry out for freedom to exercise their natural rights to life, speech, religion, private property, enterprise and self-defense.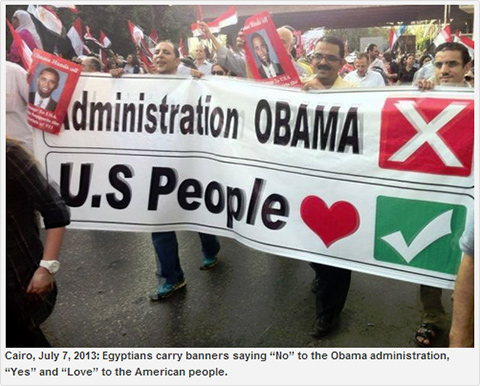 On America's Independence Day, former Member of the Egyptian Parliament Mohamed Sherdy
passionately spoke to the American people but warned Obama and Congress on Al-Hayat TV
.
"Dear Mr. President, dear President Obama. I'm talking to you now regarding the foreign policy that your country is having towards our country, towards third world countries," he said. "You have been backing up the wrong regime before the 25th of January, our first revolution and then you backed up again the wrong regime, which ruled us and was saying all the time that America is supporting them. ...
"Yes, we have overthrown our government. We overthrow our government and our regime because we do not want them to rule us. It is a golden opportunity for the whole world right now to move against groups like this."
To Congress, Sherdy said, "You have been elected by the American people to uphold the Constitution, to work for the freedom of the American people, to work for their best interests. Do not allow anybody in the foreign policy or in the White House to do moves that will ruin the interests of the United States."
"We cannot say that we do not have fears," Patriarch Sidrak explained. "The economic situation is worrying and makes everyone more at risk of being manipulated by the sirens of propaganda. Morsi's militant supporters feel they have lost and this can trigger feelings of revenge."
The very next day, 19-year-old Hamada Badr and three of his friends were chased to a rooftop in Alexandria because they supported the ouster of Morsi.
A video shows that Badr was thrown off the roof, beaten to death by al-Qaeda operatives and a female onlooker is heard crying in horror off-camera
. Of course al-Qaeda is the very same Muslim Brotherhood branch that murdered thousands of Americans on September 11, 2001. Still,
Obama supports the Brotherhood and its various branches here and abroad, even using the MB's "jihad" agenda against Catholics and other Christians in the U.S. Armed Forces
.
Cynthia Farahat
, an Egyptian leader who fled the Muslim Brotherhood in 2011 and was granted asylum in the United States,
translated July 5 threats by MB militants
who
declared
they would establish a "Taliban-style state that harbors al-Qaeda" and wage jihad on Minister of Defense Abdul Al-Fattah Al-Sisi and Christians. They said, "We will destroy you and destroy Egypt and we will blow ourselves up in crowded areas and burn Christians alive."
The jihadists burned Christian homes, they tortured Coptic businessman Magdi Lamie, beheaded him and dumped his body as a warning. They murdered Coptic priests and non-Brotherhood Muslims.
Still other Brotherhood jihadists threatened war on America, Britain, Rome, and Catholics, whom they call "Crusaders." From Jerusalem,
Ismat Al-Hammouri screamed: "We warn you, oh America: Take your hands off the Muslims. ... Soon we will teach you a political and military lesson, Allah willing. Allah Akbar. All glory to Allah."

Egyptian activist and writer Wael Nawara decried the Muslim Brotherhood's bloody history and current offenses. On July 2, he had warned, "At pro-Morsi demonstrations, al-Qaeda flags rather than Egyptian one are waved; chants for Osama bin Laden can be heard. Egyptians have now seen terrorists, arguably former terrorists, rise to the highest seats of power and then appear on television and threaten them with blood and wrath if they protest to challenge Morsi's legitimacy.

"Five Egyptian Shiites were killed in Giza a few days after Morsi gathered his Islamist 'clan' in a stadium on June 15 and Egyptians watched with horror as former terrorists delivered speeches full of hate toward Shiites and issued a declaration of jihad and war against Syria."

Other Egyptian activists spoke to me under conditions of anonymity because they fear for their lives.

A self-described moderate Sunni Muslim said, "You gain every day a segment of the population. ... Freedom is always a definitive issue conditioned by time and place. However, these definitive manifestations of an issue related to freedom all stem from one basic fact: that God created us free and equal. In Egypt now, we witness a specific form of fighting for freedom, which is the rights of minorities and women. We will win because continuous battles for freedom end with victory to the side which defends the one basic right we were given by our Creator."

An official from the Coptic Defense League, which represents Orthodox Copts, said, "Christians, Muslims, people of other religions and even atheists are united for human rights. And what the Egyptians have demonstrated in this revolution was the extraordinary example of unity, which the world has not seen in the history of mankind.

"These are Egyptians who truly wanted a liberal and democratic Egypt. It is also very important for the world to know this was not a military coup, but the will of over 33 million Egyptians who took their dissatisfaction to the streets. Before the military took over, the Army made sure to involve both political and religious leaders before they had come to a conclusion, therefore this was the will of the people of Egypt and not the sole decision of the Army."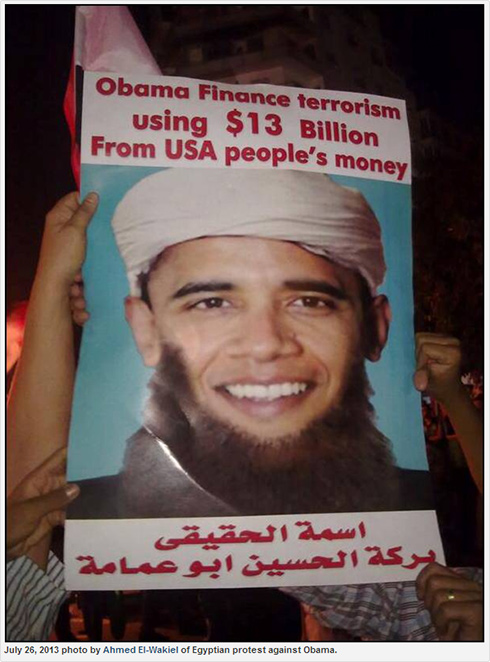 Bottom line according to numerous Egyptians: the majority rejected dictators and Shariah law. While some drafters of a new constitution still threaten Shariah, on July 14 the Army's leader, Minister of Defense Al-Fattah Al-Sisi, delivered a different message to the people on Egyptian TV.

In part, he said, "When it comes to the people's freedom to elect their leaders, no one can claim he is more religious than the others and say: 'It is the Sharia or else...' Absolutely not. If you succeed as a leader, it is your success, and if you fail as a leader, it is your failure. But you don't dare say that [you represent] religion and the others combat religion. You are confusing things. Religion is all about kindness, ideas and knowledge."

"To our American brothers and sisters: We love you, but we do not like the Obama administration," said the Coptic Defense League. "You know there is something not right when we have the U.S. government supporting the same people as al-Qaeda and the Copts in Egypt are literally being slaughtered for this."

Yes, Mr. Obama had been profiled on account of his race. In 2008, most blacks and liberals in America were dead-set on electing our first black president.

Since 2009, Obama's policies have spread death and destruction here and throughout the world. Let us Americans hear the righteous Egyptians, pray for them and peacefully defend freedom with every legitimate means in our power.

© Anita Crane


---
The views expressed by RenewAmerica columnists are their own and do not necessarily reflect the position of RenewAmerica or its affiliates.
---