Rev. Mark H. Creech
'Taps' in glory

By
Rev. Mark H. Creech
November 10, 2013
Last year, my father, who was a veteran, passed away. As mourners stood along with my family at his grave side, a soldier blew the strains of "Taps." That eloquent and haunting melody drifted over his resting place as an official tribute to a fallen serviceman – a man who was a devout follower of Jesus Christ – a man who felt his family was his greatest achievement – a man who deeply loved his country. Today his tombstone proudly acknowledges his service in the United States Coast Guard.
There are times when I am glad my father cannot witness what seems to be a rapid fall in our country's Armed Forces. But then again, perhaps he does. Stephen Bleecker Luce, Rear Admiral, 1885, in the United Sates Navy, once referred to worthy seamen who exhibited the highest Christian virtues and would appear among that great cloud of heavenly witnesses the writer of Hebrews referred to in chapter 12 and verse 1. [1]
Some scholars say the text argues that heroes of the faith, people of every post who have gone on before us – like a great "cloud of witnesses" look down from heaven – watching our actions in the same manner people of ancient days would watch the races and other games from their stations above in the great coliseums.
So perhaps my father, a veteran gone on to that place of time without end, actually can see the current growing hostility to religion, more specifically the Christian religion, taking place in our nation's military. Perhaps he does see what Tony Perkins of the Family Research Council has described as a climate of intimidation that began in the Air Force bleeding over into every branch, "leading even military chaplains to wonder about their security in referencing the Bible." [2]
Perhaps my father witnessed when an Air Force Chief of Staff, Norman Schwartz, sought to squelch officers from promoting their own religious beliefs, including any support of chaplain run events. [3]
Perhaps from his unique position in the eternal realms, he has seen the way prominent Christian leaders have been snubbed and disinvited from various military-related speaking occasions. Godly men like Franklin Graham, son of renowned Christian evangelist, Billy Graham, who was disinvited from the Pentagon's National Day of Prayer after criticizing Islam. [4]
Perhaps he witnessed a Rear Admiral's speech at a recent National Day of Prayer Event that recounted the way he felt it necessary to violate military rules just to provide a Bible to a soldier who was suicidal.
Perhaps he witnessed in April when anti-Christian bigot Mickey Weinstein met with Pentagon Brass to press for the court-martial of Christian service men and women who dare share their faith in their Savior, Jesus Christ. [5]
Perhaps my father saw last month when soldiers attended a military briefing at Camp Shelby and were threatened with punishment if they supported the Christian organization, the American Family Association. They were erroneously and outrageously instructed AFA was a "hate group" – no better than the likes of the Ku Klux Klan, Neo Nazis, or Fred Phelps and members of the Westboro Baptist Church. [6]
If indeed my father can witness these things from on high, then along with him there might be even greater witnesses to these and many other disturbing attacks on faith among our country's fighting men and women.
Witnesses like the great General and Father of our Country, George Washington, whose first order to his troops called on: "Every officer and man...to live, and act, as becomes a Christian Soldier defending the Rights and Liberties of his country." [7]
Witnesses like Confederate General Thomas Jonathan "Stonewall" Jackson who once said, "[M]y religious belief teaches me to feel as safe in battle as in bed. God has fixed the time for my death. I do not concern myself about that, but to be always ready, no matter when it may overtake me. That is the way all men should live, and then all would be equally brave." [8]
Witnesses like John William Jones, a chaplain in Robert E. Lee's Army of Northern Virginia who wrote in his 1887 work, "Christ in the Camp": "Any history of this army which omits an account of the wonderful influence of religion upon it – which fails to tell how the courage, discipline, and morale was influenced by the humble piety and evangelical zeal of many of its officers and men – would be incomplete and unsatisfactory." [9]
Witnesses like General Robert E. Lee who proclaimed to the ranks under his authority: "Soldiers! Let us humble ourselves before the Lord, our God, asking through Christ, the forgiveness of our sins, beseeching the aid of the God of our forefathers in the defense of our homes and our liberties..." [10]
Witnesses like General Dwight D. Eisenhower, who after saluting his men and bowing his head in prayer for the 3000 Naval ships he had ordered into battle during World War II, turned to an officer next to him and said: "There comes a time when you've used your brains, your training, your technical skill, and the die is cast and the events are in the hands of God, and there you have to leave them." [11]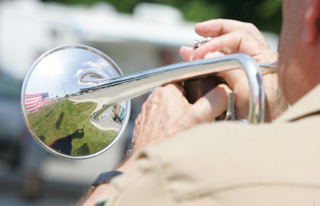 Perhaps my father stands in that land of bliss looking on with the likes of former President Franklin Delano Roosevelt, who in 1941 wrote: "As Commander-in-Chief, I take pleasure in commending the reading of the Bible to all who serve in the Armed Forces of the United States. Throughout the centuries men of many faiths and diverse origins have found in the Sacred Book words of wisdom, counsel and inspiration. It is a fountain of strength and now, as always, an aid in attaining the highest aspirations of the human soul." [12]
Of course, all of this is most speculative. But what isn't conjecture is something the 14th President of the United States, Franklin Pierce, once asserted. He said, "It must be felt that there is no national security but in the nations' humble, acknowledged dependence upon God and His overruling providence." [13]
No Army, no Air Force, no Navy, no matter how well trained, no matter how marvelously equipped, no matter its history of victories, is strong enough to protect and save a country without God. Moreover, it is fundamentally immoral to obstruct or frustrate that which a soldier needs most for the spirit when facing the duty of being hunkered down in a fox hole
It is still only speculation. But I wonder if while standing among such a great "cloud of witnesses" my father hears from a distant corner of glory an angel starting to play the twenty-four notes of "Taps" over a final and utter future defeat of our nation's military and its fallen captains.
God forbid. We must zealously facilitate access to the Bible, the knowledge of God, and His Son, Jesus Christ, while keeping religious liberty strong for all our nation's service members. Lest we suffer the certain fate of the Psalmist who warned, "The wicked shall be turned into hell, and all the nations that forget God" (Psalm 9:17).
Resources:
[1] Federer, William J.
America's God and Country Encyclopedia of Quotations.
St. Louis, Mo. Amerisearch, 1999. Pg. 404
[2], [3], [4], "Report Sees New Hostility to Religion in US Military"
EWTN.com.
11 July, 2013:
http://www.ewtn.com/vnews/getstory.asp?number=126086
[5] "Religious Freedom Hostility in the Military"
Meridian Magazine.
3 November, 2013:
http://www.ldsmag.com/blogs/editors-blogs/religious-freedom-hostility-in-the-military
[6] Williams, L.A. "US Army Erroneously Names National Organization of which the Christian Action League is an Affiliate as 'Hate Group."
Christian Action League.
18 October, 2013:
http://christianactionleague.org/news/us-army-erroneously-names-national-organization-of-which-the-christian-action-league-is-an-affiliate-as-hate-group/
[7] Federer, William J.
America's God and Country Encyclopedia of Quotations.
St. Louis, Mo. Amerisearch, 1999. pg. 146
[8] "Stonewall Jackson Quotes."
goodreads. http://www.goodreads.com/author/quotes/546888.Stonewall_Jackson
[9] Federer, William J.
America's God and Country Encyclopedia of Quotations.
St. Louis, Mo. Amerisearch, 1999. pg. 339
[10] Ibid. pg. 365
[11] Ibid, pg. 226
[12] Ibid, pg. 539
[13] Ibid, pg. 510
© Rev. Mark H. Creech
---
The views expressed by RenewAmerica columnists are their own and do not necessarily reflect the position of RenewAmerica or its affiliates.
---