Rev. Mark H. Creech
Honor saluting honor

By
Rev. Mark H. Creech
August 21, 2017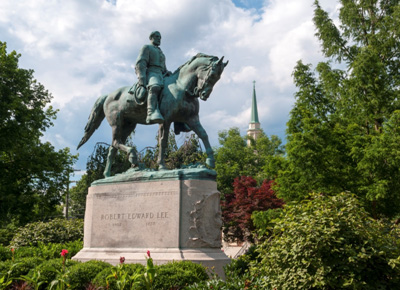 I would like to share something taken directly from
The American Patriots Almanac
by William J. Bennett and John T.E. Cribb.
"The Civil War came to an end, for all practical purposes, in April 1865 when Robert E. Lee's starving, exhausted Confederate army found itself hemmed in by Union forces in Virginia. On April 9 Lee met with General Ulysses S. Grant in a farmhouse at Appomattox Court House to offer his surrender. Grant's terms were generous: the Southern soldiers were to be pardoned and could go home with their private property, including their horses, which could be used for a late spring planting. Officers could keep their side arms, and Lee's hungry troops could receive Union rations. "This will have the best possible effect upon the men," Lee observed quietly.
"Three days later the formal surrender took place as Confederate troops marched to stack their weapons and lay down their flags. The Union officer in charge of the ceremony was Joshua Chamberlain, a hero of Gettysburg. Leading the Southerners was General John B. Gordon, who had been wounded many times in combat.
"Chamberlain watched Gordon approaching. As he later described it. "The General was riding in advance of his troops, his chin drooped to his breast, downhearted and dejected in appearance almost beyond description." Something stirred in Chamberlain's breast. He gave an order, a bugle call sounded, and his men came to attention with their rifles on their shoulders. It was a salute of honor.
"General Gordon looked up in surprise. Recognizing the gesture, he wheeled his horse, dipped his sword, and ordered his own men to return the salute. Lee's defeated veterans stepped forward with heads high and eyes level – honor saluting honor.
"Then it was over. The Union had been tested and had survived. With a salute of soldierly respect, the nation's wounds began to heal. Both sides faced a new beginning as Americans all."
If these men, participants in that horrible War Between the States, having watched their comrades fall in battle, and at the end of that great conflict turn to honor and salute each other, how can we dishonor their memory with lesser behavior?
People gathered around a statue of Robert E. Lee holding it up as a symbol of white supremacy is exceedingly vile and ungodly.
But there is no sin, no threat to our Union, in visiting such monuments recognizing as Dr. Jerry Newcombe
has eloquently stated it
, that historical figures are not always "two-dimensional cutouts in a simplistic morality play of obvious good versus obvious evil."
We can honor our past without being in bondage to it.
© Rev. Mark H. Creech
---
The views expressed by RenewAmerica columnists are their own and do not necessarily reflect the position of RenewAmerica or its affiliates.
---