Tim Dunkin
November 6, 2012
My predictions for election 2012

Tim Dunkin
I would like to take this opportunity to make some predictions about this election. Unlike many of my contributions, this one is not written to make a point, or to argue an ideology. It's going to simply be a straight out listing of my predictions, prefaced by some reasoning for why I forecast as I do.
A couple of disclaimers before I begin. First, I make no claims to being a professional at this, in any way. I am not a professional political consultant, pollster, statistician, or number-cruncher. I'm just a guy with an inordinate, perhaps even unhealthy, interest in the polling side of politics, and who reads widely (yes, even people like Nate Silver) on the topic, and who has internalized a lot of the methodology and "conventional wisdom" that surrounds political polling, as well as some of the analyses for why the conventional wisdom is not always correct.
Second, when I attempted to make predictions the night before Election Day in 2008, I did a horrible, horrible job. I'll admit it. My predictions were off by a mile, in many cases. For instance, I had McCain winning, for one, and had him winning several states that he, in fact, lost by almost ten points. Looking back, I can honestly assess that I was doing a little wishcasting of my own — replacing the data that I knew the polls were telling me with a gut "feeling" of what "ought" to be. In retrospect, I know that the reputable pollsters were all pointing to an Obama win — but I just "felt" that there was no way the American people could be stupid enough to elect someone like him. In that I was incorrect — 53% of us were. This time around, I have made a conscious effort to correct this previous flaw — perhaps to the point where some readers may find my predictions to be rather eeeyorish, compared to some of the more sanguine predictions coming from folks on the Right like Michael Barone and George Will (who can be rather pessimistic himself). Much of this correction has come from making the closer acquaintance with the ins-and-outs of polling science that I mentioned above.
As such, my predictions below come from the combination of a variety of sources — polls themselves, arguments that I have seen (and made) about polling methodologies, internal polls from the campaigns themselves, demographic arguments, etc. I cannot possibly begin to lay out the case for each and every particular prediction in each state as to why I am arriving at the conclusions I am. To try to do so would require me to finish this article after Election Day is over. So please — if you have some questions about something, I can try to answer with the particulars, but just know that you might get more than you bargained for, in some cases.
Anywise, without further delay, on to the predictions:
Overall popular vote
: Romney 51% — Obama 47%
Swing states
:
North Carolina —
Romney
53% — Obama 46%
Florida —
Romney
52% — Obama 47%
Iowa —
Romney
50% — Obama 49%
Ohio —
Romney
50% — Obama 48%
Virginia —
Romney
51% — Obama 48%
Colorado —
Romney
52% — Obama 47%
New Hampshire —
Romney
50% — Obama 48%
Wisconsin —
Romney
50% — Obama 49%
Michigan —
Obama
50% — Romney 48%
Minnesota —
Obama
51% — Romney 48%
Nevada —
Obama
52% — Romney 47%
Pennsylvania —
Obama
50% — Romney 48%
Electoral Vote Map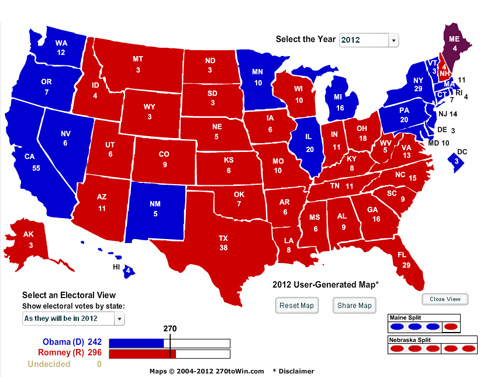 The purple color for Maine indicates a splitting of the EVs. I think there's a good chance that Romney may take the more conservative, rural ME-2 district, which means he would get apportioned an electoral vote from the state for it.
Some conservatives may be disappointed that I'm not showing Romney just blowing Obama out of the water in some kind of 350 EV landslide. I just don't think we're seeing that kind of election shaping up. Yes, Republicans and conservatives are obviously more energetic and enthusiastic than Democrats and leftists, and independents are favoring Romney pretty heavily. However, I still don't think this is going to be the "Reagan in 1980" thrashing that some hope it will be. Instead, I think it's going to be more like Bush's victory in 2004 — not spectacular, but solid enough. And hey, as long as Romney is over 270, he wins regardless.
Now for some down ticket predictions in the Senate. Because I have not been following these races and the polling as closely, I'm not going to attempt to make numerical predictions — just which candidate I think will win, based on what I have seen.
Competitive Senate races
:
Wisconsin — Thompson (R) narrowly defeats Baldwin (R gain)
Ohio — Brown (D) narrowly defeats Mandel (D retain)
Florida — Nelson (D) narrowly defeats Mack (D retain)
Nebraska — Fischer (R) handily defeats Kerrey (R gain)
Missouri — McCaskill (D) narrowly defeats Akin (D retain)
Montana — Rehberg (R) narrowly unseats Tester (R gain)
Connecticut — Murphy (D) defeats McMahon in a somewhat close result (D pickup from Independent)
Virginia — Allen (R) narrowly defeats Kaine (R gain)
Indiana — Donnelly (D) narrowly defeats Mourdock (D gain)
Massachusetts — Warren (D) narrowly unseats Brown (D gain)
Pennsylvania — Smith (R) narrowly defeats Casey (R gain)
There are many other Senate races going on, of course, most of which are not in doubt in any way as to their results. Overall, I think the GOP will end the night with a net of +3 seats. They won't take the Senate, but will pick up some seats, narrowing the divide in that House. Please keep in mind that these calls on these races do not reflect what I would
like to see happen
(I would like to see the GOP win ALL of them), but what I think is going to happen, based on all the data I have seen.
As for the House, based on general partisan affiliation and enthusiasm data, I firmly believe the GOP will hold onto the House, but that they won't add much, if any, to their overall total. Some Republicans will lose their seats, while other Republican challengers will turn out sitting Democrats. I would say that there will probably be anywhere from a -8 to a +8 seat change for the GOP — in other words, staying pretty steady for a body with 435 total members.
Well, this is it. I guess we'll see late Tuesday night or Wednesday morning how close I actually came this time around.
© Tim Dunkin
By
---
The views expressed by RenewAmerica columnists are their own and do not necessarily reflect the position of RenewAmerica or its affiliates.
---