Bryan Fischer
Racism can come in all skin colors

By
Bryan Fischer
July 8, 2016
Follow me on Twitter:
@BryanJFischer
, on Facebook at "Focal Point"
Host of "Focal Point" on American Family Radio, 1-3pm CT, M-F
www.afr.net
"How great a forest is set ablaze by such a small fire! And the tongue is a fire...setting on fire the entire course of life, and set on fire by hell...It is a restless evil, full of deadly poison." ~ James 3:5-8
James's point is quite simple: words can kill. They can kill because they can start a fire that consumes everyone in its path. Those whose vitriolic words stir up hatred and animosity and suspicion whether toward whites, toward blacks, or toward law enforcement are just as morally responsible as the arsonist when their words cause smoldering hatred to burst into flame.
An arsonist who sets fire to a home cannot drop his match, run off, and disclaim any responsibility for the destruction his act has caused. In a similar way, those whose reckless words constantly arouse suspicion directed at law enforcement or at particular races are not morally innocent when individuals who lack an internal moral governor decide one day to act on their reckless and dangerous rhetoric and attack the objects of their antipathy.
Unfortunately, our president has demonstrated over and over again an inbuilt hostility to law enforcement and the white race. He has frequently expressed this thinly disguised racism, whether he is talking about a Harvard Professor like Henry Gates or a teen-ager like Treyvon Martin.
He has frequently accused the United States of being racist at its core and from its founding. He even yesterday lamented the systemic racism he believes saturates our entire system of law enforcement. According to the president, racism is in our very DNA as a people, and he predicted today that the problem is so woven into our cultural fabric that the last vestiges of it may not be rooted out until long after not only he but his daughters have passed from the earth.
What he fails to acknowledge is that there may be as much overt racism today in minority communities as there is in majority communities. Racism is bound up in the heart of man, not the color of his skin, and since every man is a fallen human being, every man is capable of racism regardless of skin color. It is just as wrong to prejudge a man because the color of his skin is white as it is to prejudge a man because the color of his skin is black.
Race-mongers like Al Sharpton and Jesse Jackson have made public careers and boatloads of money out of demonizing whites and the police, and creating a smoldering resentment which is mindlessly and wrongly directed at people because of the color of their skin or the color of their uniform.
Thus it should come as no surprise to hear what Dallas Police Chief David Brown, who is himself black, said this morning:
"The suspect said he was upset about Black Lives Matter. He said he was upset about the recent police shootings. The suspect said he was upset at white people. The suspect stated that he wanted to kill white people, especially white officers."
Here is an example of where this kind of unhinged rhetoric can lead, from a Facebook post from someone who lives not too far from my own community: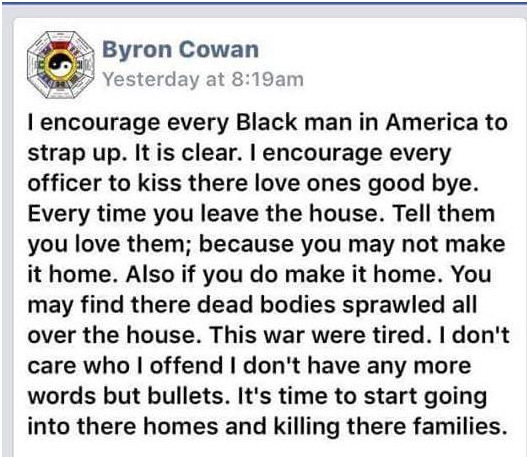 What is the solution? It begins with political and cultural leaders accepting responsibility to use words that do not subtly or overtly generate hostility toward people because of skin color but rather to use words that promote patience, understanding, and a respect for right and wrong, the rule of law, and for those who are responsible to enforce that law.
The only things that should matter in a Christian society are truth and conduct. We should judge people based on behavior and on whether that behavior lines up with the word of God. We are to be color-blind but not conduct-blind.
Lady Justice is blindfolded for a reason: when the issue is justice, skin color is irrelevant. And so the great need today is for public leaders who will truly urge us to judge people based not on the color of their skin but on the content of their character.
In other words, we need another Martin Luther King, Jr., because we don't have one right now. Let's pray that he will soon emerge and that all people of goodwill will gather around him and support him so that we may together work toward the day when we will be neither "Jew nor Greek," neither white nor black, neither Asian nor Hispanic but "all one in Christ Jesus" (Galatians 3:28).
(
Unless otherwise noted, the opinions expressed are the author's and do not necessarily reflect the views of the American Family Association or American Family Radio.
)
© Bryan Fischer
---
The views expressed by RenewAmerica columnists are their own and do not necessarily reflect the position of RenewAmerica or its affiliates.
---