Gabriel Garnica
Abortion and illegal Immigration: Borders, adjectives, and economic distortion

By
Gabriel Garnica
June 19, 2013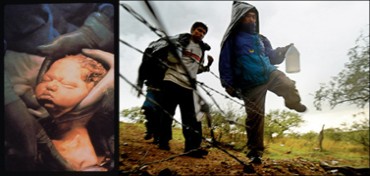 Three unique approaches to the abortion and illegal immigration debates involve seeing these two political and social footballs in the context of border crossings, adjectives, and economic distortions.
For the liberal defending abortion, it is acceptable to prevent an unborn child from crossing the border to the outside world simply because he is unwanted or inconvenient yet it is unacceptable to prevent an undocumented immigrant from crossing the border to this country even if this is unwanted by or inconvenient for most Americans. For that liberal, it is acceptable to deny an unborn child's personhood and any legitimate right to life, respect, decency, opportunity, protection, and validation that come with personhood yet it is totally unacceptable to deny an illegal immigrant those very same rights. For that liberal, it is acceptable to torture, burn, and destroy an unborn child and treat that child as so much waste to be discarded in landfills and toilets as we saw in Gosnell and similar cases. However, for that same liberal, it is an unimaginable and unacceptable horror to treat illegal immigrants that way.
The liberal defending abortion will argue that deportation of illegal immigrants breaks up families, that immigrant families must be kept together, and that children born of illegal immigrants in this country are innocent victims in this issue and should be afforded special protection yet they will ignore the destruction of families which abortion may bring and the fact that abortion involves the most innocent victims of all, unborn children.
The liberal defending abortion will argue that the law of the land allows and protects abortion yet ignores that very same law as applied to outlawing illegal entry into this country. It is sufficient to say that liberals contradict themselves many times over in their inconsistent efforts to prevent unwanted children from crossing the border of the womb while allowing undocumented immigrants to cross the borders of our nation. In a word, it is far better to be an undocumented immigrant than an unwanted child in this nation. The unwanted child and the unwanted illegal immigrant may both suffer struggles, danger, and abuses, but only the illegal immigrant is afforded the consideration and compassion of the liberal.
Finally, the liberal defending abortion will argue against any abortion reform as representing an undue burden and limitation on the right to abortion yet he or she will vehemently seek immigration reform as representing, you guessed it, a removal of burdens and limitations on the right to enter this country. Liberals treat abortion as a woman's sacred right to self-determination yet ignore a nation's sacred right to self-determination through lawful, as opposed to unlawful, immigration. They wail about a woman's right to choose when and how to give birth yet ignore a nation's right to choose when and who can cross its borders and how they may do so.
At their core, the abortion and illegal immigration arguments are also about the manipulation of adjectives. Liberals have no problem stressing the
unborn
status of an unborn child as an excuse for ignoring his or her basic human rights yet wail in protest against those who would similarly stress the
illegal
status of illegal immigrants. Pro-abortion supporters take pains to distinguish and differentiate between unborn and born children, arguing that it is wrong to simply lump all infants, born and unborn, together for the purposes of rights, including the argument that it makes a huge different whether a fetus has been born or not. These same people, however, will take similar pains to lump all immigrants, legal and illegal, together for the purposes of rights, ignoring the argument that it makes a huge difference whether an immigrant has entered the country legally or not. The liberal conveniently paints the illegal immigration problem as an immigration problem to enlist the support of all immigrants yet refuses to likewise generalize abortion as the termination of children, preferring to minimize the victim pool.
A very interesting yet likewise distorted
argument
proposes that conservatives' abortion and immigration positions are inconsistent because the former allows the birth of unwanted burdens upon the state yet the latter seeks to prevent the entry of unwanted immigrants who will likewise burden the state. That argument goes on to ask if self-reliant, ambitious immigrants desperately seeking a better life are not more attractive to conservative ideals than the infusion of children of the indolent. This warped yet intriguing argument, based somewhat on the writings of the atheist John Stuart Mill, concludes by proposing that we should seek a society where everyone is free to freely prosper as long as he or she does not look to live freely off others. Until we reach that goal, the argument goes, the conservative stances against the regulation of who is born and in favor of the regulation of who can enter this nation are inconsistent. Ironically, we find that liberals tend to support abortion, champion freeloading, and find ways to profit politically and socially from both camps. It should not surprise anyone that this argument stems from an atheist's ideology.
The failings of this economic argument involving abortion and immigration are too numerous to adequately discuss here. Suffice it to say that humans are not mere capital and all groups, including immigrants and unborn children, include those who will be attracted to freeloading. Likewise, the argument follows the classic liberal line of conveniently blurring the critical distinction between illegal and legal immigration. In the end, its greatest contribution may well be the reminder that we should genuinely seek a society where personal responsibility and self-reliance are primary goals, life is more sacred than convenience, and humble gratitude and genuine ambition are valued.
Ultimately, the present abortion and illegal immigration debates will not be resolved until those who govern us start listening to us and stop manipulating both issues to generate victimhood, dependency, and political as well as social debt to be repaid with continued votes. Any indirect reference to anyone and any party presently governing us is completely intentional.
© Gabriel Garnica
---
The views expressed by RenewAmerica columnists are their own and do not necessarily reflect the position of RenewAmerica or its affiliates.
---