Eric Giunta
Is the Florida Democratic Party victimizing Haitian legislators with political "ethnic cleansing"?

By
Eric Giunta
September 7, 2012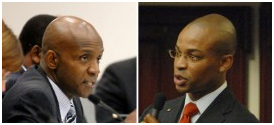 As two Florida Democratic state representatives contest their recent primary election defeats through the courts, a political consultant from one of the state's major bipartisan consulting firms suggests the Haitian legislators might be the victims of a political "ethnic cleansing" by their own party officials.
The two legislators challenging the outcome of their primary races in heavily Democratic districts are Rep. Mack Bernard of West Palm Beach and Rep. John Patrick Julien of North Miami. Both are immigrants from Port-au-Prince, Haiti, and both have cultivated a reputation for being friendly to small businesses and school choice. Both received endorsements from the Florida Chamber of Commerce, and Julien was even endorsed by Florida Right to Life.
Bernard and Julien lost their primaries by razor-thin margins — 17 and 13 votes respectively — to opponents who had reportedly received the tacit backing of the Democratic Party establishment. Both winners are running unopposed in the November general election.
The two candidates are alleging voter fraud, and are being represented in their suits by attorney and former state representative J.C. Planas, a Republican. Bernard filed his suit Friday, and Julien filed his on Tuesday, both in the 2nd Judicial Circuit Court of Florida, in Leon County. . . .
Catch the rest of the story at
Sunshine State News
.
© Eric Giunta
---
The views expressed by RenewAmerica columnists are their own and do not necessarily reflect the position of RenewAmerica or its affiliates.
---