Eric Giunta
Florida Catholic, Baptist spokesmen weigh in on proposed funeral protest ban

By
Eric Giunta
January 28, 2013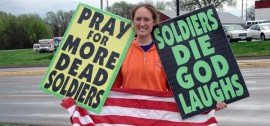 A bill that would greatly restrict the staging of protests at funerals has passed through the first of several hurdles in the state Senate committee process, and spokesmen for Florida's Catholics and Southern Baptists tell Sunshine State News they support the principles contained in it.
On Thursday, the six Republicans and four Democrats sitting on the Florida Senate Committee on Regulated Industries unanimously approved SB 118. The bill, filed by Sen. Lizbeth Benacquisto, R-Fort Myers, and titled "Funerals, Burials, and Memorial Services," would criminalize protest activities within 500 feet of the property line of any location where a funeral, burial, or memorial service is being held, and during or within one hour before or one hour after the conducting of such services.
(The bill defines "protest activities" as "any action, including picketing, that is undertaken with the intent to interrupt or disturb a funeral, burial, or memorial service.")
Violation of the prohibition would constitute a first-degree misdemeanor, punishable by up to one year in county jail and a $1,000 fine. (Florida law already makes it a second-degree misdemeanor to "willfully interrupt or disturb any lawful assembly.")
The bill's introduction was motivated by the activities of a Kansas sect, the Westboro Baptist Church. The church's pastor, disbarred attorney and Democratic political activist Fred Phelps, regularly stages protests at the funerals of military servicemen and other famous victims of tragedy. One of their most infamous slogans is "God Hates Fags."
Sunshine State News spoke to state spokesmen for Florida's two largest religious denominations, the Catholic Church and the Southern Baptist Convention, to get their take on the proposed legislation and its implications for both religious worship and free speech. . . .
Catch the rest of the story at
Sunshine State News
!
© Eric Giunta
---
The views expressed by RenewAmerica columnists are their own and do not necessarily reflect the position of RenewAmerica or its affiliates.
---