Fred Hutchison
July 26, 2004
Gay "marriage" is not a "right"

Fred Hutchison
A recurring theme of the pro-gay letters is that gay marriage is a "right." Saying so does not make it so. When carefully considered the claim does not make sense.
If it is immoral to steal, you have the right to not have your goods stolen — and should expect the state to defend that right. Therefore, you have property rights. If it is evil to murder someone, then every person — except a murderer — has a right to live. If rights are the flip side of the universal moral law, then they cannot be the flip side of a practice which is contrary to the universal moral law. If sodomy and "gay marriage" are against nature and against the universal moral law, they cannot be a right.
The liberal courts have recognized this logical difficulty and have therefore used the right of privacy to legitimize sodomy and gay marriage. They theorize an expansive right to privacy based on an imagined right to self-actualization. There are two fallacies in this approach. 1) Self-actualization cannot be achieved by doing something that is against nature — that is contrary to human design. 2) Self-actualization is not the legal basis for the western laws which respect privacy. Private property is the basis. Because we have a right to own property, we have a derivative right to use that property in privacy.
Gay "marriage" is not merely a practice in the private home. It is a demand for public recognition. To grant this recognition is to confuse an honorable institution — marriage — with a dishonorable liaison — gay coupling. This would confuse the concept and diminish the honor of marriage.
---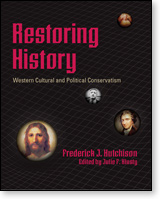 A message from Stephen Stone, President, RenewAmerica
I first became acquainted with
Fred Hutchison
in December 2003, when he contacted me about an article he was interested in writing for RenewAmerica about Alan Keyes. From that auspicious moment until God took him a little more than six years later, we published over 200 of Fred's incomparable essays — usually on some vital aspect of the modern "culture war," written with wit and disarming logic from Fred's brilliant perspective of history, philosophy, science, and scripture.
It was obvious to me from the beginning that Fred was in a class by himself among American conservative writers, and I was honored to feature his insights at RA.
I greatly miss Fred, who died of a brain tumor on August 10, 2010. What a gentle — yet profoundly powerful — voice of reason and godly truth! I'm delighted to see his remarkable essays on the history of conservatism brought together in a masterfully-edited volume by Julie Klusty.
Restoring History
is a wonderful tribute to a truly great man.
The book is available at
Amazon.com
.
© Fred Hutchison
By
---
The views expressed by RenewAmerica columnists are their own and do not necessarily reflect the position of RenewAmerica or its affiliates.
---