Fred Hutchison
October 7, 2004
Electoral analysis with culture war factors

Fred Hutchison
Has the culture war become important enough that is relevant to a presidential election? If, so can we discover its influence in electoral college numbers? If the answer to both questions is yes, culture war indices should enable us to measure the general political conservatism or liberalism of a state and the state's tendency to vote Republican or Democrat in a general election.
84% of the votes against the Marriage Amendment were cast by Democrats, so there is a high correlation between a culture war score and political party affiliation. A culture war measurement should be able to not only predict likely party affiliation but should give us a general sense of the degree of conservatism or liberalism of a state as a whole.
Culture War Barometer
I have chosen as my culture war barometer the issue of gay marriage. If all the representatives of a state, like Massachusetts, voted against the Federal Marriage Amendment, I give that state a Culture War (CW) score of 100. If none of the representatives from a state like Wyoming, voted against the marriage amendment, I give that state a CW score of zero. 44% of the representatives from my own state of Ohio voted against the Amendment so Ohio gets a CW score of 44. However, my own representative, Deborah Pryce, a Republican, voted against the amendment. Bad girl.
Culture War Regions
I divided the country into 9 CW electoral regions. Both geography and CW scores affected how I determined the regions. For example, Pennsylvania is usually classified as a Mid-Atlantic or North-Atlantic state. I classified it as a Great Lakes state because its CW score of 39 was like that of a Great Lakes state and not like the typically higher scores of North Atlantic states. Erie, Pennsylvania is a port city on Lake Erie, so Pennsylvania is plausibly a Great Lakes state. Buffalo, New York is a port city on Lake Huron but the state has a CW score of 72, making it a North Atlantic state in its CW political behavior. Florida is included in the South East region because its CW score of 27 is not at all like the swing state it was four years ago but is now more like a southern state. I made many decisions of this kind in drawing up the CW electoral regions. The nine regions are listed below. In this listing CW = culture war score; EC = electoral college votes.
New England, 6 states: CW 95, EC 34
North Atlantic, 4 states: CW 70, EC 59 (NY, NJ, My, Del)
Great Lakes, 6 states: CW 45, EC 100 (excludes Minnesota)
Plains 7 states: CW 32, EC 45 (includes Minnesota)
Mountains 15 states: CW 15, EC 39 (excludes Nev, Includes Ariz & N.M.)
South East 15 states: CW 15, EC 117 (includes Florida)
South Central 4 states: CW 25, EC 56 (Texas, OK, Ark, La.)
West Coast 4 states: CW 70, EC 78 (includes Nevada)
Hawaii, Alaska, DC: EC 10
Analysis
There are 538 electoral votes total. 270 are needed to win the presidency.
Safe Democratic Regions have CW scores of 70 and higher. These include New England, North Atlantic and West Coast. Add Hawaii and DC and the EC total is 178 votes for John Kerry. He is 92 votes short of victory.
Safe Republican regions have CW scores of 25 or less. These include Mountains, South East, and South Central for an EC score of 212 votes for George Bush. He is 58 votes short of victory.
Plains states have a wide range of scores. North Dakota has a score of 100 and South Dakota has a score of zero. The geographically large nine state region has an average CW score of 32. This suggests a mild Republican leaning, a tendency which is verified by recent presidential elections. The only potential swing states in the plains are Iowa with a CW of 40, Missouri with a CW of 33, and Minnesota with a liberal tradition but a CW score of only 25. At the present time all these lean to Bush. The Kerry campaign has stopped advertising in Missouri which was a must win state for Al Gore. Add 45 EC votes from plains states to the tally for Bush to bring the total to 257 EC votes. This will bring Bush to 13 votes short of victory.
All the Great Lakes states have CW scores ranging from 39 – 50. They are all swing states. The election will be decided by Great Lakes "rust belt" states. All are sensitive to economic developments. I only have confidence, based upon the current polls, and the votes of previous years, that in a close election, Bush will carry two of these, Ohio and Indiana. Give 31 EC points to Bush, plus 3 for Alaska, yielding a grand total of 291 EC votes and a victory margin of 21, meaning Bush could win the election, even without Ohio. It would be something new for a Republican to win without Ohio. Kerry's tally is 247, including four Great Lakes states, which is 23 votes short of victory.
Conclusion:
Kerry's dilemma is that his support is highly concentrated on the two coasts while Bush's support is spread over a wide region including 31 of the 50 states. There is a EC bonus of two votes for every state that is carried. Coastal states with high liberal scores cannot increase the EC vote for Kerry by winning more votes for Kerry within those states that are already certain to go for Kerry. The culture war has intensified this phenomena. Liberal states are getting more liberal and conservative states are getting more conservative.
States like Missouri and Florida which used to be swing states are no longer swing states, possibly because they are situated in a region of conservative values and low CW scores. States like Pennsylvania and which were once typically Democratic states are now swing states because of their moderate to low regional CW score.
There is a striking correlation of a state's CW score and its propensity to vote for the Republican or the Democratic candidate. CW scores helps us get a ball-park idea of the depth and intensity of the general liberalism or conservatism of a state. It is also useful in figuring out whether a state is truly a swing state or not.
According to my CW analysis, the six populous, industrialized Great Lakes states are the only authentic swing states remaining at large. The intensification of the culture war in the last four years has thrown a handful of swing states into one camp or the other. It works to the Republican advantage. If Bush carries all the states in regions with relatively low CW scores, all he needs to win is Indiana (11 EC) and Alaska (3 EC) which he is very likely to get. The Democrats probably must have three of the four largest great lakes swing states to win (Pennsylvania 21 EC, Illinois 21 EC, Ohio 20 EC and Michigan 17 EC.) This is a tall order in these highly heterogeneous states.
Compare the outcomes on election night with the nine regions in my analysis to ascertain the validity of Culture War scoring in election analysis.
---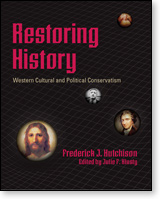 A message from Stephen Stone, President, RenewAmerica
I first became acquainted with
Fred Hutchison
in December 2003, when he contacted me about an article he was interested in writing for RenewAmerica about Alan Keyes. From that auspicious moment until God took him a little more than six years later, we published over 200 of Fred's incomparable essays — usually on some vital aspect of the modern "culture war," written with wit and disarming logic from Fred's brilliant perspective of history, philosophy, science, and scripture.
It was obvious to me from the beginning that Fred was in a class by himself among American conservative writers, and I was honored to feature his insights at RA.
I greatly miss Fred, who died of a brain tumor on August 10, 2010. What a gentle — yet profoundly powerful — voice of reason and godly truth! I'm delighted to see his remarkable essays on the history of conservatism brought together in a masterfully-edited volume by Julie Klusty.
Restoring History
is a wonderful tribute to a truly great man.
The book is available at
Amazon.com
.
© Fred Hutchison
By
---
The views expressed by RenewAmerica columnists are their own and do not necessarily reflect the position of RenewAmerica or its affiliates.
---