Fred Hutchison
February 7, 2005
The academic -- journalist axis creates new myth

Fred Hutchison
Conservative and Christian college students face a solid phalanx of tax-supported liberal professors, many of whom use class time for left wing propaganda. Students soon learn to mouth the party line lest they get a low grade from their intolerant professors. No class is safe from the ideological pressure. In some colleges math classes require a paper on multicultural mathematics. Multiculturalism now includes mandatory pro-gay, pro-feminist, and pro-abortion views. Pro-gay calculus anyone? Freedom of speech and thought for students no longer exists on many of our campuses.
Columbus Dispatch journalist Joe Hallett and Ohio State professor John Wenzel have teamed up to create a new myth, that an academic Bill of Rights for students would endanger the free speech of liberal professors! Hallett's op-ed piece of 1/30/05 criticizes State Senator Larry Mumper's Academic Bill of Rights. Hallett is not entirely wrong about potential dangers of a student's bill of rights. Such legislation must be carefully crafted and applied in such a way that rights are given to students without taking rights away from teachers. However, Hallett's main concern is to protect the all-powerful tenured professor. He is little concerned with the fate of the brow-beaten conservative or Christian or patriotic students. Hallett says that if students are denied freedom of speech and thought, the colleges should deal with it. "If?" Hallett reminds me of the corrupt official in the movie
Casablanca
who says, "I am shocked, shocked to hear that gambling is going on here," and then collects his gambling winnings. Hallett wants the problem left to college administrations precisely because they refuse to do anything about it.
No rebuttal letter was chosen for publication by the Dispatch but a letter from OSU professor John Wenzel was published on 2/5/05 to reinforce Hallett's warning about dangers to the liberties of tenured professors. Unlike Hallett, Wenzel ridicules the idea that classes are used for left wing propaganda and that dissenting students are intimidated. Wenzel alleges that Mumper is seeking "zero tolerance for liberals everywhere" through his bill of rights for students. Does this mean that if tenured professors do not have unlimited power to propagandize and intimidate, that there is a total war on liberals? It this a sample of the way liberal professors actually think?
Beware of the axis of liberal journalists and liberal professors who have banded together to create a myth that students have free speech but professors do not. The exact opposite is true, of course.
---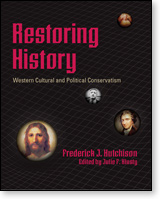 A message from Stephen Stone, President, RenewAmerica
I first became acquainted with
Fred Hutchison
in December 2003, when he contacted me about an article he was interested in writing for RenewAmerica about Alan Keyes. From that auspicious moment until God took him a little more than six years later, we published over 200 of Fred's incomparable essays — usually on some vital aspect of the modern "culture war," written with wit and disarming logic from Fred's brilliant perspective of history, philosophy, science, and scripture.
It was obvious to me from the beginning that Fred was in a class by himself among American conservative writers, and I was honored to feature his insights at RA.
I greatly miss Fred, who died of a brain tumor on August 10, 2010. What a gentle — yet profoundly powerful — voice of reason and godly truth! I'm delighted to see his remarkable essays on the history of conservatism brought together in a masterfully-edited volume by Julie Klusty.
Restoring History
is a wonderful tribute to a truly great man.
The book is available at
Amazon.com
.
© Fred Hutchison
By
---
The views expressed by RenewAmerica columnists are their own and do not necessarily reflect the position of RenewAmerica or its affiliates.
---