Audrey Ignatoff
The Bill Cosby case: Where's the proof?

By
Audrey Ignatoff
March 7, 2016
I've been thinking a lot about the allegations against Bill Cosby. He has been accused by over 50 women of raping them, and is now facing a trial involving the sexual assault of Andrea Constand in Pennsylvania, despite a previous assurance by the former prosecutor that he will not be prosecuted for this alleged crime when his deposition was sealed. However, Montgomery County District Attorney Kevin Steele filed felony sexual assault charges against Cosby in late December, just before the twelve year statute of limitations ran out.
One thing that occurs to me about rape and sexual assault: the person who is accused and the person being violated must be in the same place at the same time. There is no proof of this from all or most of the women. They would have to provide details of where they met Cosby, why they were in that place; traveling tickets, hotel bills, etc. After so many years, they probably don't have any of these or at least not enough to prove that they, in fact, were ever in the same location as Cosby. And, how could they remember all of the details after suppressing it for so many years? There is no concrete proof that these allegations occurred except their version of the truth at the time, which was often in the very distant past. It doesn't matter if many people have the same story, all are without the necessary proof! And of course, there are no witnesses and no rape kits or chemical analysis of drug intake. However, an article did appear along with a cover photo in
New York Magazine
about more 35 women who accused Cosby of drugging and raping them, some more than four decades ago. If someone were to accuse me falsely of wrongdoing, and another hundred people agree, this doesn't mean that it is true! People must be able to
prove allegations and do it in a timely fashion to meet the statutes of limitations for a criminal or civil case.
This is the way our justice system operates; it doesn't operate as a "witch hunt." The trials in Salem have long been over!
Despite the fact that the statute of limitations were
long over
to press any charges for these alleged rapes, attorney Gloria Allred demanded that Cosby set aside $100 million dollars for these women to compensate them. I don't think that she obtained the funds, but she did get a
ton of free publicity.
She has managed to try this case in the media and the
"court of public opinion,"
and not in a
court of law
.
The women's case for defamation in Massachusetts against Cosby was dismissed because Cosby had the right to express his opinion in order to defend himself against these accusations. Many people believe that Cosby is guilty of the crimes alleged against him, but in this country, a person is considered
innocent until proven
guilty. Cosby has never been formally charges with these crimes by these women, nor was he ever convicted. Now, he is charged with sexual abuse in the case of Andrea Consand.
Ms. Constand, who stated that she was sexually assaulted by Mr. Cosby, states that the event occurred in his home near Philadelphia. She went there to be mentored by Cosby to enhance her career. She clearly states that he touched her breast, but she went back another time, and then he touched her private parts. This did not stop her from going back again, when she claimed that he sexually assaulted her. If in fact, if this was true, didn't Ms. Constand's return after the first two times convey a clear and distinct message to Cosby that she welcomed his sexual advances and attention?
We are always communicating with others, and I think that allowing oneself to be in the company of a man alone who has shown a sexual interest to the point of touching is sending a definite message.
This may also send a message to many women who want fast cash to temp a rich man to make sexual advances and then sue them for sexual abuse. Of course, no one really knows what happens between people in private or what their intent or communication was.
I am not advocating that it is alright for a married man to have sexual relations outside of his marriage, but sexual relations don't always constitute rape or sexual assault. If a man demonstrated a strong sexual attraction toward me that I didn't welcome it or I felt was inappropriate, I wouldn't agree to be alone with him. If I had to meet with him, I would either meet in a public place or I would take someone with me.
Could it be that people are prejudice against Cosby because he is an African American man who is wealthy and despite great odds, he created a legacy by breaking racial and economic barriers with such things as
The Cosby Show
, as well as being the spokesperson for Kodak, Jell-O and Coca Cola?
In this country, the law is based on proof; not on rumors or accusations. People should not make judgements based on these either. I don't know the truth of what really happened and cannot begin to guess, and neither can anyone else.
Shortly before his death on January 24, 2015, Joe Franklin stated that he and Bill Cosby were good friends, and that he found it difficult to believe the recent accusations against him. Joe chose Cosby as one of his favorite people among all of the celebrities he met during his long career of over 50 years to appear in a documentary about his life entitled,
Joe Franklin: "Regular Joe" to Broadcasting Legend
.
http://www.chiptaylor.com/ttlmnp5516-.cfm
Franklin was the first talk show host on television and has interviewed more than 300,000 guests. He was an expert on the history of show business, and is considered not only a legend, but an icon, as well as a pioneer in the television industry.
This documentary, largely meant for high school and college communication students, can be seriously impacted because Bill Cosby is in it, leaving open the possibility that the movie may be the
real target
, and Cosby may have been used as a means to an end in destroying it by mean spirited and evil individuals who may have a "vendetta" against someone associated with the film. Educational institutions don't want to show a movie with a perceived rapist or sexual abuser in it. Neither do television stations. Thus, the movie, with Cosby in it, has lost appeal. In this absurd world, anything is possible.
Apparently, it all went down for Cosby because Hannibal Buress had a standup comedy act in a club in Philadelphia where he was making "jokes" about Bill Cosby, and someone took a video of his act and posted it on the Internet. His dialogue included him accusing Cosby of raping women. Despite comedic license, one should not be allowed to accuse someone of a crime when they have never been charged or convicted. This lead to the ruination of Cosby's reputation, whether it was deserved or not. It is ironic that a black man's comments brought such damage to Cosby's name because Cosby opened the door for black entertainers in many ways. One would rather think that someone in the KKK was behind it because one of their favorite mantras is "Black men rape women."
The matter of who took the video of Hannibal Buress speaking about Cosby and accusing him of being a rapist should be investigated. Dan McQuade of
Philadelphia Magazine
uploaded the performance of Hannibal Buress at the Trocadero Club in Philadelphia on October 16, 2014, and
this bit that took one minute and 42 seconds, took Bill Cosby down
.
This video quickly went viral, and appeared on an episode of The Young Turks on October 21, 2014. This led to Hannibal being interviewed on various talk shows, including
The Howard Stern Show
. The video seems to be amateurish, and probably taken with a cell phone or consumer camera, so it's safe to say that someone gave it to the writer at
Philadelphia Magazine
. After the video became viral, all of these women seemed to come out of the woodwork. Was someone looking for them and/or inducing them to come forward after so many years of silence? Something about this just doesn't seem so random to me. It does take some effort to have a video go viral.
If Bill Cosby turns out to be innocent, he still has experienced severe damage to his career, and probably to his emotional and physical health and wellbeing. We will have to wait to see what will happen in this important and dramatic case. It can have a definite impact on how our legal system in run.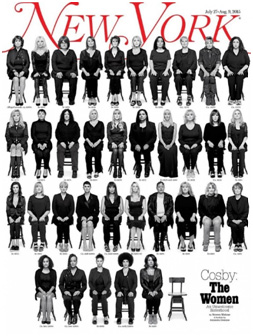 © Audrey Ignatoff
---
The views expressed by RenewAmerica columnists are their own and do not necessarily reflect the position of RenewAmerica or its affiliates.
---