Cynthia A. Janak
January 9, 2008
The new American discrimination -- Eminent Domain

Cynthia A. Janak
Throughout history we have the rich taking from the poor or middle class. What we have in modern society is called Eminent Domain. This is the legal stealing of a person's home or business for development by a corporation.
The first thing I am going to do here is give you a brief history of eminent domain. This is necessary for me to show you when and how the discrimination of the United States citizen was accomplished.
As you know, I reference several of my favorite sites. Wikipedia is one of those sites and I am going to reference eminent domain from there.
http://en.wikipedia.org/wiki/Eminent_domain
History

Fifth Amendment limited the right of eminent domain by requiring that takings be for "public use" and that "just compensation" be paid for the taken property. The term eminent domain is used primarily in the States, where the term was derived in the mid-19th century from the legal treatise, De Jure Belli et Pacis, written by the Dutch jurist Hugo Grotius in 1625, who used the term dominium eminens and described the power as follows:

"... the property of subjects is under the eminent domain of the state, so that the state or he who acts for it may use and even alienate and destroy such property, not only in the case of extreme necessity, in which even private persons have a right over the property of others, but for ends of public utility, to which ends those who founded civil society must be supposed to have intended that private ends should give way. But it is to be added that when this is done the state is bound to make good the loss to those who lose their property."

However, another noted jurist, Samuel von Pufendorf, in his work, De Jure Naturae et Gentium criticized the usage of the term "eminent domain." In his analysis of the control ("potestas") of property he made a classification as follows:

(a) Control, in the proprietary sense, as of that which is one's own, he termed "dominium";

(b) Control, in the governmental or sovereign sense, as of that which belongs to others, he termed "imperium." It was his conclusion that a more accurate term for the power to take property for public use would be "imperium eminens."

The legal principle is that all property in a jurisdiction is "owned" by the sovereign of it, and that authority to make law for that property is ultimate ownership. In a democratic nation the sovereign is the people, collectively, over all the territory of that nation. What private parties can "own" is not the land itself, but an equitable interest in title to an estate in the land or property, and it is that equitable interest to which they are entitled for compensation if the title to the estate is taken.
Our founding fathers knew the horror of having their property stolen by the English government. They did not want any American citizen to go through such taking by coercion or force by the government. That is why they gave us the Fifth Amendment. Since when is our property owned by a sovereign? When I bought my house I paid for the property and the house that was on said property. Therefore, I own the property that my residence resides on. We are not serfs that live on the lands of some lord or lady and subject to their every whim. We are United States citizens, God Bless Us All.
United States

The original judicial construction of "public use" was relatively strict: it required that the land be used by the public, the common example being military installations, government buildings and public roads, as well as railroads and public utility facilities.
This was my understanding while I was growing up. Now eminent domain means that your home or business can be legally stolen for a private developer to make a substantial gain. My question was when did it all change?
This article was taken from the Chester Times of Pennsylvania, April 5th, 1948.
Slum Clearance Problem

It is contended by many persons in position to know that sub-standard and slum housing conditions in Chester, and every other city, could be corrected under powers already in the hands of public officials in the communities.

Joseph H. Deckman, chairman of the Public Housing Committees of the Home Builders' Association of Washington, has made a five-year study of slum clearance and low-rent housing, and his following conclusions appear in a recent issue of the Congressional Record:

"The problem of slum clearance is purely a local one and its solution lies in the speedy promulgation and enforcement of housing codes and sanitary laws.

"The blame for slum conditions is to be placed squarely on the shoulders of the owners of slum properties, the poor housekeeping methods of slum-tenants and the municipal authorities who allow unsanitary slum conditions to exist.

"Slums are not caused by old buildings, but are definitely the result of houses not kept in repair and slovenly housekeeping.

"Georgetown, in Washington, D. C., is the finest known example of a slum area reclaimed into a fine residential neighborhood without construction of a new house in block after block of that section.

"The solution to the problem of slum clearance is basically found in the promulgation of adequate housing codes and sanitary laws at the local level. Proper laws would make it unlawful to rent substandard housing or maintain unsanitary housing conditions either by tenant or by owner.

"Enforcement of housing codes and sanitary laws would result in slum properties either being placed in good livable condition or in being torn down or their use as housing discontinued. In this manner the slum will disappear at no cost to the taxpayer. Also the logical development of our cities can take place and they will not be redeveloped through a public housing program which from past experience builds two-story dwelling units in the heart of a city where multifamily apartments or commercial property would eventually be constructed by the dictation of sound economics.

"If for some reason the people of a city feel that they wish something more than just a sound housing code then a strictly local Redevelopment Act could be passed along the lines of the District, of Columbia Redevelopment .Act of 1945. In no case is it necessary for Federal legislation to he passed for the purpose of subsidizing the clearing of the slums of the nation's cities."
As you notice this article is talking about a
slum
area. It is not talking about an area that is kept up by the residents and where housing codes are not being violated. It also states that
"If for some reason the people of a city feel that they wish something more than just a sound housing code then a strictly local Redevelopment Act could be passed..."
What this is telling me is that the city, town or village needs to pass their own Redevelopment Act before enforcing eminent domain. What this is also telling me is that none of the areas that I have seen in the news over the past 5 years under eminent domain appeared to be slums. So where do these municipalities get off stealing a person's home or business? Greed is the answer.
This next section is taken from the University Of Maryland School Of Law.
Berman v. Parker
348 U.S. 26 (1954)
http://www.law.umaryland.edu/marshall/specialcollections/sobeloff/berman.asp
Facts
Congress passed the District of Columbia Redevelopment Act of 1945. According to the Act, Congress could determine that substandard housing and blighted areas in D.C. were injurious to the public health, safety, etc., and that Congress could eliminate such injurious conditions through necessary and appropriate means — such as acquisition of property. Congress found that acquiring and leasing and/or selling the property for redevelopment pursuant to a detailed plan was a "public use." The Act created an Agency and Commission to develop plans for the proposed property. Once acquired, the property could be transferred to public or private entities for redevelopment, as long as the redevelopment conformed with the intended plan.

The first project undertaken by the Act was "Project Area B" in D.C., a blighted area that Congress found necessary to redevelop in the interest of public health. Appellants own commercial property in Area B, and claim that their property may not be constitutionally taken under the Act because it is not slum housing and will be transferred to a private, not public, agency, which isn't public use. Specifically, appellants argue that their property is taken contrary to the Fifth Amendment's Due Process and Public Use clauses.

Issue

May Congress take non-dilapidated privately-owned property in a blighted area to develop a better, more attractive community?

Holding and Rule

Yes, as long as Congress establishes its actions are for a public purpose (thus, Congress is acting within its police powers), it is given great discretion in determining how to achieve its goals. This includes the use of eminent domain to take and transfer land to private — not public — redevelopment agencies and to take land as a whole rather than on a property-by-property basis. Affirmed.

Reasoning

The legislature may enact legislation that addresses the public interest — such as safety, health, and morality — under its "police powers." The judiciary's role in evaluating whether the legislature is acting according to a public purpose is limited, and the legislature is given broad deference in determining what is best for the public welfare. This also includes a legislature's determination that a certain area should be beautiful as well as healthy. Once Congress has authority under its police powers to reach a certain end, it can use eminent domain as a means to that end.
We now have set the stage for the stealing of a person's property. The property that is being stolen from people today is not falling apart nor is the property in any way, shape or form a health hazard to the community as a whole.
Let us look at a case that is very well known. That is the case of Kelo vs. New London, Connecticut. What I am going to do first is show you some pictures of the blighted area with the owners. I want you to look for the evidence of the area being a slum and/or a health hazard to the community. I know I do not see it.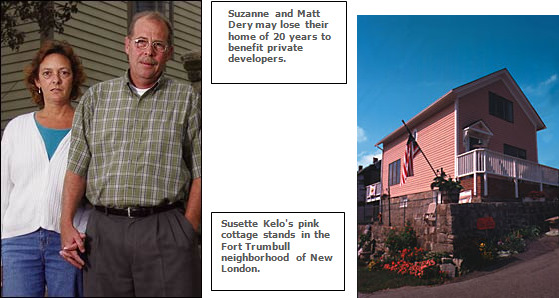 I found this on
http://www.irakrakow.com/constitution
the summation of the Kelo vs New London was very good, in my opinion. Here are some excerpts.
...injustice is further complicated by the fact that in many of these eminent domain cases, it's the poorer people who are threatened with loss of their property, for the benefit of a wealthier class of people. These people tend to have much more influence and power in local government. The poorer homeowners don't have as much clout and are subject to harassment and intimidation.

All of these factors played out in Kelo v. New London (2005), the case I am discussing here. In the mid-1990s, New London, Connecticut was a town down on its luck. The middle and upper class moved to the suburbs, thus eroding the tax base. The town was looking for more tax revenue. Along comes Pfizer, one of the world's largest drug companies. Pfizer decided to build Pfizer Global Research and Development, their world R&D headquarters, in Fort Trumbull, a working class area in downtown New London. Pfizer would like to attract high paid, professional employees, who earn upwards of $200,000 a year, to a desirable neighborhood. New London creates a plan to do exactly that and creates the New London Development Council (NLDC) to administer it. As it was later revealed, Pfizer had conversations with New London Development Corporation to build an upscale mall, five star hotel, near the area they were expanding.

The plan required eminent domain proceedings against about 115 homeowners. The homes were well maintained, with neighborhood mom and pop stores. You can read about the neighborhood in this article by Barry Yeoman in AARP Magazine. The NLDC pressured the homeowners to sell — about 100 of them did, but 15 refused. One of them was a Susette Kelo, a registered nurse who worked 3 jobs. She owned a "tiny pink house on the water" and simply wanted to stay there.

She and her neighbors simply did not have the resources for a long and expensive lawsuit. Fortunately, a public interest law firm, the Institute for Justice, agreed to represent them. Eventually, the Kelo v. City of New London (2005) wound up in the Supreme Court. By a 5-4 decision, on June 23, 2005, the Court sided with New London, that taking homes with a low market value from people who were living there peacefully for the purpose of building a privately owned shopping mall and hotel was constitutional.
So there you have it. In my opinion, the lower middle class has been the victim of discrimination. In my opinion, Pfizer and the City of New London discriminated against these people because they knew that they did not have the money to fight a prolonged legal battle. They are the victims of a system that has gone mad. You may ask yourself why this is happening? The answer is simple.
If you take away the right of the citizen to own property and the property becomes the sole ownership of the state then the state is in control of the citizens' right to live on the property. That way the citizen is forever
fearful
that the state will evict the citizen under eminent domain. Therefore, the citizen becomes compliant to the whims of the state.
To finish here is something from Wikipedia.
Fear...Moral and legal issues ..."fear diminishes freedom of action"
May your God bless you.
© Cynthia A. Janak
By
---
The views expressed by RenewAmerica columnists are their own and do not necessarily reflect the position of RenewAmerica or its affiliates.
---