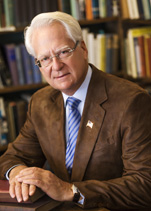 Larry Klayman
Karl Rove: It's time to get lost!

By
Larry Klayman
April 24, 2011
When I ran for the U.S. Senate in Florida in 2004, it was Karl Rove, then President George W. Bush's top political White House adviser — a person who has been called "the architect" — who could not bear the thought of having an independent anti-establishment Republican like me become the state's highest elected federal representative. As a result, he inserted the passionless Secretary of Housing and Urban Development Mel Martinez into the race and marshaled huge establishment Republican resources to have him elected. What Rove wanted was a true "yes man" in the U.S. Senate and one that could pull enough Florida Hispanic votes in the 2004 presidential elections to take this key battleground state and help get "W" re-elected — thereby keeping his Republican establishment in power. While Mel's performance as a U.S. Senate candidate was lackluster at best, and while it was ironically "W" who pushed Mel over the finish line to become a senator, Rove was the person primarily responsible for both men's victories.
What ensued after that is more than regrettable. Mel had no real desire to live in Washington, D.C., no real drive to be a successful U.S. senator and no real passion for anything. He quit before the end of his six-year term. Rove, who was nearly criminally indicted during his years in the Bush White House for allegedly outing Valerie Plame, an alleged undercover CIA agent whose husband had embarrassed the administration over Iraq's nuclear program, went on to become super rich, an author, an autobiographer and a Fox News political analyst. Not bad for someone whose influence over "W" largely resulted in disasters both foreign and domestic, with the result that the nation and world were left, at the end of the Bush presidency, in economic and foreign-policy ruins, particularly as concerns the Middle East.
With this later scenario, one would think that Rove and his establishment Republican friends would have left the "scene" quietly, in disgrace — as was befitting of them. But the macho pol, whose cocky, arrogant demeanor and piggish face resemble a living Texas "pork barbecue," will simply not go away on his own accord.
Not only does he support Secretary of State Hillary' Clinton's policy of appeasement with regard to Iran, see no real threat to American security, economic or military, with recent events in the Middle East, couldn't care less about Israel's continued existence (Israel is simply a nuisance for his Texas oil friends who suck up to oil-rich Arab countries), but he has also most recently taken to bashing those sincere Americans who question that President Barack Hussein Obama was born in the United States and has a legal right to be president. Calling "us" the "Nutty Right," Rove, to gain some respectability among the mainstream media to further his own wealthy empire, has been bashing "birthers," including likely presidential candidate Donald Trump.
In this regard, the Washington Post, in an article Wednesday entitled "In GOP, disavowal of 'birthers' — Rove chides 'Nutty Right,'" Rove is quoted as calling Donald Trump a "joke candidate" for making Obama's birthplace a centerpiece of his possible candidacy.
I wish that we could call Rove and his establishment Republican friends just a "joke" — but they are hardly that. It is Rove's Republican establishment that destroyed this nation under "W." Much like the Weimar Republic, whose arrogance and incompetence gave Germany the Third Reich, Rove and company's literally bankrupt performance in the Bush White House gave our nation Barack Hussein Obama — a hard-left socialist/communist anti-American, anti-white, anti-Christian, anti-Semite. Good job, Karl and friends! And now you want to help prevent sincere and concerned Americans from getting rid of Obama the legal way!
It's time for the Karl Roves in the Republican establishment to go away and leave the rest of us alone. Move over, Porky Pig, and let real leaders like Rep. Michele Bachmann into the trough.
I, for one, am tired of seeing the likes of Rove, Newt Gingrich, Rick Santorum and other recycled losers pontificate on Fox News and elsewhere in the media.
And, as for The Donald, a self-serving showman or not, he is doing a real service to the nation in speaking up on the "birther" issue. If he is "nutty," then bring on more people like him that have the will to speak the truth before Obama totally destroys our nation and the world — after Rove and his establishment Republican buddies brought us to the brink.
The Karl Roves of the world disgust me, and they are the reason the nation is on its knees with Barack Hussein Obama at the wheel. Write that in your next fictitious book, Karl, and stick it!
© Larry Klayman
---
The views expressed by RenewAmerica columnists are their own and do not necessarily reflect the position of RenewAmerica or its affiliates.
---