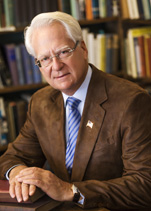 Larry Klayman
Media whores and revolution

By
Larry Klayman
July 2, 2011
This week, Glenn Beck waxed both sentimental and defiant as he signed off with his successful show on the Fox News Channel. Trying not to totally burn bridges with Fox News owner Rupert Murdoch and its CEO, Roger Ailes, he gave his final testimony about why "he" had decided to leave the network and set out on his own with GBTV on the Internet.
It was clear to any viewer that Beck's explanation was both sincere and heartfelt, and of course pained. The reason he was leaving was to wage revolution — in his own words, as "part of the solution," not as just simply a political talk-show host. This is what separates Beck from the others on Fox News. What Glenn taught and preached on the network was not simply for marketing purposes; he was deadly serious about the critical state of the nation, who is responsible for our rapid decline, about proposing strong measures and taking concrete actions to save the union. It is because Beck put his future at Fox News aside for the good of the country — not worrying about sponsors' reactions and the financial fixation of his superiors for ever greater profits — that he sacrificed a cushy and lucrative future with Fox News. Beck is simply different than Sean Hannity and even Bill O'Reilly — the latter of whom he speaks highly about. They may believe "much" of what they preach, but for them it is all about "them." For Glenn, it is about "We the People." As he explained, Glenn had simply outgrown Fox News.
But while Fox News has served a useful purpose — it cut Obama down to size during the last election cycle thanks in no small part to Beck's show — it has also sadly become part of the larger media establishment. It has become, in effect, "anti-establishment establishment." And, this media establishment's first and primary interest is to feed itself, to be it right or left in political persuasion. (There is no center in the media.)
As just one example that rings true for "yours truly," this week Joseph Farah, Dr. Jerome Corsi and I held a press conference at the National Press Club to announce our lawsuit against Esquire magazine, its parent Hearst Communications and its ethically bereft editor, Mark Warren, who published false stories about my client's new book,
"Where's the Birth Certificate? The Case that Barack Obama Is Not Eligible to be President."
Warren had published false accounts, shortly after the book hit the shelves of major booksellers, that Farah and company had "ripped" Corsi a new one after the mullah in chief saw fit to allegedly release his long-form birth certificate — two and a half years after then-Sen. Hillary Clinton had first raised the issue of Obama's likely Kenyan national origin during the run-up to the 2008 presidential elections. Of course, these and other libelous statements were false; but it did not stop Warren and Esquire from making them. That is because the controversy — however manufactured — helps increase reader circulation and the magazine's profits, all the while feeding its leftist customers' predilections. Warren and Esquire did real damage to my clients' business interests and reputations. Ironically, Warren's and Esquire's efforts
bought them a $30 million-plus defamation complaint in federal court in Washington, D.C.
(Now, I am sure they wish that they had thought their whorish actions through in advance.)
Then it was revealed yesterday that the indictment of and establishment-media attacks on the former head of the International Monetary Fund, Dominique Strauss-Kahn — a prominent French Jew and politician who had been rumored to be a top-tier candidate in the next French presidential election — was likely the result of a set up by the New York hotel maid he had allegedly assaulted sexually. Following news of the alleged assault, New York District Attorney Cyrus Vance (son of President Jimmy Carter's failed secretary of state by the same name) wasted no time for his own political purposes in having Strauss-Kahn arrested and held without bond. Predictably, a media circus ensued — all but "convicting" the IMF chief, who was then forced to resign, destroying him and his career. This media circus again fed the great establishment media beast, boosting viewers, circulation and thus advertising revenues. Now it is revealed that the maid had a sordid past and discussed the accusations against Strauss-Kahn, and their potential financial benefit to her, with a convicted drug dealer before she came forth to the authorities. So much for media fairness and honesty.
Similar whorish efforts by the establishment media are witnessed all the time. Just watch leftists Nancy Grace, Keith Obermann and even media stars on the right like Kimberly Guilfoyle on a daily basis — in effect, indicting, "convicting" and destroying people before they even get their day in court. Years ago, the alleged Atlanta Olympic bomber and the alleged perpetrator of the anthrax attacks following Sept. 11 were falsely accused by the government of these crimes and then hung out to dry by the establishment media to boost ratings and revenues.
So Glenn had it right; in today's age, where the establishment media callously pursues the great buck at the expense of "We the People," and in effect becomes a collaborator with an evil government, its time to set out on one's own. We Americans need to have our voice heard, and we need to act now to save our nation. Glenn Beck, Joseph Farah, Jerome Corsi, I and others on the other side of the media must do what we can to be "part of the solution" — and not just mouth our opinions about what is wrong in the country. For if each of us, who obviously do not always agree on all issues, do not act now, with a peaceful citizens' call to arms in the "alternative revolutionary media" and the courts of public opinion, all will be lost for ourselves and future generations. But beyond this, we must also "take up arms" and fiercely wage a Second American revolution, without regard to the consequences. Particularly as we celebrate this July 4, in the spirit of Thomas Jefferson and his fellow Founding Fathers, as expressed in our Declaration of Independence, we must realize that we must be prepared to sacrifice our fortunes in the name of our sacred honor and our love of country.
Glenn did just that. Now, it's our turn!
© Larry Klayman
---
The views expressed by RenewAmerica columnists are their own and do not necessarily reflect the position of RenewAmerica or its affiliates.
---