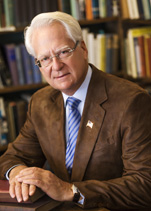 Larry Klayman
I am an Israeli

By
Larry Klayman
August 29, 2011
I spent this week in Israel with Glenn Beck. Glenn, who left Fox News a few months ago, organized an event he called "Restoring Courage," and courageous it was. Months before his event, I had floated a similar idea that I had been promoting — a "Hollywood Tribute to Israel" — not only with him but a number of influential people, because, as I have written before, not only is the Holy Land "holy," the root of Judeo-Christian civilization, but its future is so tied to your own during these trying times.
So it came to pass that Glenn pulled off a magnificent spectacle, bringing Christians and Jews from all parts of the globe together to show their courage in supporting Israel.
Israel, thanks to the so-called "Arab Spring" so welcomed by our pro-Muslim President Barack Hussein Obama, is now surrounded by Arab states, like Egypt, that are even more hostile to the Jewish and Christian people. The Jewish state needs courageous "citizen soldiers" to support and fight for it. For if Israel is destroyed, the United States and the West will no longer have a vital democratic ally in the Middle East to serve as a check to radical Islam — thus also protecting our supply of oil — and our own heritage will be forever lost.
Let's be blunt. God gave this land to the Jews and by extension to all Christians. The followers of Jesus Christ were largely His fellow Jews, and we are one as a people. I am a Zionist and so, too, is anyone who takes the Bible and our God seriously. Israel is our land, and we must protect it.
This was the theme of Glenn's event, and it resonated not only around Israel but the entire world — as it was broadcast and reported in over 100 countries. Israelis especially took heart — having been chastened by what they perceive to be an American president they view overwhelmingly as not only anti-Semitic, but also hostile, in an underhanded way, to their right to exist. Barack Hussein Obama, no matter how many apologists come to his defense, is bent on Islamic rule in the Middle East, and he and the self-hating Jews he surrounds himself with are dangerous. So, too, are many other liberal Jews who have forsaken their proud heritage and will not stand up and fight for their own people. Harvard Law professor Alan Dershowitz, in praising Glenn's event — Dershowitz himself a liberal Jew — also said as much in a recent article. But that is not the case with conservative-minded Jews and especially evangelical Christians, who are the biggest supporters of the Jewish people and Israel.
Glenn's event lasted four days, and many celebrities, like actor Jon Voight and Republican presidential candidate Herman Cain, took time to come. But there were also people from all walks of life. And, on the last day, Aug. 24, 2011, they gathered at the holiest of Jewish sites in Jerusalem to honor Israel. The only disappointment was that Israeli Prime Minister Benjamin Netanyahu did not appear, likely not wanting to "offend" President Obama prior to the General Assembly meeting of the United Nations this September. At this meeting, Netanyahu hopes that the United States will veto a resolution creating a Palestinian state on the West Bank. While I like the prime minister and wish we had a president like him, shame on him this time for not showing his face. Glenn and all of us deserved his presence. He should have shown the same courage Beck and others spoke about!
On this "sacred" occasion, after a speech by the mayor of Jerusalem welcoming all to his city, awards were presented to Israelis who were killed by terrorists, and those who have achieved much to make Israel into a great nation. But it was Glenn's keynote speech,
which I urge you all to watch
, that captured the day.
With great passion and yes courage, Glenn stood at the base of the Wailing Wall, the only remains of the Jewish temple built by King Solomon — the son of King David — and delivered an address that captivated the world and expressed the feelings of all. In essence, he dared those hostile to Israel and the Jews to "take him first," if their intent was to destroy Israel and the Jewish people. Pastor John Hagee, in an earlier address during the week, also summed it up, using an analogy to President John F. Kennedy's speech in Berlin during the Cold War. Kennedy, declaring that Berliners, with their opposition to the Berlin Wall, stood as the first line of defense against communism, also declared himself a Berliner. Hagee and Beck declared in effect that we are all Israelis in our fight for freedom against radical Islam — and to win this war and pay homage to our Lord, we must protect and cherish Israel.
The land of Moses and Jesus cannot and will never be forsaken. It is God's land, and it is our land. In the words of my friend, actor and singer Pat Boone, who wrote the lyrics to the famous song from the movie Exodus, "This land I love, this land I love is mine."
So it was that Glenn Beck set in motion a tidal wave that will catch fire. He could not have done this at Fox News, and indeed this hypocritical, intellectually dishonest network did not even report on it. But God, not Roger Ailes and Rupert Murdoch, was watching and so, too, was his flock. And in the words of my grandfather Isadore Klayman, who while Jewish also accepted Christ, "If it's good enough for Jesus, it's good enough for me." My deceased grandfather, not knowing his birthday when he passed through Ellis Island from the Ukraine as a young boy, picked Jesus' birthday as his own. And, he was a big supporter of Israel. He, too, was smiling from on high.
Now let us all roll up our sleeves and build on Glenn's message. I am an Israeli — and if you want to destroy our sacred land and the Jews, then "take me first." We Jews and Christians will fight for our heritage and survival, and we don't need government to do it for us. With courage and our hard work, the Lord and His divine justice will take it from there and carry us through these perilous times!
© Larry Klayman
---
The views expressed by RenewAmerica columnists are their own and do not necessarily reflect the position of RenewAmerica or its affiliates.
---