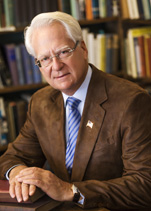 Larry Klayman
Obama's goons lie again, to D.C. Circuit Court

By
Larry Klayman
November 10, 2014
During the Monica Lewinsky scandal of the late 1990s, Christopher Hitchens wrote a book about this Clinton impeachment saga, entitled "No One Left to Lie To." It seemed at the time that Slick Willy, claiming that "I did not have sexual relations with that woman!" had, along with other major "fibs" and scandals during his presidency, set a new indoor record for deceit. But now that we have Barack Hussein Obama as our so-called president, a man who has driven the nation to its economic, social and anti-Judeo-Christian knees with his continuous lies and destructive actions, Bill Clinton looks like a choir boy in comparison.
The latest Obama lie came just last Tuesday in our case against his National Security Agency (NSA) for spying on not just my clients Charles and Mary Ann Strange, the father and stepmother of fallen hero Michael Strange, a Navy cryptologist assigned to SEAL Team VI who died on a mission called Extortion 17, but 300 million Americans as well. Because the military brass and U.S. Congress have cooperated with our "Mullah-in-Chief" in covering up the causes of the fatal attack – Mr. Strange and I believe that the mission was compromised from within our own government in conjunction with then Afghan President Karzai and his equally corrupt security forces – and because Mr. Strange and his wife have been very critical of our government and have lodged lawsuits to get to the truth, we are certain that they have been the subject of illegal and unconstitutional surveillance of their telephonic communications. As the Stranges' legal counsel, and for other reasons since I have been a constant and fierce opponent of Obama and his goons, I, too, have been spied upon by the president's NSA.
So it was that my clients and I, all three plaintiffs in the case, were before the U.S. Court of Appeals for the District of Columbia Circuit, addressing three establishment Republican judges last Tuesday, arguing that the lower court's ruling that the spying is unconstitutional and must cease under the Fourth Amendment should be upheld not just for our benefit, but the millions of other Americans Edward Snowden revealed are also subject to this government tyranny.
The audio of this oral argument in front of the D.C. Circuit can be found at
www.freedomwatchusa.org.
I urge you all to listen to and digest it, because it confirms just how dishonest not just Obama is, but his own Justice Department. During this proceeding, the Justice Department lawyer was eager to shamelessly lie again for his client, Obama's NSA, telling the court that despite the government's collecting telephonic metadata on nearly the entire U.S. citizenry, the NSA does not access it unless there is a probable cause, that is a reasonable suspicion, that a target is or has been in contact with terrorists or terrorist interests. This baldfaced lie, which at least one of the judges seemed at the moment to take hook line and sinker, flies in the face of the NSA's own inspector general, who, after the Snowden revelations, was compelled to investigate this scandal. Here is what the NSA's own IG, which is supposed to be the investigative organ of the agency, found:
During the investigation of alleged improprieties at NSA Georgia (NSAG) in 2004 and 2005 and reported by a former NSA assignee in 2008, we identified some practices in [redacted] that are inconsistent with established NSA/CSS policies and procedures. IG Report, Office of the Inspector General, NSA, CSS, Mem. For Commander, NSA/CSS Georgia, dated Oct. 2, 2009 at 1.

In addition, an internal NSA audit reported by the Washington Post similarly found thousands of violations by the corrupt personnel and officials of the agency:
The NSA audit obtained by The Post, dated May 2012, counted 2,776 incidents in the preceding 12 months of unauthorized collection, storage, access to or distribution of legally protected communications ... [t]he more serious lapses include unauthorized access to intercepted communications, the distribution of protected content and the use of automated systems without built-in safeguards to prevent unlawful surveillance." [Barton Gellman, "NSA broke privacy rules thousands of times per year, audit finds," Washington Post, Aug. 15, 2013]

So too did the Foreign Intelligence Surveillance Court, which is supposed to authorize legal and constitutional searches by Obama's NSA.
In short, the lies of Justice Department counsel are not only sanctionable, but also follow a pattern of other lies and deceit, which raise an evidentiary inference that my clients and I were also spied on. In addition, excerpts from sworn statements by the Stranges' support this:
Since my son's death, I have received numerous text messages from indiscriminate numbers, all with one, two, three, four, or five digits. I called Verizon various times, and its employees stated that there is no record of the text messages being received or sent.

In July of 2013, my wife was on the computer when it abruptly photographed her face (through some form of abusive surveillance as my computer does not have a built-in camera), and falsely accused my wife of violating "Copyright and Related Rights Law." Without a built-in camera, a computer user cannot take a picture of him or herself. I have reason to believe that the NSA and other Defendants were behind this as well. [from the Affidavit of Charles Strange]

The bottom line is this: Our lawless government, particularly under Obama, feels no shame in lying not just to us but also to the courts. Let us now pray that these establishment Republican judges will do what they must do for "We the People" and affirm the lower court ruling of another courageous Republican judge, Richard J. Leon.
As I told the three judges Tuesday, if they do not come to the defense of the American people to stop this tyranny, then we will have to do it for ourselves, as our Founding Fathers were forced to do in waging the First American Revolution.
© Larry Klayman
---
The views expressed by RenewAmerica columnists are their own and do not necessarily reflect the position of RenewAmerica or its affiliates.
---