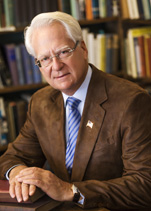 Larry Klayman
Rove's lies on Fox News must be corrected

By
Larry Klayman
June 2, 2015
The last few weeks have seen a fierce public debate about whether to reauthorize Section 215 of the Patriot Act, which has been systematically violated by the National Security Agency (NSA). Specifically, without any showing of "probable cause," this runaway outlaw spy agency, under the direction and oversight of not just President Barack Hussein Obama but also establishment Republicans on Capitol Hill like Senate Majority Leader Mitch McConnell, has been accessing the telephonic metadata of hundreds of millions of American citizens who have no connection to terrorists or terrorism in general. It was Edward Snowden, now holed up in Russia for fear the NSA and its henchmen in our so-called government would have him eliminated, who revealed this widespread violation of our Fourth and First Amendment rights. Other whistleblowers confirm this criminal activity,
including Dennis Montgomery, whom I represent.
On Dec. 16, 2013, my hardworking staff at Freedom Watch and I sought and obtained a preliminary injunction to stop this violation of privacy rights, obviously calculated by Obama and his establishment hacks on both sides of the aisle to keep Americans down and out and effectively enslaved to their tyranny. Now, every time I call a client or a friend, it's clear that my telephone lines are tapped and compromised, and the same is true for all of you. This rape of our rights is designed not just to potentially blackmail whoever the political establishment may see as getting in its way, but to have what lawyers call a "chilling effect" on free speech – meaning that if we criticize our political masters too much, we should be prepared for the consequences. Those pliant and corrupt officials at the FBI, IRS and other government agencies can then be set loose to reap this retribution and do the dirty work of the elite power-brokers in Washington, D.C.
Top on the list of these establishment political power-brokers is one Karl Rove, commonly referred to as "The Architect" for his having paved the way as a political consultant for George W. Bush to be elected president, and then once elected, actually played a major role shaping policy and presidential acts as a White House official. Rove is a Republican, and for those who think that Republicans like him are any better than their Democratic equivalents, such as Clinton loyalist James Carville, think again. These men are birds of a feather, and that they infest the nests of both major political parties is a mere formality if not vehicle for their sleaze, all calculated to reap millions of dollars for themselves and fellow political consultants.
So it comes a no surprise that Rove is "tight" with now Senate Majority Leader Mitch McConnell, a man who is ethically compromised and corrupt. I uncovered years ago at Judicial Watch that McConnell even took money from the communist Chinese, greased by Clinton Commerce Department Chinese spy John Huang and McConnell's Chinese-American wife, Elaine Chao, who not coincidentally was secretary of labor during W's administration. Rove and his band of political-consultant bottom feeders, who run or feed off his notorious PAC, named "Crossroads," use McConnell to raise money and line their own pockets. An article by Paul Blumenthal of March 1, 2014, at huffingtonpost.com just scratches the surface of the Rove-McConnell
"sleaze machine"
:
"After the 2012 election, Rove and Crossroads were excoriated by the tea party and other conservative activists, who said Crossroads' massive spending had led only to big losses for Republicans and big paychecks for their consultants. In a post on his blog Red State,
commentator Erick Erickson
called the consultants linked to Crossroads – and now used by the pro-McConnell groups – the root of all evil in the Republican Party."
Regrettably, Rove, who at one time
had been benched by Fox News' Chairman Roger Ailes for his disgraceful partisan and dishonest commentary on election night 2012
, for some as of yet unknown reason is back full-time as a political consultant for the network. And, last Tuesday, as a lead guest on "The O'Reilly Factor," he was predictably spreading misinformation for his benefactor, "candy man" and "political cashier" Mitch McConnell. In response to a question by Bill O'Reilly about NSA's telephonic surveillance of nearly all Americans, Rove again did McConnell's corrupt bidding. The majority leader, as one might suspect, favors renewal of the Patriot Act to include reauthorization for the spy agency to continue accessing the telephonic metadata of the entire citizenry. In pushing McConnell's agenda, Rove falsely told O'Reilly and millions of viewers that the NSA does not get access to the
content
of telephone calls, and thus presents no risk to us.
Shocked that O'Reilly did not challenge Rove, and concerned that with The Factor's huge viewership, this lie could influence the current national debate whether to renew Section 215 of the Patriot Act by June 1, 2015, which McConnell is pushing for as Senate majority leader, I contacted O'Reilly and his staff immediately by telephone and left a detailed polite message to have them to correct this misstatement on the next show. When I did not get a return call and the lie was not corrected that night, I wrote an equally polite letter to Roger Ailes, which I faxed, emailed and sent to not just him, but O'Reilly and all of his producers. Again, I did not get any response, and O'Reilly failed to correct the misstatement on the Thursday show.
Read my letter to Ailes.
I am hopeful that this column will spur Roger – who I believe generally is not just a media genius, but who has and continues to perform a great service for the American people – to have O'Reilly correct Rove's sleazy political lie. The citizenry has a right to the truth and the issue of illegal NSA surveillance is at the "pinnacle of national importance," as the judge who entered the preliminary injunction observed.
© Larry Klayman
---
The views expressed by RenewAmerica columnists are their own and do not necessarily reflect the position of RenewAmerica or its affiliates.
---