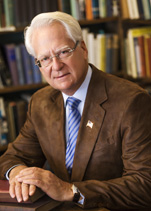 Larry Klayman
The untold story about Bruce Ohr!

What Fitton does not want to discuss on Fox News!

By
Larry Klayman
August 13, 2018
Why is it when you see Tom Fitton on "Hannity," the non-lawyer who seized total control over Judicial Watch after I decided to leave the organization which I conceived of and founded to run in 2003-2004 for the U.S. Senate in Florida, he will simply comment about Judicial Watch's document request about Bruce Ohr's and his wife Nellie's Russian pro-Hillary Clinton and anti-Trump Russion collusion with former British spy Christopher Steele and Fusion GPS? But, there is a much bigger story about Bruce Ohr that Fitton, the man I initially hired as my assistant at Judicial Watch, does not want to discuss because it involves Judicial Watch having unethically abandoned a client who I had agreed to fully defend while I was running the organization.
This person is named Peter Paul and toward the end of the Clinton administration, as President Clinton was leaving office in the months leading up to January 20, 2000 inauguration of succeeding President George W. Bush, Peter contacted Judicial Watch, claiming that he had the "goods" on the Clintons, evidence that would finally result in criminal charges against them, with resulting jail time. These "goods" were canceled checks, photographs and other evidence showing that Peter was involved with the Clintons in putting on the Hollywood Tribute to Bill Clinton, where many famous movie stars and entertainers feted the 42nd president in Tinsel Town as he was about to leave office. Paul told us that the money he generated from the event, about 2 million dollars, was intended to and was pumped into the then U.S. Senate campaign of retiring First Lady Hillary Clinton. Interestingly, Paul also advised that he had used a company he created, Stan Lee Media, with the famous comic book genius Stan Lee of Spiderman fame, to generate the monies to help elect Hillary.
These monies constituted illegal "hard money" campaign contributions, criminal in nature, as the legal limit to contribute to a political campaign at that time was generally a mere 2,000 dollars. But what was the motive for Paul to come see me at Judicial Watch, a fierce perceived adversary of the Clintons? What Peter told us was that he was currently under criminal investigation by the U.S. Department of Justice (DOJ) for alleged securities fraud in the use of Stan Lee Media to put on the Hollywood Tribute. In exchange for providing evidence of Clinton crimes that could ultimately hold them accountable under the rule of law, Paul, as a quid pro quo, asked that we represent him to try to quash DOJ's criminal investigation and, if an indictment later resulted, to wage a vigorous criminal defense for him in federal court.
In this regard, I approached the Bush Justice Department, then headed by Attorney General John Ashcroft, to seek a cooperation agreement which would allow Paul to get immunity for his alleged crimes in exchange for him providing the evidence to indict and convict Hillary Clinton for criminal campaign finance offenses. And who did the attorney general assign, through the chief of DOJ's Criminal Division Michael Chertoff, to head this probe, none other than his chief of the department's Organized Crime Task Force, Bruce Ohr.
In addition to providing evidence of Clinton crimes, Paul also came forward and revealed the criminal activities of a man who was a dual Mafia-FBI informant who had somehow had been embedded into Stan Lee Media. Importantly, this Mafia- FBI informant – someone in the mold of infamous Whitely Bolger, Jr. in Boston – had also worked under both Chertoff and Ohr at DOJ.
But rather than using the evidence that Paul provided to Ohr to pursue the Clintons and the dual Mafia-FBI informant, the Bush Justice Department indicted Paul instead. At the time of the indictment, Paul was in Brazil promoting another one of his companies. He was arrested by Brazilian law enforcement at the request of DOJ and incarcerated in a Brazilian prison to await extradition to the United States.
Fitton and I visited Paul several times in the Brazilian prison along with Ohr's investigators as he assured us that the Criminal Division would thoroughly investigate and likely indict Hillary. But this was simply a ruse, and in fact the former First Lady, as has been the norm for the last many decades, was allowed to walk scot free.
So there you have it! Bruce Ohr's, the Obama DOJ and its FBI having deep sixed the Hillary email investigation in 2016, with the aid of the FBI Director James Comey and his compromised special agents and counsel, James Baker, Peter Strzok and Lisa Page, not to mention Andrew McCabe, did the same thing over a decade earlier when my the DOJ again had her dead to rights.
Finally, after I left Judicial Watch on September 19, 2003 to run for the U.S. Senate in Florida, Fitton and the other directors I had left behind jettisoned Paul as a client and unethically dishonored the agreement I had signed for Judicial Watch to provide him with a full criminal defense. This abandonment of Peter largely contributed to his later doing about ten years in prison.
This is the story that Fitton does not want to discuss, as it unmasks exactly who he really is. But another so called moral to this outrageous story is not only Ohr's political partisanship and his march to exonerate Hillary Clinton in her latest recent email scandal, but also it reveals Ohrís "mission" to incriminate and prosecute Donald Trump with regard to alleged Russian collusion. This could have been predicted long ago.
There is much more that you can read about this story in my autobiography "Whores: Why and How I Came to Fight the Establishment!" It can be purchased at
www.amazon.com
or any online book seller. Also go to
www.freedomwatchusa.org
.
Today, I am filing a complaint in DC federal court to obtain DOJ's files on Paul, so a full account of the complete Bruce Ohr story and what occurred will be known to the public. Characteristically, the department had stonewalled our request for this evidence.
© Larry Klayman
---
The views expressed by RenewAmerica columnists are their own and do not necessarily reflect the position of RenewAmerica or its affiliates.
---