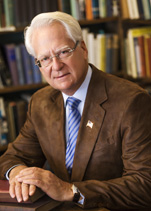 Larry Klayman
What I'm doing to bring justice to Florida count

Larry Klayman joins Gov. Scott in legal action, combats alleged vote fraud

By
Larry Klayman
November 12, 2018
I am a proud citizen of Florida, the nation's Sunshine State. But today a dark cloud hangs over this paradise, which is reverting to a "voter swamp." As occurred after Election Day 2000, when then-Vice President Al Gore challenged the apparent presidential victory of then-Gov. George W. Bush, an effort is underway by the Democrats to steal the election to senator of Rick Scott and the election to governor of Ron DeSantis.
The stakes are very high! If Andrew Gillum, a devout socialist, pro-Palestinian and anti-white race baiter becomes the next governor of Florida, it will not be long before the state becomes the next California. What I love about my state is that it still grants a modicum of freedom to its citizens – the unabridged right to carry arms, to stand your ground, particularly if attacked these days by some lunatic on the left, and to not have the government regulate every aspect of one's being.
In California, which has become more socialist than even Western Europe, for instance, to get your dog brushed, the brusher needs to be licensed by the state. And, with California's environmental and regulatory strictures – like Proposition 65, which in effect declares everything in life to be cancerous and thus requires unnecessary and scary warnings on products, building materials and even apartment sites – as well as other choke holds on the populace and the state's damaged economy, this "left coast" once-paradise is quickly sinking into the Pacific.
In the words of the "Gipper," Ronald Reagan, "here we go again." Broward and Palm Beaches counties, as was true in the aftermath of the 2000 presidential elections, have apparently embarked on a fraudulent scheme to defraud the voters of Florida and force the election of Democrats Bill Nelson and Gillum as the state's U.S. senator and governor. Of course, both counties are Democrat-controlled havens. In the case of Broward, this is the home of Rep. Debbie Wasserman Schultz, a woman so sleazy that even soon-to-be Speaker of the House Nancy Pelosi looks like a saint in comparison.
It would appear that the fraud now underway in both countries stems from newly discovered tens of thousands of mailed-in paper ballots and irregularities, to put it most diplomatically, with provisional and absentee ballots – much of which have been conveniently just "discovered" past the state-mandated deadline for having tabulated and counted the ballots.
Undoubtedly, these are inherent problems in the voting system. For instance, when I appeared in person to vote last Tuesday the volunteer woman who was assigned to check me in and verify my identity as a registered voter asked me if I had received a paper ballot. As I had not, and told her so, she then happily provided me with a ballot that ultimately was scanned into the voting system. But if I had in fact received a paper ballot in the mail, and then voted this way, I could have voted twice without any actual check by the supervisor of elections. In short, the use of mailed paper ballots, which can also be handed over in mass to interests who would then fraudulently fill them out and send them in, is rife with the prospect of vote fraud.
These are just a few of the problems not just with Florida's voting system, but rampant throughout the nation. Forget about alleged Russian hacking of our voting machinery; state officials and their calculated fraud-prone voting apparatus are a much bigger threat to our democracy.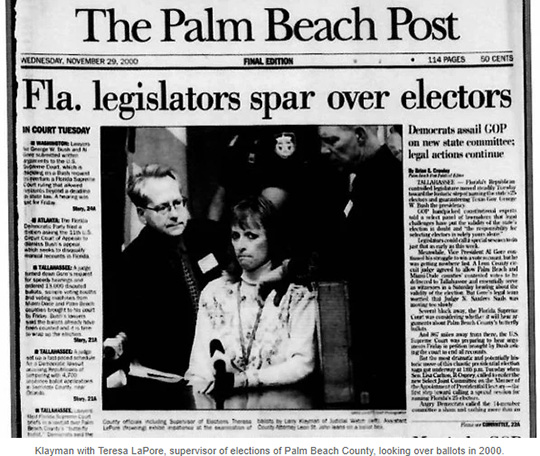 As I did during the 2000 elections, when I was chairman and general counsel of Judicial Watch, which I had founded to be a government watchdog many years earlier, Freedom Watch, which I also founded, filed Friday public records requests to open up the ballots to make sure that here is no hanky-panky. It has been reported that, as occurred with so-called hanging chads during the 2000 elections, the supervisors of elections in both Broward and Palm Beach counties are themselves deciding which boxes were checked for a senatorial and gubernatorial candidate this year, without allowing any independent entity to inspect the ballots.
Thus, as conceived of in 2000 – and I was the first one to do so – Freedom Watch will be demanding access to the ballots in these two corrupt counties. While the supervisor of elections in Broward is named Brenda Snipes, her acting is not as accomplished as someone of her same family name, Wesley Snipes! While apparently of no relation, Wesley was born in Florida.
In addition as a Florida voter, I have standing and am filing a companion lawsuit to the one Gov. Rick Scott has already filed, alleging voting misconduct and fraud, as well as the dilution of my vote. This will put me in court, as occurred in 2000, alongside Scotts' establishment attorneys to make sure that all play it straight.
As a public-interest advocate, I want to make sure the people of Florida do not have this election stolen from them. Let the person who actually won the senatorial and gubernatorial elections win, not by fraud and deceit but by uncompromised fairness.
Watch what I do over the next days, weeks and likely months before all of this is hopefully resolved. To succeed, We the People must play an independent role for the good of not just my home state, but the nation as a whole. Go to
www.freedomwatchusa.org
, sign up for our Justice League, and donate to this new but necessary endeavor to save the republic!
© Larry Klayman
---
The views expressed by RenewAmerica columnists are their own and do not necessarily reflect the position of RenewAmerica or its affiliates.
---