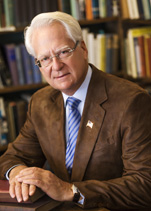 Larry Klayman
Corsi v. Mueller advances in court

Larry Klayman reviews latest on legal action challenging special counsel

By
Larry Klayman
January 11, 2019
Dr. Jerome Corsi, my friend of 25 years and my client, is an American hero. Rather than accepting a fraudulent plea deal from Special Counsel Robert Mueller, where he was offered no prison time if he pleaded to one felony count of perjury he did not commit, but only if he would implicate President Donald Trump in so-called Russian collusion, he told Mueller and his leftist pro-Clinton and Obama Democratic prosecutors to stick it where the sun don't shine. Jerry simply could not find it in his Christian heart to lie before the Creator and his Son; nor could he agree to be branded falsely as a felon, losing his right to vote. To the contrary, he has made it clear he would risk being imprisoned by a runaway Deep State prosecutor for the remainder of his life, rather than to lie under oath and implicate the president in alleged wrongdoing.
But Jerry did not stop there! Realizing that he was in a unique position to finally take on Mueller and his fellow hack prosecutors, he did something the president himself should have done long ago, but for the bad advice he has gotten for the better part of the last two years by his television-centric lawyers. Dr. Corsi pushed back and decided to take Mueller on legally and frontally!
Over the last month leading up to today, Jerry authorized my co-counsel David Gray and me to file criminal complaints against Mueller and his leftist prosecutors before Acting Attorney General Matthew Whitaker, the head of the Criminal Division, the U.S. attorney for the District of Columbia, the Office of Professional Responsibility, and the inspector general of the U.S. Department of Justice (DOJ) to address and remedy this gross prosecutorial misconduct. For good measure, he also authorized David and me to file bar complaints with the Office of Disciplinary Counsel (ODC) of the District of Columbia Bar.
While it is doubtful that ODC will take any action against Mueller, the complaint was filed on principle. The District of Columbia Bar, run by leftists who have donated heavily to the Clintons, Barack Obama, and a myriad of Democrats, are generally not interested in enforcing its Rules of Professional Responsibility against their own ilk like Mueller and his comrades. On the other hand, they "specialize" in going after conservatives, like counselor to the president and attorney Kellyanne Conway, who is under scrutiny for simple statements, allegedly false, she made on Fox News. Meanwhile, Democratic partisans like Clinton lawyer David Kendall and Michael Cohen's attorney Lanny Davis get a green light to behave unethically.
But the complaints before DOJ are likely to bear fruit, that is, if the president himself finally takes charge and orders investigations. If not, we are prepared to go to court to obtain an order compelling investigations by DOJ, which if done honestly should, in principle, lead to the "prosecution of the prosecutors" on the Mueller team.
In addition, Jerry also instructed me to file a lawsuit before the federal court in Washington, D.C., over the illegal and unconstitutional surveillance of him and his family without probable cause that he had committed a crime, orchestrated by Mueller and his lackeys in the Deep State Federal Bureau of Investigation (FBI), the National Security Agency (NSA) and the Central Intelligence Agency (CIA). For added measure, the complaint, which we filed before Christmas, also sued for the criminal grand jury leaks that have been coming from the special counsel intended to smear Jerry and his family – to try to bludgeon him to capitulate.
Since a judge I had successfully appeared before, the Honorable Richard J. Leon, had previously ruled in my favor that this type of illegal surveillance was unconstitutional – "almost Orwellian" he called it – I asked that this new Corsi lawsuit be assigned to him. This jurist, given the expertise on the issues he had acquired, it was thought, was best suited to hear the case. And, incidentally he was not a Clinton or Obama appointee, nearly all of whom in this federal court are extremely biased and partisan and most assuredly would approve of Mueller's tactics so long as it was to further the removal of Trump as our 45th president.
The one wild card in designating the complaint as related and thus preliminarily assigned to Judge Leon was that I had learned that the judge himself was illegally surveilled by the Deep State. I had asked him in the prior lawsuits (which he later dismissed for no good reason and now are on appeal), if he had been coerced by the Deep State to get rid of them.
Immediately after I filed the Corsi complaint, Judge Leon set the matter down for a hearing, which DOJ lawyers later tried to postpone on the phony excuse that its legal counsel could not work given the partial government shutdown. On behalf of Dr. Corsi, I opposed this, and Judge Leon agreed. And an initial hearing on the issue of the related case assignment thus went forward Thursday. See the courtroom artist drawing of Jerry and me appearing before Leon: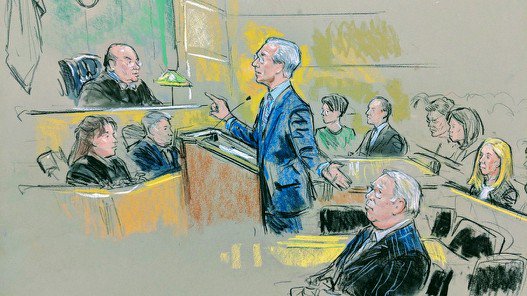 To make a long story short, Judge Leon declined to keep the case, in my opinion apparently still frightened that the Deep State FBI and intel agencies had "harvested him" and might retaliate if he presided over our complaint. While he made a point of making light of my concerns, upon granting DOJ's request to have the case reassigned, and before I could speak further, he could not wait to rush off of the bench.
Our case was thus "thrown back into the pond" and re-emerged with it being "randomly" assigned to the Honorable Ellen Segal Huvelle. Hopefully, she will be a neutral arbiter of justice and allow our case to go before a jury of Jerry's peers. We will see to it, with your strong support, that we provide every opportunity for this to happen.
For if heroes like Dr. Corsi, my proud and brave client, do not risk their lives and pledge their sacred honor to protect the Republic from tyrants like Mueller and his anti-Trump leftist and hateful leftist prosecutors, all will be lost!
Please go to
www.corsination.com
or
www.larryklayman.com
to read about our efforts to return the rule of law and respect for our Constitution to the nation and its citizenry.
© Larry Klayman
---
The views expressed by RenewAmerica columnists are their own and do not necessarily reflect the position of RenewAmerica or its affiliates.
---