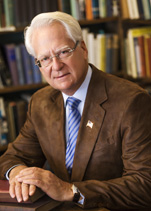 Larry Klayman
Fox News is not "fair and balanced"

By
Larry Klayman
March 13, 2019
During the 1990s, after I conceived and founded Judicial Watch on July 29, 1994, I was initially one of the darlings of Fox News and its creator Roger Ailes. Indeed, Judicial Watch came into being around the same time as the network, which was then touted as a "fair and balanced" conservative media source.
Given my Judicial Watch's hard-hitting cases in the 1990's to bring about justice for the many alleged crimes and scandals of Bill and Hillary Clinton, my appearances on Fox News were frequent and highly newsworthy. During these prime-time appearances before such hosts as Bill O'Reilly, Sean Hannity and his then sidekick Alan Colmes, and others such as Matt Drudge, I would frequently show videos of depositions I had taken of persons in the Clinton administration. This not only promoted the work that I was doing at Judicial Watch, but served to help launch Fox News, which was relatively small in viewership at that time – incredibly with only about 200 to 250 thousand viewers on its top show, "The O'Reilly Factor."
As a result, the audience could see and judge firsthand the testimony and demeanor of those in and around the Clinton administration, such as James Carville, George Stephanopoulos, Mack McLarty, and Linda Tripp and thus further one of the tag lines of Fox News: "We Report and You Decide."
Along with other conservative voices such as Matt Drudge and Ann Coulter, I helped build the viewership for the network. It was thus no wonder that I could, on my visits to New York, simply show up at Fox News headquarters and literally walk into the office of Roger Ailes.
But my relationship with Ailes changed when one of my clients, Dolly Kyle Browning, a woman wrapped up in the impeachment of then President Bill Clinton, was called a child abuser by one of the networks hosts. This statement was false and I thus had to press Ailes to retract this smear, which Fox News never did. Dolly then wrote to Ailes threatening to write about him in her next book. She had previously written one about her relationship with Bill Clinton, a not too well veiled semi-fictional work titled "Passions of the Heart." For that, Dolly had herself been threatened by Clinton confidant Bruce Lindsey, who was then Deputy White House Counsel, to not publish it.
As a result of the "scar tissue" that resulted over this incident – and you can read more about my relationship with Ailes and Fox News in my autobiography "Whores: Why and How I Came to Fight the Establishment! – I was blacklisted by Ailes after that. This was confirmed recently by my client Laurie Luhn, one of the women at Fox News who was severely sexually harassed by Ailes and her life broken to the point of her attempting suicide at least twice. Ms. Luhn's sad story with Ailes, covered- up by his "yes men and women" at the network, Bill Shine and Suzanne Scott (incredibly made CEO of Fox News after Ailes was forced to resign), is one of the subjects of an upcoming television miniseries "The Loudest Voice in the Room," produced by Blumhouse Television and Showtime, which will air later this year. Ms. Luhn is played by A list actress Annabelle Wallis.
The blacklist created by Ailes continues to this day (and not just with regard to me but many others) and that explains in large part why I was only rarely on Fox News' "backwater" sister channel Fox Business over the last several years. I had tried over the years to patch things up with Ailes, but he was a very vindictive and petty person, a charge recently confirmed not just by Ms. Luhn but also in a recent story in written in The New Yorker by author Jane Mayer, as well as many others. See "The Making of the Fox News White House," March 4, 2019.
Around the same time that I was blacklisted, so too were persons such as Matt Drudge, who had had a show on the network in the late 90's, but then was fired for simply showing the picture of an aborted fetus on a segment concerning so called abortion rights. Matt has never again been seen on Fox News.
As written by Jane Mayer and a host of other reporters, Ailes dark shadow and influence continues to loom large at Fox News, long after his firing and death. Again, this comes as no surprise, since Suzanne Scott, one of Ailes' top brass, now runs the network. And that helps explain why television personalities such as Sean Hannity, Tucker Carlson, and Laura Ingraham continue to enforce Ailes' blacklist to this day and why you see many of the same favored guests over and over.
But in the case of Hannity, there is more to this story. Hannity, who in my opinion is also petty like Ailes, fears advertiser backlash when the proverbial heat gets too hot in the kitchen. This helps explain, in my opinion, why he has abandoned "news coverage" of my brave clients Sheriff Joe Arpaio, Cliven Bundy and Chief Justice Roy Moore, all personalities who helped boost Hannity's ratings during "fair weather times." In short, Hannity is for Hannity and will himself boycott patriotic conservative activists when it will cost him.
I wanted to make this point, because in recent days Hannity and Fox News have been promoting, again to boost his ratings, the lawsuits filed against The Washington Post and CNN over the Covington Catholic scandal, but ignoring the myriad of lawsuits which my Freedom Watch and I have filed first on behalf of Sheriff Arpaio for defamation against CNN, the New York Times, the Huffington Post and Rolling Stone. So too has Hannity and Fox News ignored the case I filed in my private capacity for defamation by Sasha Baron Cohen, Showtime and CBS against Chief Judge Roy Moore. And, Freedom Watch's Leftist Media Strike Force has also sued the social media giants in a class action over discrimination against conservatives. See
www.freedomwatchusa.org
.
In short, I wanted to set the record straight why in my view Fox News is not "fair and balanced" in the wake of the continuing sad and destructive legacy and culture of Roger Ailes.
For those of you who want to understand why I have been critical of Fox News and some of its hosts, I hope this explains, in part, why.
© Larry Klayman
---
The views expressed by RenewAmerica columnists are their own and do not necessarily reflect the position of RenewAmerica or its affiliates.
---