Stephen Kokx
Finally, an authentically Catholic magazine for women

By
Stephen Kokx
July 6, 2012
June 20th marked the official start of summer. For many young girls, that means hanging out with their friends, going to the beach, and, perhaps most importantly, buying new clothes.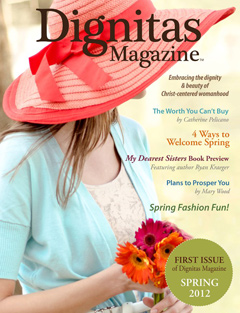 But a quick look around your local shopping center shows that embracing womanhood means exposing more and more of yourself to the world around you.
Our pop culture is filled with celebrities telling women that they owe it to themselves to buy the latest makeup line or that the best way to attract a guy is to wear scantily clad clothing.
As the old adage goes, "sex sells."
How, then, are Catholic women supposed to survive in a culture permeated with such values?
There's been a lot of ink spilled on answering such a question, and some authors have found
success
in doing so, but there still seems to be a yearning for an authentically Catholic outlet for women.
Enter Abby and Catherine Pelicano.
Abby and Catherine are sisters from South Carolina in their early twenties who recently founded
Dignitas Magazine
.
Dignitas
, according to their
website
, aims to "seek the truth about womanhood as God intended it to be, to encourage Catholic women to authentically live this truth, and to promote it in the world."
Instead of looking to secular society for their values, Abby and Catherine look to Sacred Scriptures and the teachings of the Church for their instructions:
Our Catholic faith presents a nobler image of womanhood. Founded on the revealed truth that we were created in the "image and likeness" of God, the Church teaches that we posses immense dignity.

The truth about our dignity from God gives us a powerful incentive to say "no" to fashion trends that expose our bodies, and the beauty of Christ's call to holiness motivates us to abandon the ugly provocativeness of our culture's ideal womanhood.

[Therefore] we strive for authentic holiness by seeking concrete ways to practice virtue. [And] we eagerly look for relevant, winsome ways to promote the goodness of God's image of womanhood in a world so hungry for the truth.

From what I can tell, this magazine has all the hallmarks of a great publication. If you're interest in following
Dignitas
on Facebook,
click here
. Bravo ladies!
© Stephen Kokx
---
The views expressed by RenewAmerica columnists are their own and do not necessarily reflect the position of RenewAmerica or its affiliates.
---