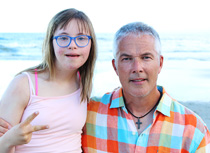 Kurt Kondrich
The missing photograph images

By
Kurt Kondrich
November 30, 2011
On 11/17/2011, I was Blessed with the opportunity to deliver the Keynote Address at the DEC (Division for Early Childhood) International Conference in National Harbor, MD, and I met some incredible families and professionals
http://www.dec-sped.org/Conference/Especially_for_Families
. It was very humbling to address such a large audience, and my beautiful daughter Chloe Emmanuel showed everyone the ABILITIES of a child with Down syndrome.
During my power point presentation, I remarked how I needed to update our family photo, and I was contacted that evening by a professional photographer from Chicago attending the conference with his wife. He photographed our family the next day and captured awesome images (I love the one of Chloe with her doll!) :
http://www.chrisguillen.com/darkroom/share/?n=Kondrich
.
As my family reviewed these beautiful pictures I reflected that not long ago priceless children like Chloe would have been excluded from most family albums and portraits. Today Chloe and children like her are included in schools and communities, but 90%+ of children diagnosed prenatally with Down syndrome are excluded from entering the world.
Modern technology allows us to see the miracle work of our Creator through ultrasound photographic images, and the view can only be described as Heavenly. If prenatal genetic testing coupled with a misguided perception of "perfection" continue at the current rate there will soon be very few if any photographs taken of children with Down syndrome. All that will be left are silent images of an extinct group of humans the world desperately needs, and I spend many sleepless nights thinking of this fact.
Chloe's presence at the international conference brought very bright light to people from across the globe, and I pray this light can remove the culture of death infecting our society. My daughter Chloe truly is the most "Perfect" person I have met during my life's journey, and she has planted more positive seeds in her 8 years on this earth than most individuals do in a lifetime. Please raise your Voices to help stop this silent genocide, and
"To sin by silence when they should protest makes cowards of men"
—
Abraham Lincoln
.
© Kurt Kondrich
---
The views expressed by RenewAmerica columnists are their own and do not necessarily reflect the position of RenewAmerica or its affiliates.
---