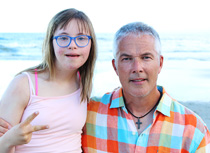 Kurt Kondrich
Deliver us from evil

By
Kurt Kondrich
August 27, 2016
I pray each night with my beautiful daughter Chloe before she goes to sleep, and we always finish with the Lord's Prayer. I have recently focused on 4 words of this prayer as our world rapidly plunges into total darkness: "Deliver us from evil."
My daughter Chloe was born with a postnatal diagnosis of Down syndrome in 2003, and in 13 years she has brought nothing but love, light, joy and purity into the countless lives she has touched. Our lost, misguided culture currently targets and terminates 70-90% of children like my daughter who receive a prenatal diagnosis, and the most dangerous time in the LIFE of a child with Down syndrome is the period when they receive a prenatal diagnosis to the moment when they are delivered into this world. These awesome, amazing children struggle to be delivered from the Evil of prenatal prejudice, bigotry and profiling that is rendering a death sentence to innocent human beings our broken society desperately needs. "Deliver us from Evil" is a cry you would hear from children receiving a death verdict in the womb once diagnosed with Down syndrome, and isn't it time we end this silent eugenic movement?
Nothing will reverse the collapse of our civilization until we defend and protect our most vulnerable citizens, and all people seeking Truth need to be engaged in this spiritual warfare with demonic forces that are embracing death, depravity and deception. If we can legally eliminate children in the womb viewed as imperfect then what will stop this prenatal genocide from spreading to a postnatal diagnosis that does not meet cultural mandates for perfection? One day we will be held eternally accountable for what we did or didn't do to stop this evil slaughter, and now more than ever we must follow God's WORD and not the lies of the world. Please use your voice to shine the light and spread the facts to deliver us from evil: #DELIVERUSFROMEVIL
.
Proverbs 31:8-9 "Speak up for those who cannot speak for themselves"
© Kurt Kondrich
---
The views expressed by RenewAmerica columnists are their own and do not necessarily reflect the position of RenewAmerica or its affiliates.
---